California toy mogul Isaac Larian gives up on bid to buy hundreds of Toys R Us stores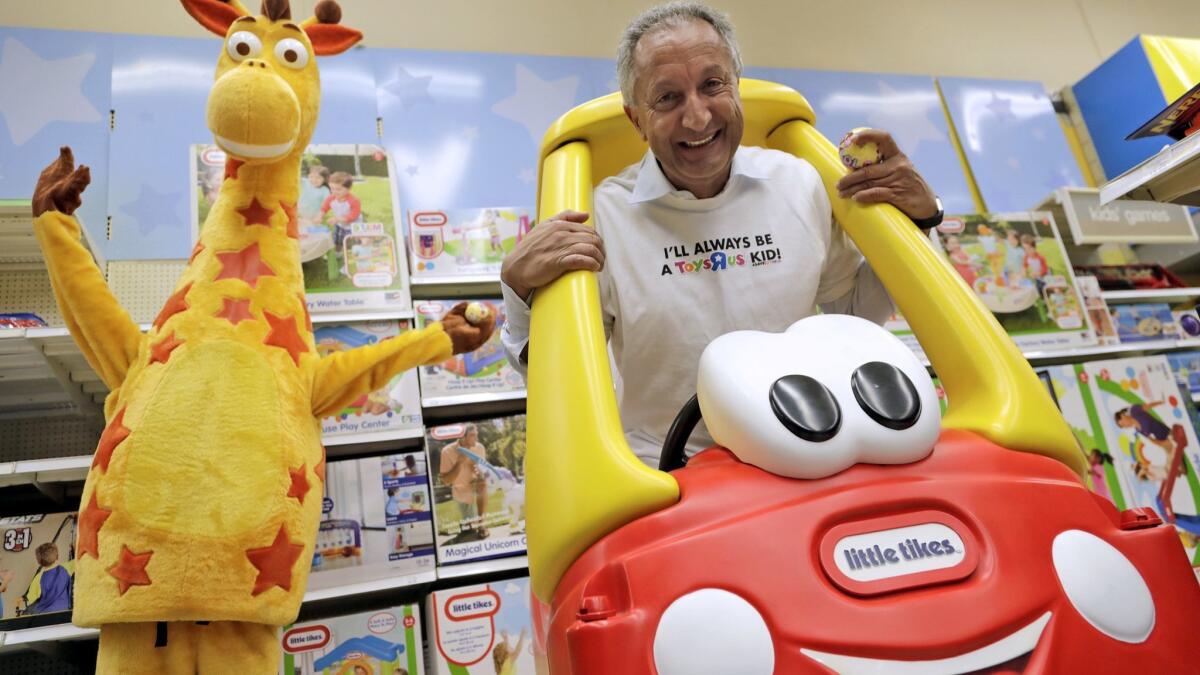 California toy mogul Isaac Larian said Monday he has given up his effort to buy several hundred Toys R Us stores from the bankrupt retailer after he and the company's debt holders were unable to reach an agreement.
A group of investors led by Larian, founder and chief executive of MGA Entertainment Inc., had submitted a $675-million bid April 13 for 274 of the 735 U.S. and Puerto Rican stores the retailer is liquidating.
The bid was rejected by the Wayne, N.J., retailer as inadequate, but Larian said in April he planned to sweeten the bid for the U.S. stores after a separate $215-million offer he made for 82 Canadian Toys R Us stores was topped by a Toronto investment firm.
However, Larian, 64, said that negotations since then have failed to prove fruitful.
"The so-called advisors and lawyers milked that company to death in a matter of seven months, which is remarkable," he said. "And the current lenders are just not in touch with reality on valuation."
Toys R Us declined to comment on Larian's decision, as did Joseph Malfitano, asset-disposition advisor for Toys R Us. Attorneys at firms Kirkland & Ellis and Kutak Rock, which have served as co-counsel for Toys R Us, did not immediately respond to requests for comment.
Toys R Us filed for Chapter 11 bankruptcy protection in September in an effort to restructure, and then announced in March it would liquidate after posting poor holiday sales.
Liquidation sales started that month and have continued to offer deeper discounts as shelves have emptied. The retailer has plans to auction off its U.S. intellectual property, with all bids due by June 15.
Toys R Us was struggling for years to compete with growing online and big-box retailers such as Amazon and Walmart, while saddled with $5.3 billion in debt from a 2005 leveraged buyout.
Larian has estimated that the closure of the chain could result in the loss of 130,000 U.S. jobs at Toys R Us, suppliers and other businesses tied to the retailer. But other estimates have put the job losses at 33,000 if only the Toys R Us stores are counted.
Saving at least some of the Toys R Us stores was important to Larian because he has said that MGA has relied on the chain for about 20% of its sales. And it has been an outlet that would stock far more toys than a big-box retailer, which allowed it to serve as a testing ground for new toys.
The privately held MGA makes the popular Bratz dolls, as well as the hit LOL Surprise toy line, which is the No. 1 selling toy in the country. His company also owns Little Tikes, a line that includes playhouses, swing sets and kid-sized cars.
Larian said his inability to reach a deal with debt holders had led him to consider opening his own toy stores, but he acknowleded that such a chain wouldn't be as large as the Toys R Us stores he sought.
"We had a great, great plan in how to turn around Toys R Us stores, and I don't want that to go to waste," Larian said.
The toy mogul had raised the idea of turning the stores into experiential places where children could play with the toys they wanted to buy. He compared his plan to building miniature Disneylands across the country.
Toy industry consultant Richard Gottlieb said that Larian's inability to acquire the stores was not the end of the road for the toy mogul.
"I think the big question is why would someone need to purchase Toys R Us to get in the game. There will be hundreds of vacant stores and thousands of talented people ready to be recruited and put to work under a new retail brand name that is not tarnished," said Gottlieb, chief executive of Global Toy Group.
"Toys R Us has burned its bridges with suppliers, it has turned off consumers with its going-out-of-business sales, its failure to honor its gift cards and its dismissal of 30,000 employees without a severance package," he added.
Monday's announcement that Larian was giving up on a Toys R Us deal is the second setback within a week for Larian.
On Thursday, the board of Mattel Inc., rejected outright an offer Larian made in April to discuss a merger between the two companies, which have been bitter rivals with a long history of litigation.
Mattel, based in El Segundo, has been struggling for years — despite being the maker of iconic toys such as the Barbie doll and Hot Wheels — as children have moved on to electronic and computer-based games and toys.
On Monday, though, Larian said he was not dissuaded by the Mattel board's decision not to enter merger talks. He said last week he plans to make a formal offer to shareholders.
The announcement that Larian was giving up on his Toys R Us bid comes two months to the day he launched a #SaveToysRUs campaign, which included a $1-billion GoFundMe campaign.
The crowdfunding campaign, which he acknowledged was more of a publicity stunt, ended up raising less than $100,000.
Toys R Us was founded in 1957 by the late toy industry pioneer Charles P. Lazarus, who found success in having a vast inventory of products that often could not be found elsewhere. Larian said Lazarus gave his toy company its first break.
"I gave it my best to make it happen. I didn't give up until the last minute. I fought the system and what's going down because it is going to hurt the whole toy industry — and I guess a lot of people don't care," he said.
"For me, it was a personal thing, frankly, because I'm 64, I'm well off, I don't need the money, I don't need the fame. I just wanted to make sure we saved this legacy for our children and grandchildren, and for the whole toy business."
---
UPDATES:
3:45 p.m.: This article was updated with comments from toy industry consultant Richard Gottlieb.
This article was orginally published at 2:05 p.m.