Verizon takes the lead in move to a la carte pay-TV pricing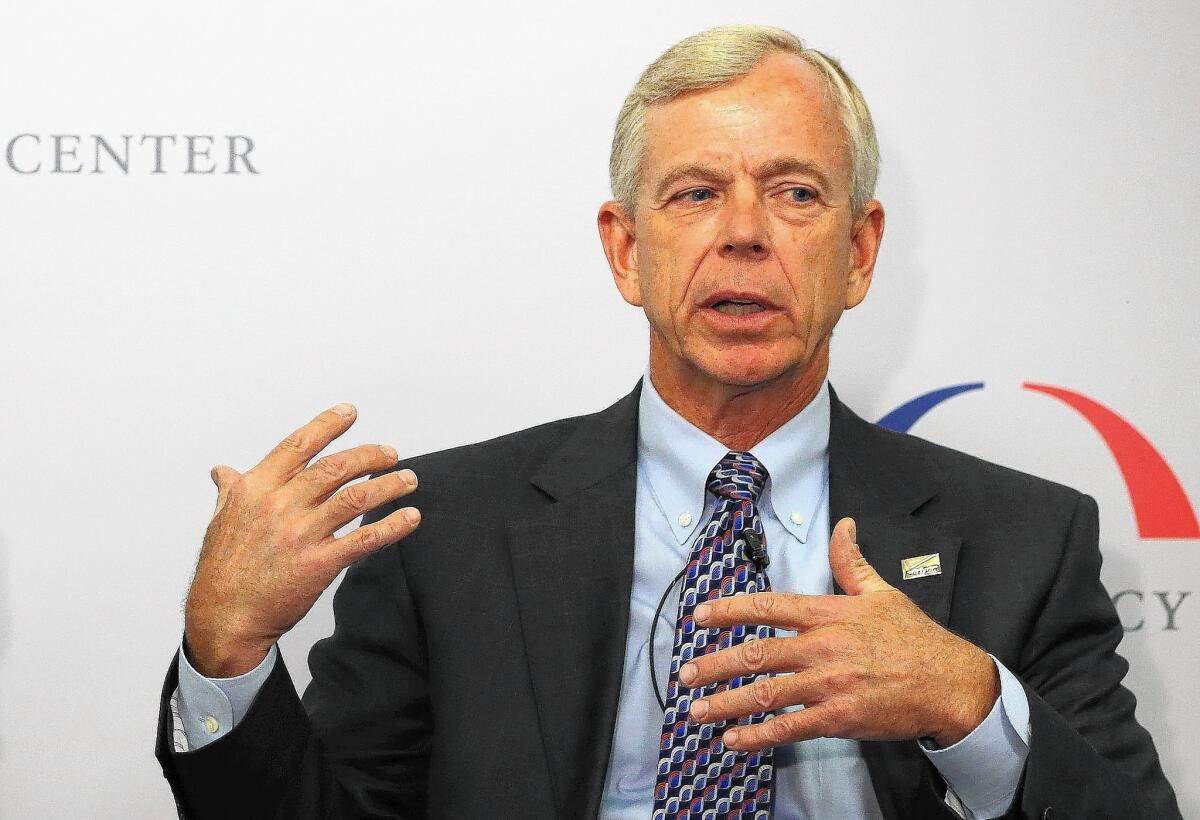 As more people abandon pricey cable and satellite services, the pay-TV industry may be finally waking up to the reality that if it wants to survive, it's going to have to give consumers what they desire.
And that's a la carte programming — paying only for the channels you watch.
Lowell McAdam, the chief executive of Verizon Communications, recently signaled his company's acceptance of a la carte by announcing the launch of an Internet-based TV service that would offer greater programming flexibility than any other pay-TV provider.
"No one wants to have 300 channels on your wireless," he said at an investor conference. "Everyone understands it will go to a la carte. The question is what does that transition look like."
In Verizon's eyes, that transition looks like a base package that includes the major networks, plus a collection of "custom channels" from which subscribers could pick and choose, McAdam said.
The new service apparently will be separate from Verizon's FiOS pay-TV service, which offers cable-like programming in 20 cities nationwide, including Los Angeles.
When the company rolls out its new Internet service by the middle of next year, American consumers will have their first chance to select their own pay-TV channels from a major telecom provider, rather than resign themselves to bundles of channels foisted on them by the company.
Verizon's move comes at a time when online services such as Netflix and Hulu are increasingly attracting younger viewers who see no need for costlier cable or satellite service. It also comes as heavyweight networks such as HBO are pondering the possibility of offering their programs directly to subscribers over the Internet.
The pay-TV industry for years has said a la carte programming would be a disaster for consumers. Industry execs have argued that abandoning bundled channels would result in higher prices for viewers and fewer channels to choose from.
McAdam had some harsh words for telecom companies that refuse to accept changing times. They're "the ones who'll be left behind," he said.
A Verizon spokesman declined to elaborate on McAdam's comments or the company's a la carte plans.
In any case, this isn't a voyage into the unknown. Canada is already experimenting with a la carte services similar to what Verizon has in mind.
And guess what? The sky hasn't fallen north of the border.
"This has been good for us," said Blair Miller, vice president of content solutions for Vancouver's Telus, one of Canada's largest telecom companies. It began offering a la carte programming on its Internet-based Optik TV service several years ago.
"Choice and flexibility have strong resonance with our customers," he said. "Clearly they wanted this."
The Canadian government is pushing to allow pay-TV customers to pick at least some of their own channels. The country's Radio-television and Telecommunications Commission issued proposals in August that it said could lower people's pay-TV costs to as little as $18 a month (in U.S. dollars).
The commission is hoping to have new regulations for pay-TV companies in place by the end of next year. Officials are still working out the scope of such rules.
"We don't think it's right for Canadians to have to pay for bundled television channels that they don't watch," Canada's industry minister, James Moore, told CTV, the country's largest private broadcaster.
Pay-TV companies in the Great White North have responded to such governmental arm twisting with varying degrees of enthusiasm. Many now offer hybrid programming choices that combine smaller bundles with a la carte flexibility.
Telus' Optik TV service, which appears very much like what Verizon has in mind for its own service, now has about 865,000 subscribers and is growing 16% a year, according to the company.
Optik isn't purely a la carte. You begin with a base package of about 40 Canadian and U.S. channels starting at $26 a month.
Customers can then customize their lineup by adding a "theme pack" of additional channels, such as a half-dozen more movie or news channels, for an additional $8 a month.
Or they can add up to 100 individual channels for about $3.50 each. These include popular channels such as IFC, the Food Network, FX and Animal Planet.
Miller said most Optik subscribers choose theme packs that address their specific interests, and then fine-tune their viewing options with a handful of a la carte channels.
"We listened to what customers were asking for and then put together groupings they wanted," he said. Miller declined to comment on whether such a system would work in the United States.
But it's not much of a stretch to think that the combination of smaller, cheaper bundles with a modicum of a la carte flexibility would appeal to U.S. pay-TV customers who are sick of cable bills topping $100 a month.
According to Nielsen, the typical American watches only about 17 channels on a regular basis.
I asked representatives of other pay-TV companies in the U.S. if they were planning to follow Verizon's a la carte lead. None said they were cooking up something similar.
But Brian Dietz, vice president of the National Cable & Telecommunications Assn., said the fact that Verizon is dipping its toe into the water shows "how the marketplace is working to offer consumers a growing variety of ways to enjoy video content."
What it actually shows, I think, is that Verizon is further along than others in reading the writing on the wall. The days of bundled pay-TV plans are numbered. The future belongs to Internet service providers that can also deliver TV content at reasonable prices.
Along those same lines, content companies such as Disney, Fox and Viacom will have to adapt to a world in which they can't continue forcing pay-TV customers to take all channels. That would mean making all channels more affordable.
How radical a change would that be? Needham Research estimates that a purely a la carte business model would erase about $70 billion in revenue from the U.S. TV industry.
Or, looked at another way, it would eliminate about $70 billion in overcharges for consumers.
Depending on how you look at it, that's either a very scary or a very attractive proposition.
David Lazarus' column runs Tuesdays and Fridays. He also can be seen daily on KTLA-TV Channel 5 and followed on Twitter @Davidlaz. Send your tips or feedback to david.lazarus@latimes.com.