Lured by Verizon into giving up cellphone privacy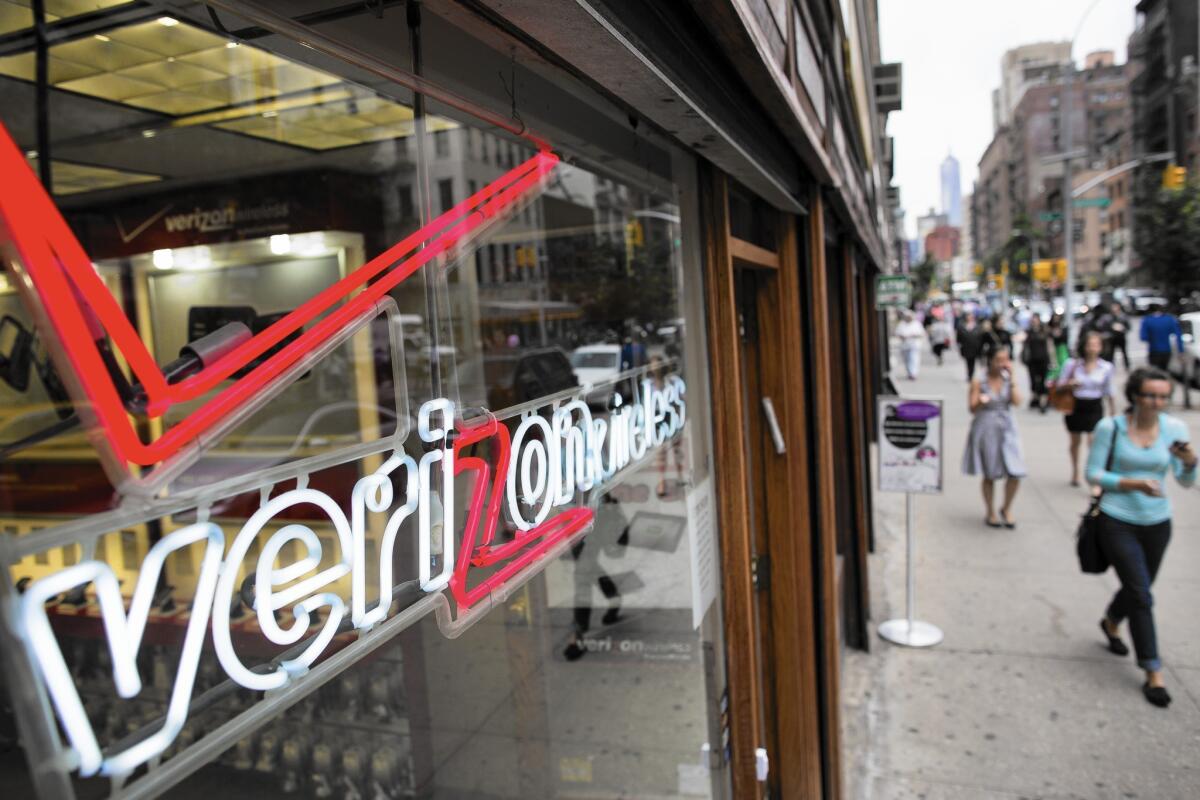 Eric Purtell, who has been a Verizon Wireless customer for nearly a decade, had every reason to think the company was rewarding his loyalty.
A recent email told Purtell that he'd already accumulated almost 41,000 rewards points simply by using his cellphone. If he signed up for Verizon Smart Rewards, Purtell was informed, he could use those points "to plan the perfect night out" and "save big on restaurants, entertainment and other local deals."
"It looked like they were providing some value back, like an airline or hotel," the San Dimas resident told me. "It looked like they were making sure I didn't switch to AT&T or some other company."
Not exactly.
What Verizon Wireless was doing was luring Purtell into giving permission for his personal information to be used for increased marketing.
Call it a points-for-privacy swap — yet another sneaky ploy by a large company to get customers to divulge personal information or, worse, to open the floodgates to marketers.
Purtell, 41, works as a contract negotiator for a medical-devices company, so he knows a thing or two about fine print. But he admits he went relatively quickly through the Smart Rewards enrollment process and didn't notice the part about having to sign up as well for something called Verizon Selects.
That other program might sound benign, but it isn't.
According to the "participation agreement" for Verizon Selects, members will have their online browsing, apps and physical location scrutinized by the company so it can group them with other customers that "a marketer is trying to reach."
Adria Tomaszewski, a Verizon Wireless spokeswoman, said Verizon Selects is one of a number of company programs "designed to help marketers reach audiences more efficiently, especially in the mobile space."
She said Verizon Selects tracks people's "use of Verizon products and services, the websites they visit and apps they use, interests, demographics and information about the quantity, type, destination, location and amount of use of Verizon voice services."
Verizon Wireless is by no means alone in trying to turn customers' real-world and online behavior to its advantage. Similar tactics are employed by practically all other telecom, financial and Internet companies.
But Verizon Wireless has been unusually clumsy in its efforts to coax customers into abandoning their privacy.
In April, I wrote about how the company was "enhancing" its Relevant Mobile Advertising program, which also collects data on customers' online habits.
What it really was doing was downloading a cookie — lines of code — into your home computer so that Verizon Wireless could monitor your online activities even when you're not on the company's wireless network. It then shares that data with marketers.
Verizon Selects represents a bolder approach to breaching customers' privacy walls. It's using the prospect of money-saving deals as an enticement for people agreeing to let the company peer over their shoulder.
Patrick Connolly, a senior analyst with ABI Research, said that programs such as Verizon Smart Rewards represent "a location gold mine" that can be used by wireless carriers for "big data analytics and advertising."
The wireless industry could be looking at nearly $2 billion in extra revenue by 2019, he predicted.
"This kind of thing sickens me," said Nancy Kim, a professor at California Western School of Law in San Diego. "It's very problematic."
She said many consumers aren't aware of how much access to their personal lives they give away when they click on a button to accept a program such as Verizon Selects.
"If consumers actually knew more about what companies like this are up to, I'm sure they'd be up in arms," Kim said.
Adding to the troublesome nature of Verizon's Smart Rewards program is that the company's pitches to customers say that joining "may require enrollment in Verizon Selects," as if you have a choice.
You don't.
Verizon Wireless' Tomaszewski acknowledged that everyone who signs up for Smart Rewards also has to sign up for Selects. The only exception, she said, would be people who already have told the company that they don't want to join Selects.
But it's hard to imagine anyone doing that, considering that the only way to be enrolled in Verizon Selects is to agree to join the program. Who would proactively opt out of a marketing program that they never opted into?
After joining Verizon Smart Rewards, customers can cancel their membership in Verizon Selects and still be eligible for rewards points, but this isn't stated on the company's Smart Rewards website or in the Verizon Selects participation agreement.
You'll also have to dig deep into the fine print to discover that all information collected from Verizon Selects members will be kept by the company for up to three years.
I shared all this with Purtell, who said that the more he learned about Verizon Selects, the more uncomfortable he was with having signed up for Verizon Smart Rewards. He said he'd be dropping out of both programs.
"I'm willing to give up a little privacy for some things, but not my smartphone," he said. "Your smartphone is your life."
Which is why I have no doubt that Verizon Wireless will keep trying to cozy up to customers.
Amazon.com, at least, offers lower prices for Kindle e-readers if customers allow ads on them. I'm thinking wireless companies should stop trying to trick people and simply offer reduced rates in return for more marketing access.
Or would that make their intentions too clear?
David Lazarus' column runs Tuesdays and Fridays. He also can be seen daily on KTLA-TV Channel 5 and followed on Twitter @Davidlaz. Send your tips or feedback to david.lazarus@latimes.com.