Column: Why airlines' frequent-flier programs are now rewarding big spenders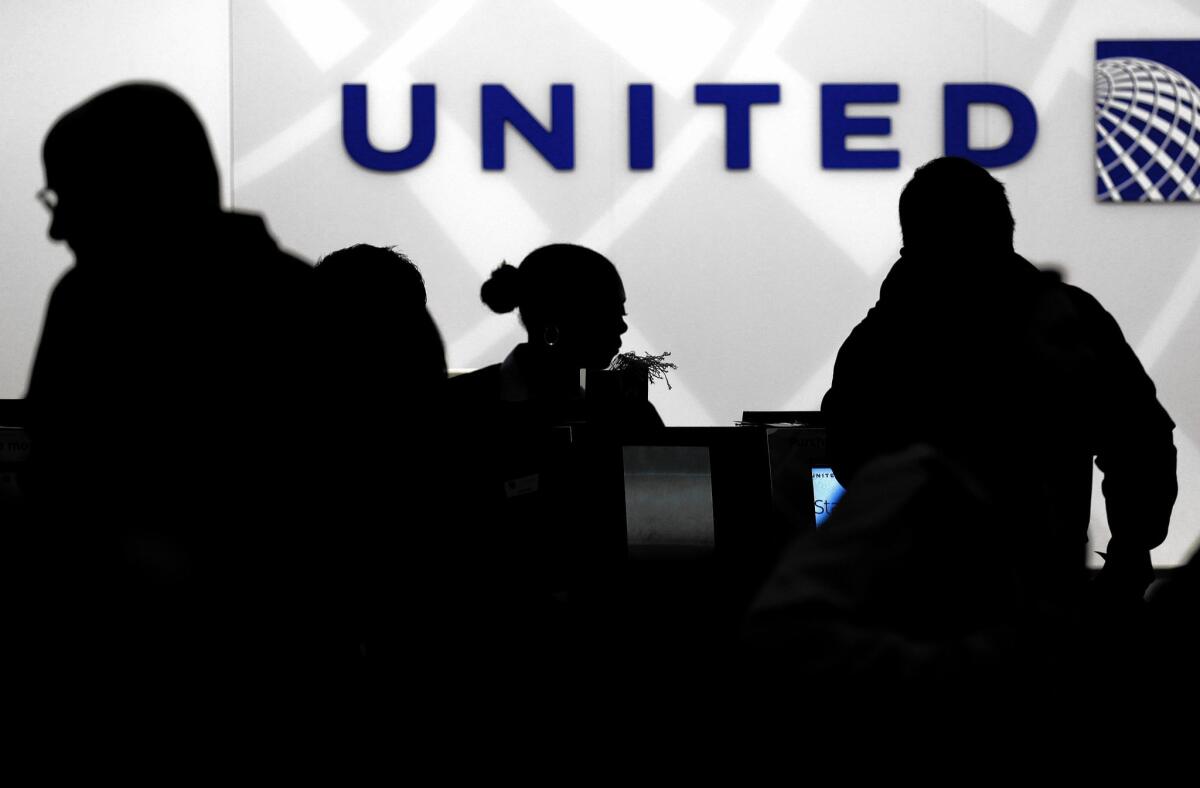 Frequent-flier programs were once among the most egalitarian rewards plans for consumers: The more you flew, the more you'd be rewarded. Period.
No longer.
The programs have evolved into yet another system that coddles the wealthy while simultaneously reminding everyone else that it's good to be rich and you're not.
"The more others that you're above, the better you feel," said Joseph Nunes, a marketing professor at USC. "Is that a good thing? It depends on whether you're the one looking up or looking down."
SIGN UP for the free California Inc. business newsletter >>
Spend a lot with an airline and the carrier will bend over backward to make you feel welcome. Spend a little less — even if you're also enrolled in the frequent-flier program — and maybe you'll get a perk or two, but don't expect anyone to ask you to the prom.
Oh, and don't expect the rules to be straightforward or easily understood.
Geoff Kuenning, a computer-sciences professor at Harvey Mudd College, has been a United Airlines Premier Silver member since 2011. That means he's entitled to priority check-in, "economy plus" seating when available and other benefits.
Last year, Kuenning came up about $1,000 short in meeting the $3,000 minimum spending requirement to maintain his Silver status. It used to be a $2,500 minimum, but United moved that particular goal post at the end of 2014. He also flew only about half the requisite 25,000 miles.
United sent Kuenning a letter the other day saying, in effect, don't sweat it. You can go to our website and make up the spending and travel difference.
"I figured I'd have to pay $1,000, maybe a little more," he told me. "It seemed reasonable."
He went to United's site and discovered that the airline didn't want a measly $1,000. If Kuenning wanted to buy his way to continued Premier Silver perks, he discovered, it would cost him $3,249.
This for a steady customer who spent about $2,000 with the carrier last year and flew around 13,000 miles. Some years he spends and flies more, some years less. But he consistently sticks with United.
I can certainly understand that an airline — or any business — would want to reward its highest-spending customers and would place a lower priority on people who represent less profit.
But frequent-flier plans are looking less like rewards and more like the Hunger Games. You have to fight for your perks.
At their most basic, loyalty programs are simple affairs. You buy 10 pizzas and you get one pizza free. They encourage return business with a modest but meaningful benefit.
Frequent-flier programs were introduced in the 1980s and, as originally conceived, they were fairly straightforward: Fly a mile, get a mile.
Many rounds of airline bankruptcies and mergers later, just four carriers now account for about 80% of domestic air travel, and the airlines no longer feel much of a need to pat loyal passengers on the head. The U.S. Justice Department is investigating whether airlines have colluded to limit capacity and keep fares high.
American Airlines, now the world's largest carrier after merging with US Airways, pocketed $6.3 billion in profit last year.
"That's more than American has ever made in its history, and indeed represents the highest profits of any airline in our industry's history," the carrier's chief executive, Doug Parker, crowed in a letter to employees.
Airlines are rewarding shareholders with stock buybacks and higher dividends, and are thanking employees with a boost in profit sharing. Passengers — not so much.
Major carriers have switched from not only rewarding distances traveled but also money spent. They've also created multiple tiers of elite status to further distinguish the greater value of some passengers relative to their less-profitable, less-perk-worthy seatmates.
In United's case, it might sound prestigious to be a Premier Silver member, but it's even better to be Premier Gold or Platinum, which require flying 50,000 or 75,000 miles, respectively, and spending at least $6,000 (Gold) or $9,000 (Platinum).
Yet Premier Silver, Gold and Platinum members pale in comparison to United's Premier 1K passengers, who log at least 100,000 qualifying miles annually — that's four laps around the globe — and spend at least $12,000. Premier 1K will get you more legroom, more seat upgrades and more extra miles than the other tiers.
USC's Nunes told me that he's a Premier 1K member and that he appreciates all the little amenities that make flying around the country more bearable. He acknowledged that there's a certain satisfaction to knowing you're receiving better treatment than others.
Even so, Nunes said there's a little-publicized, ultra-elite tier above Premier 1K called United Global Services for passengers who travel hundreds of thousands of miles annually and spend vast gobs of money. All the very best perks are reserved for them.
"I'd like to be in Global Services," Nunes said, "but they won't even tell you what it takes to qualify."
I asked Karen May, a United spokeswoman. She said Global Services is invitation-only. "We generally don't disclose criteria," she said.
Rob Palmatier, a marketing professor at the University of Washington, said resentment is inevitable when airlines reward some loyal passengers with better treatment than others.
"Every time you raise one passenger's status, what you're doing is lowering another's," he said. "People get angry."
USC's Nunes said it might be better to view frequent-flier programs not so much as rewards but as "differentiated products." In other words, the more you pay, the more you get.
That makes sense. And there's nothing strange about selling preferential treatment to bigger spenders.
See more of our top stories on Facebook >>
United's website says achieving Premier status "gives additional benefits to our most active members." Actually, it "gives" people nothing. They pay for it.
Kuenning said he's feeling like United doesn't value his business, even after spending a couple of thousand dollars with the airline last year flying to academic conferences. He said he'll probably take his business to American or Delta.
Maybe United should consider some program that actually rewards customer loyalty.
David Lazarus' column runs Tuesdays and Fridays. He also can be seen daily on KTLA-TV Channel 5 and followed on Twitter @Davidlaz. Send your tips or feedback to david.lazarus@latimes.com.
MORE FROM BUSINESS
Tristan Walker's Bevel is making shaving better for men of color
Why Apple's fight with the FBI could have reverberations in China
Members of Congress call for investigation of Shell over climate change