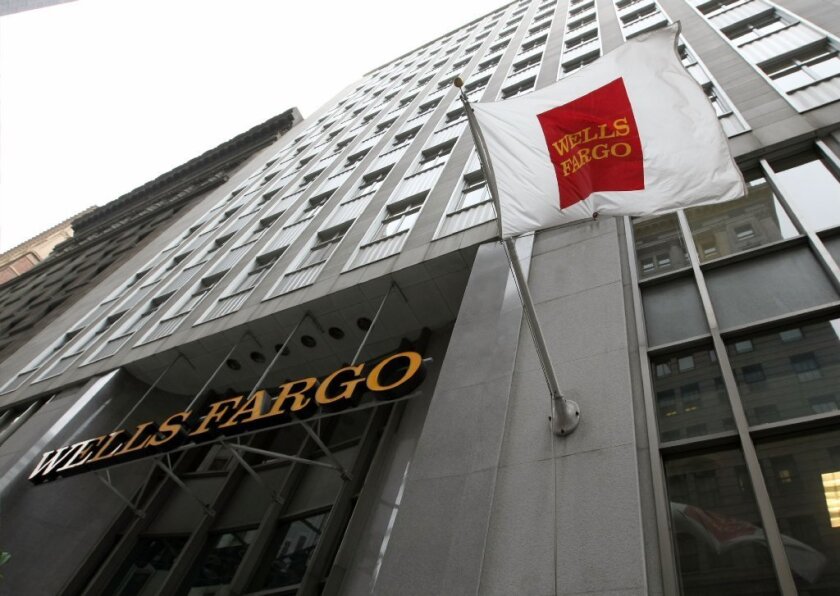 Welcome to California Inc., the weekly newsletter of the L.A. Times Business Section.
I'm Business columnist David Lazarus, and here's a rundown of upcoming stories this week and the highlights of last week.
There's a bit more sunshine in the Golden State now that we know California piled on 19,300 jobs in March and the state unemployment rate dropped to 4.9% — the first time it's been below 5% since December 2006. The construction industry set the pace, boosting payrolls by 18,900. However, the information sector — which includes tech businesses in Silicon Valley — faltered last month, reducing its head count by 9,400.
LOOKING AHEAD
Home prices: Real estate data firm CoreLogic will release March home sales and price figures for Southern California on Tuesday. Nationwide, sales of existing homes climbed 4.4% last month to a seasonally adjusted annual rate of 5.71 million, according to the National Assn. of Realtors. This was the fastest sales rate since February 2007.
Wells Fargo meeting: Wells Fargo will hold its annual shareholder meeting Tuesday. Investors will decide which board members, if any, should be given the heave-ho in the wake of the bank's bogus accounts scandal. CEO Tim Sloan has said "it would be a shame" if all directors weren't overwhelmingly reelected. The meeting is at a Florida resort, but the bank is providing a live audio feed.
Picket line? An online strike authorization vote by the Writers Guild of America began Tuesday and concludes on Monday, the day before talks are set to resume with Hollywood's major studios. The discussions have hit a roadblock, and guild leaders may be banking on a favorable strike authorization vote — which is widely expected — to give them more leverage in negotiations.
Growing pains: The Commerce Department will report its initial estimate for first-quarter economic growth Friday. Analysts expect that growth slowed from the fourth quarter's 2.1% annual rate. Retail sales fell a seasonally adjusted 0.2% last month after a revised 0.3% decline in February. But over the last 12 months, retail sales have risen 5.2%.
High hopes: Elon Musk's SpaceX is targeting Sunday for the launch of a National Reconnaissance Office "classified payload," intelligence speak for a spy satellite. A successful launch from the Kennedy Space Center in Florida would give SpaceX more galactic street cred in competing for government contracts with rival United Launch Alliance, a joint venture of Lockheed Martin and Boeing.
THE AGENDA
A Tesla Model S can rocket from zero to 60 mph in 2.27 seconds. But can the electric carmaker accelerate from producing 80,000 cars a year to 500,000 in 2018? And can it make money in the process? Short sellers are betting big on no. Though they often get a bad rap, the best shorts dive deep into a company's finances, management and market prospects. The Times talked to four of them about why they are so down on one of America's hottest companies.
STORY LINES
Here are some of the other stories that ran in the Times Business section in recent days that we're continuing to follow:
More money: Wells Fargo has agreed to boost its payout in a class-action settlement over unauthorized accounts to $142 million, up from the $110 million it announced just three weeks ago. The scandal-rocked bank agreed to the larger settlement after an internal report released this month showed that bank officials knew about unethical sales practices — including the creation of debit cards without customers' authorization — as early as 2002.
New utility: Southern California Edison customers in Los Angeles County soon will have an alternative way to get their electricity — from a new government-run utility promising lower bills and easier access to clean-energy options. The Board of Supervisors unanimously approved the public energy program, which they say will help reduce power bills by as much as 5% from what customers pay Edison. Residents and businesses will have the choice to stay with Edison or join the county's utility.
Job gains: San Francisco, Riverside and San Bernardino counties saw the largest job gains in the nation from 2014 to 2015, according to newly released data from the Census Bureau. Among the 50 U.S. counties with the largest workforces, San Francisco came out on top for the second year in a row with an increase of 6.6%. Riverside County was No. 2, with an increase of 4.9%, followed by San Bernardino County, with a boost of 4.4%.
Bye-bye, Bill: Bill O'Reilly has long been an imposing presence in cable news and the so-called culture wars. He helped boost Rupert Murdoch's Fox News Channel into a $1-billion-plus-a-year business. But in the wake of his departure over allegations of sexual harassment, it remains to be seen whether the scandal would mortally wound his reputation or dent his business prospects.
Less money: There have been big changes in the local construction industry. In the span of a few decades, Los Angeles area construction went from an industry that was two-thirds white and largely unionized, to one that is overwhelmingly Latino, mostly nonunion and heavily reliant on immigrants. At the same time, the job got less lucrative. American construction workers today make $5 an hour less than they did in the early 1970s, after adjusting for inflation.
WHAT WE'RE READING
And some recent stories from other publications that caught our eye:
Augmented reality: Facebook is going long on augmented reality, according to Wired. "Facebook's immediate focus appears to be on small-scale effects; think more ambitious Snapchat filters. As its augmented reality vision scales up, though, it threatens to leave a chunk of users behind, or with stuttery experiences."
It's Tucker time: With Bill O'Reilly ousted, the New Yorker looks at what his time-slot replacement, Tucker Carlson, brings to the table for Fox News. "Now, perhaps, he will become the leading voice of a network that is a little bit more skeptical than it used to be."
Friends like these: Who paid for President Trump's huge inaugural bash? According to Bloomberg, some of biggest givers were casino billionaires and NFL team owners, and the White House sees no problem with it. Press Secretary Sean Spicer told reporters, "He doesn't think there are any legitimate conflict-of-interest concerns stemming from inaugural funding from corporations and mega-donors."
Wet and wild: Fast Company spotlights a nifty app called After Ice, which "detects your location and allows you to visualize the effects of climate change through augmented reality by overlaying an image of yourself in your current environment with water-level projections." Spoiler alert: Buy a snorkel.
FarmVille: Quartz looks at a $43-billion deal that would merge Chinese state-owned agriculture company ChemChina with Swiss-owned seed company Syngenta. "The proposed deal is just one of three potential farm mergers that, if approved by regulators, will create the biggest farm-business oligopoly in world history and concentrate agricultural power to three countries: the US, Germany, and China."
SPARE CHANGE
The thought of that mega farm deal and Elon Musk's Sunday SpaceX launch brought to mind that odd intersection of agriculture and outer space that sometimes appears in Hollywood. Don't know what I'm talking about? Well there's this scene from a bona fide classic, this entire movie treatment and, of course, this inspiring tale of survival on Mars. Just don't ask about the fertilizer.
For the latest money news, go to www.latimes.com/business. Mad props to Scott J. Wilson for helping put this thing together.
Until next time, I'll see you in the Business section.
---