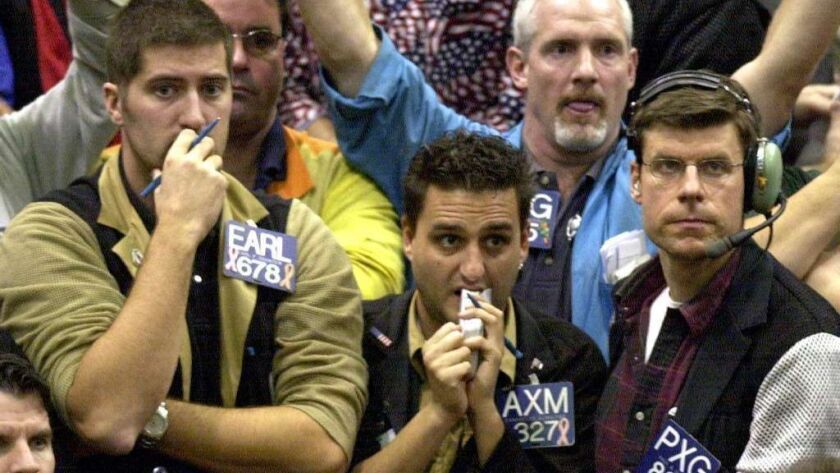 Welcome to California Inc., the weekly newsletter of the L.A. Times Business section.
I'm Business columnist David Lazarus, and here's a rundown of upcoming stories this week and the highlights of last week.
Trading resumes Monday after stocks posted strong gains on Friday. The S&P 500 blasted through the 2,900 level and is now poised to top the all-time high of 2,940, reached on Sept. 21.
LOOKING AHEAD
Trade deficit: President Trump vowed to reduce America's trade deficit with other nations. So far, that hasn't been the case. Last month, the trade deficit rose to its highest level in history. The latest snapshot comes out Wednesday.
Beige book: The Federal Reserve on Wednesday will serve up its latest accounting of economic conditions with the release of its Beige Book. Ten of the Fed's 12 districts saw "slight-to-moderate" growth in late January and February, while St. Louis and Philadelphia reported "flat economic conditions."
Retail sales: We'll get a pulse reading on how the wheels of commerce are spinning Thursday with new stats on retail sales. Spending declined in February, down a seasonally adjusted 0.2% from a month earlier.
Down the hatch: Not the strongest week ever for new movies. Alec Baldwin and Salma Hayek arrive Friday in "Drunk Parents," involving parents who get drunk. Hilarity ensues. Also hitting theaters is the Los Angeles-set "Under the Silver Lake," in which a man encounters a mysterious woman, loses that mysterious woman, and then finds even more mystery. Just another day in the City of Angels.
THE AGENDA
Monday's Business section gives a listen to reports that Amazon employees and contractors are listening to recordings of Alexa users. The idea is that these shadowy listeners are able to improve Alexa by annotating things like slang and colloquial expressions, and that's undoubtedly true. But Amazon has done a terrible job spelling out that such surveillance takes place. (Hint: Go into your Alexa settings and opt out of "helping improve the service.")
STORY LINES
Here are some of the other stories that ran in the Times Business section in recent days that we're continuing to follow:
Streaming force: Disney stock surged to a record high after the company outlined its new streaming service intended to compete with Netlfix. The robust lineup of original shows and movies on Disney+ will cost $6.99 a month and launch Nov. 12. Included are animated classics, films from Pixar, Marvel and the "Star Wars" saga, as well as "The Simpsons" and National Geographic programming.
Test flight: The Stratolaunch twin-hulled airplane, its wings stretching wider than a football field, took off from the Mojave Air and Space Port for a maiden flight of more than two hours above the Mojave Desert. The aircraft — which has conjoined-twin fuselages and is powered by six Boeing 747 engines — is designed to hoist a rocket carrying a satellite to a higher altitude before releasing it to blast into space.
Prius problems: Toyota said that it is recalling 2.4 million hybrid gas-electric cars, mostly Prius models, around the world to fix an electronic defect that causes the vehicles to suddenly lose power. The recall in the U.S. includes various Prius models that were built from 2010 to 2014, the same cars that were recalled earlier and fixed with a software update that lawsuits allege was not effective.
Uber IPO: The San Francisco company took the first formal step in going public when it filed its prospectus with securities regulators. The document indicates that the ride-hailing giant is haunted by its past missteps as it tries to convince investors that the company is positioned for growth that will bring long-term stock gains. The stock of Uber's chief competitor, Lyft, has lost steam since it began trading last month.
Tesla slowdown?: Panasonic will abandon for now its plans to expand battery cell manufacturing capacity at Tesla's Nevada battery factory by 54% next year. The previously planned expansion would have increased production from 35 gigawatt hours per year to 54 gigawatt hours. A Tesla spokesman maintained the company's demand for batteries, most of which go into Model 3 sedans, remains strong.
WHAT WE'RE READING
And some recent stories from other publications that caught our eye:
Cry for help: The New Yorker lays out the case for regulating Big Tech after Facebook's Mark Zuckerberg wrote that businesses like his need more parental supervision. "It was either another public-relations ploy … or else it was a cry for help, as it became clear, once again, that Zuckerberg and his cadre of fifteen thousand 'content moderators' have little control over the platform."
Start your algorithms: A fun story from the New York Times about hobbyist-engineers in California who hack together self-driving race cars. "The bar is high," one says. "You need to get a car, and then you need to really mess with it. Most people aren't comfortable with that."
Feeling groovy: The Wall Street Journal explains why successful men are trading beer for green juice. "Wellness advocates and entrepreneurs are stripping away some of the stigma surrounding the movement by butching up yoga (see 'Broga') and introducing guy-friendly coaching sessions and products (male-targeted gummy vitamins from Hims)."
Super, natural: Bloomberg pays a visit to Singapore's Jewel Changi Airport, which opens April 17 and aims to be the ultimate stopover. "The Rain Vortex — said to be the world's highest indoor waterfall and surrounded by thousands of trees, plants and shrubs — is the jewel in the Jewel's crown. While it looks impressive during the day, a sound and light show will transform it into a cacophony of color when the sun goes down."
Game theory: Wired chats with the professional gambler who cleaned up on "Jeopardy." "Plenty of 'Jeopardy' champions have rung up six-figure payouts. But until James Holzhauer put up his $110,914 total on Tuesday, no one had done it in a single game. He did it with smarts — but also with a nearly flawless command of 'Jeopardy' game theory."
SPARE CHANGE
That story about the "Jeopardy" pro got me thinking: Best song about games? Possibly this one from John Lennon. Or this one from Joe South. Or this one from Abba. I'm a chess player, so I'll go with this one from Murray Head. Check and mate!
For the latest money news, go to www.latimes.com/business. Mad props to Laurence Darmiento for helping put this thing together.
Until next time, I'll see you in the Business section.
---