U.S. ends ban on importing Argentine lemons, angering California citrus growers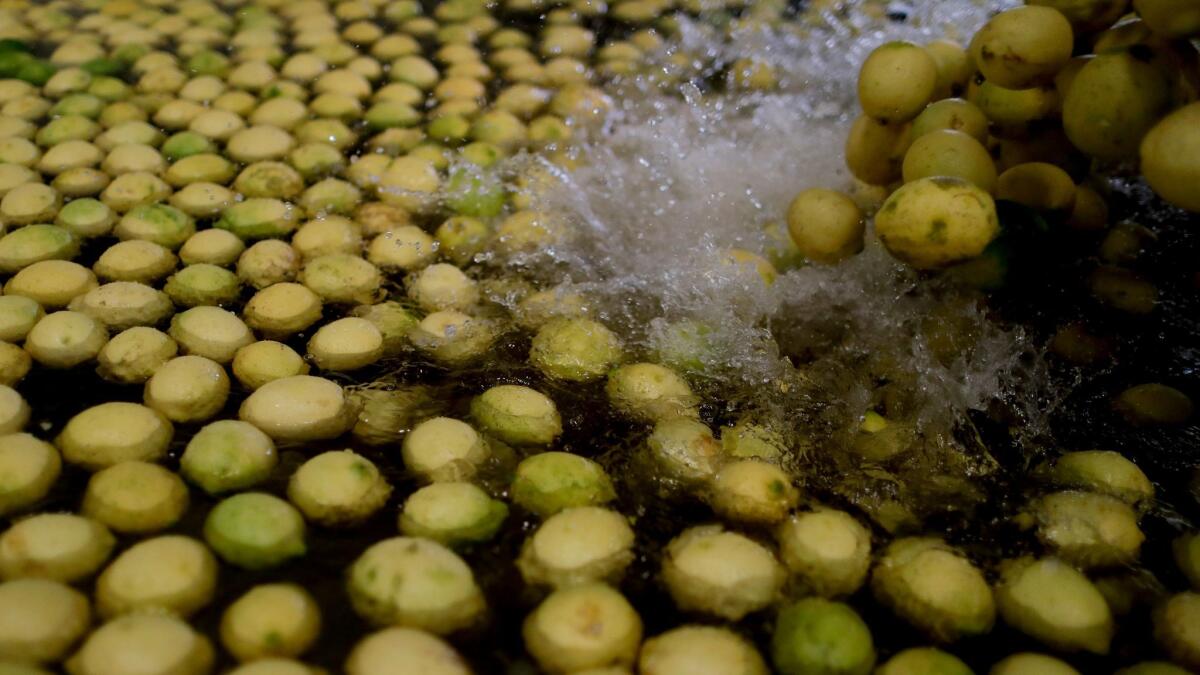 The California citrus industry was livid Tuesday over the Trump administration's decision to allow lemon imports from Argentina's top producing region for the first time in 16 years.
The U.S. Department of Agriculture said Monday that it will lift the ban on lemons from northwestern Argentina on May 26. The decision came days after President Trump said he was reviewing his administration's position on the issue.
"We were completely blindsided," said Joel Nelsen, president of the California Citrus Mutual, an industry advocacy group. "They just flat-out ignored us, and that's completely unacceptable."
In December, President Obama's administration said it would lift the ban, which had been imposed after complaints by producers in California that the Argentine lemons carried diseases.
But a month later, Trump's administration issued a 60-day stay on the decision. That stay had been extended, stalling the return of imports from one of the world's top lemon producers to its largest market.
"We disagreed with the Obama administration, but this rule now belongs to the Trump administration and it flies in the face of the administration's priorities, which are to protect domestic agriculture, U.S. businesses and U.S. jobs," Nelsen said.
He also said serious questions remain about the hazard posed by pests that could hitch a ride on Argentine fruit and damage U.S. groves.
Argentine farmers say they have complied with all U.S. regulations and deny there are any sanitary problems with their fruit.
"We see this as an achievement of more than 15 years to prove the phytosanitary conditions and their viability," said Jose Carbonell, the president of the Argentine Citrus Federation.
"It's the beginning of a chapter where we will have to earn space in this market," he said. "We're confident because the U.S. is producing less and consuming more lemon."
Rep. Julia Brownley (D-Westlake Village) criticized the move, saying, "It is clear that Argentina does not have an inspection regime in place to prevent the spread of devastating, invasive pests and diseases."
She said the imports "will wreak havoc on American growers, and if pests and disease spread, it could result in the destruction of our domestic crops."
California produces more than 90% of the lemons grown in the U.S. — 1.5 billion pounds last year — and competes with imports from Chile and Mexico, according to the USDA.
Chile and Mexico account for about 94% of lemon imports to the U.S., which have more than doubled in dollar value in the last five years, according to the USDA.
The USDA has predicted that Argentina probably would knock Chile out of competition for market share in the U.S., but Nelsen predicted a long price war that would cost California growers hundreds of millions of dollars.
Argentina produces about 1.5 million metric tons of lemons a year, of which 95% are exported. Its main market is the European Union, and its top growing region is in northwest Tucuman, about 800 miles north of Buenos Aires.
Times staff writer Geoff Mohan contributed to this report.
MORE FROM BUSINESS
What's on the table in a NAFTA negotiation
Dole files for initial public offering — for the third time
They avoided a strike, but negotiations between writers and studios were a true Hollywood thriller
---
UPDATES:
1:05 p.m.: This article was updated with comments from Joel Nelsen, president of the California Citrus Mutual, and with USDA information about the citrus industry.
This article was originally published at 12:05 p.m.