LinkedIn wants to help you look for a job behind your boss's back. But be careful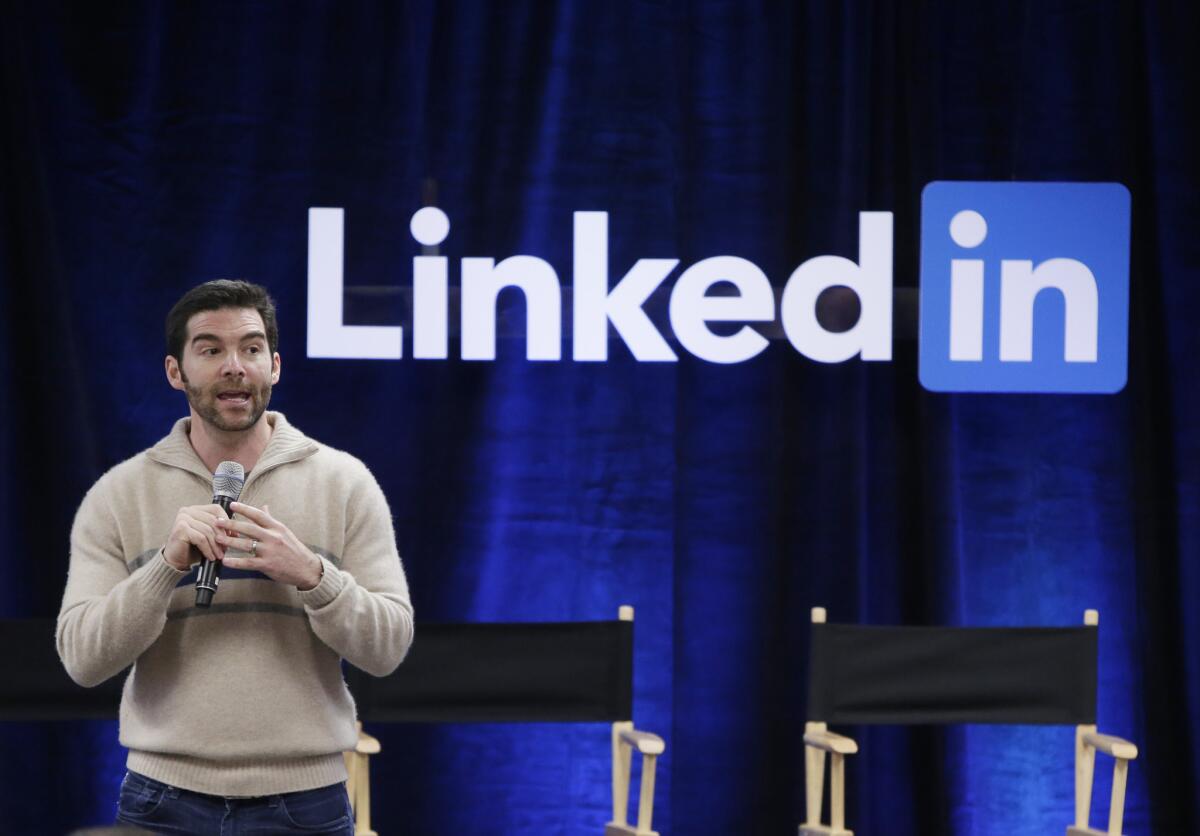 The Washington Post
LinkedIn has long been a way to promote your resume to other companies or recruiters without hanging out a "for hire" sign that your boss can see. Now it's launching a way to let recruiters know you're open to considering other jobs — and do so privately, the company said.
On Thursday, the professional social network announced a new feature it has been testing: Open Candidates, which allows users to flip a switch under the "preferences" tab that tells recruiters they're open to job opportunities. Recruiters who pay for LinkedIn's premium service will then see a tab in its search results that lists profiles of those who have turned on the signal, connecting them with what LinkedIn calls "warm" talent. Others won't be able to see if a user has turned on the feature, and LinkedIn hides the signal from recruiters at an individual's own company or its subsidiaries.
The move is an interesting one for LinkedIn Corp., which grew into a giant in the recruiting world because of the access it gave recruiters to millions of desirable "passive candidates" who are not actively job hunting. Some 87% of recruiters say they use LinkedIn — which is based in San Francisco and which Microsoft said in June it would acquire — to evaluate candidates during the hiring process, more than twice that of any other social network, according to a survey by Jobvite.
Now even if they're "passive," LinkedIn users will be able to signal a little more active interest in considering opportunities, helping recruiters more accurately target the huge number of employed candidates who might be open to making a move. Estimates from the consulting firm CEB say that about 40% of the labor market is made up of people who don't want to be contacted by recruiters at all, while 35% are not looking but are open to contact. "It should theoretically make it more effective and efficient for recruiters," said Brian Kropp, CEB's human resources practice leader.
It could also cut down on the deluge of inquiries some users, especially those in high-demand industries, receive from recruiters, which turns some people off, Kropp said. "Candidates are bombarded by so many recruiters that they're not responding to anything," he said. (A LinkedIn spokesperson said users can block messages from recruiters if they wish.)
Meanwhile, a crop of start-ups has begun helping people, particularly in tech jobs, covertly scan for opportunities. Switch, for instance, is an anonymous Tinder-like tool that lets users rate job opportunities by swiping right or left. Anthology, formerly known as Poachable, acts as an anonymous career matchmaker. A LinkedIn spokesperson said the new feature was not a response, but rather a way to "improve the experience."
LinkedIn said it will hide the signal from "known recruiters" at a user's employer, as well as at affiliated companies, but there is some fine print: On its website, LinkedIn says: "We cannot guarantee, however, that every company is accurately identified, or that affiliated companies are accurately mapped on our platform. We also cannot guarantee that every recruiter has an up-to-date and correct Company ID, so there's a small chance that your career interest preferences will be visible to a recruiter at your current employer or an affiliated company."
Another risk may exist for employees in senior management jobs or niche fields where signaling their interest, even discreetly, could make them less attractive to some recruiters. David Staiti, who runs an executive search firm in New York that focuses on placing senior managers in technology and start-up companies, said: "Clients pay me to find someone they can't engage on their own." Because it could mean they're interviewing for other jobs at the same time, he said, "when I hear someone's potentially looking, their marketability goes down for me and my clients."
Still, he said he uses LinkedIn all the time to recruit candidates and gather intelligence on them, and could see the new feature being useful for other jobs and at other levels. "In high-demand, low-supply jobs" such as programmers, he said, "I would think it might be valuable, for the person looking but also for the person advertising it."
CEB's Kropp said there's another group beyond candidates and recruiters who might want to pay attention to the change: managers. With such easy access to a quiet way of advertising to other employers, workers have yet another avenue for jumping ship.
"It puts more pressure on companies to think about the careers and management of their workforce," he said. "You can imagine employees coming in to work, they have a bad day with a manager, and they say, 'Sure, I'm going to show them.' And they turn a feature like this on."
McGregor writes for the Washington Post.
ALSO
Snapchat is said to be eyeing $25-billion IPO in early 2017
They teamed up to conquer Wall Street. Now one is bankrolling Clinton; the other, Trump
Under FCC proposal, Internet providers could share your 'non-sensitive' data without your permission