Lyft gets $100-million endorsement from Carl Icahn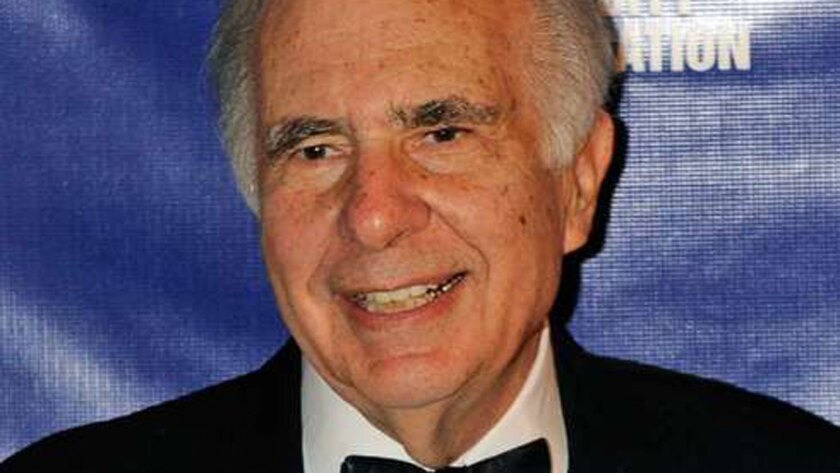 A fist bump between driver and passenger was one of the early quirks of Lyft Inc.'s ride-sharing service.
On Friday, Lyft metaphorically exchanged one of its best bumps yet with billionaire investor Carl Icahn, who bought a $100-million stake in the San Francisco-based start-up.
Lyft is trying to gain ground on Uber Technologies Inc., which dominates the business of providing on-demand rides for consumers who link up with drivers through their smartphones.
It was an unusual investment for the 79-year-old Icahn, a legendary activist who made his fortune buying large stakes in publicly traded companies and then pressing managements to make changes that would lift their stock prices.
But Icahn, with a net worth estimated by Forbes at $22.4 billion, said in a statement that he bought into Lyft because "I believe that ride-sharing is poised to become a fundamental component of our transportation infrastructure."
Icahn's involvement is "confirmation that this [ride-sharing] space is real and going to grow," said Thilo Koslowski, vice president and automotive leader at the research firm Gartner Inc. "He sees the writing on the wall."
Lyft operates in about 65 U.S. cities and metropolitan areas, including throughout Southern California. Uber has expanded to more than 250 U.S. and international cities.
In a statement, Lyft President John Zimmer said the company was "thrilled to partner with Carl during this exciting period in Lyft's growth."
"With this additional investment, we remain focused on deepening our U.S. footprint," Zimmer said.
Jonathan Christodoro, one of Icahn's managing directors, also will join Lyft's board of directors. Christodoro sits on half a dozen other boards, including that of Los Angeles-based Herbalife.
Lyft and Uber, also based in San Francisco, are amassing big sums from investors to expand their operations.
Lyft said Icahn's stake was part of $150 million raised in its latest round of financing. The company did not say who contributed the other $50 million.
In March, Lyft raised $530 million. That round was led by the Japanese e-commerce company Rakuten Inc., which bought an 11.9% stake in Lyft for $300 million, giving Lyft an overall valuation of $2.5 billion.
Uber most recently carried a valuation of $41 billion. But the company reportedly plans to raise an additional $1.5 billion to $2 billion in funding, which would raise its valuation to an eye-popping $50 billion.
Icahn did not return a call seeking further comment, but he told the Wall Street Journal that "if you look at the way the market evaluates Uber and then look at the valuation of Lyft — Lyft is a tremendous bargain. There is room for two."
Lyft and Uber aren't limiting themselves to the quasi-taxi business. Both are expanding their operations not only geographically but into other services, such as deliveries of retail goods and other products.
"Uber is not valued at $40 billion because of their business in the taxi industry," said Chris Nicholson, head of communications at FutureAdvisor, an investment advisory firm in San Francisco. "They're valued at $40 billion because people see a much larger opportunity."
And with Lyft worth a fraction of Uber's valuation, Icahn "knows a bargain when he sees it," Nicholson said.
Because they're privately held, Uber and Lyft don't publicize their revenue figures. But a FutureAdvisor study last year gave a rough indication of their relative size at the time.
Analyzing anonymous credit- and debit-card transactions for 3.8 million users, FutureAdvisor found 96,000 consumers who used the two services between June 2013 and May 2014. They spent $26.4 million on Uber and $2.2 million on Lyft, meaning Uber was about 12 times larger.
But the data are now a year old, and both companies have aggressively expanded since then.
Icahn said in his statement that Lyft's "revenue growth to date has been extremely compelling, and increasing urbanization over the next five to 10 years should enable the company to maintain that trajectory."
But Gartner's Koslowski said that remains to be seen.
"You have to see how quickly these companies can grow and become the forces that the investment amounts suggest," Koslowski said.
"It's not guaranteed at this point."
james.peltz@latimes.com
---
Your guide to our clean energy future
Get our Boiling Point newsletter for the latest on the power sector, water wars and more — and what they mean for California.
You may occasionally receive promotional content from the Los Angeles Times.