Macy's woes could signal trouble for retailers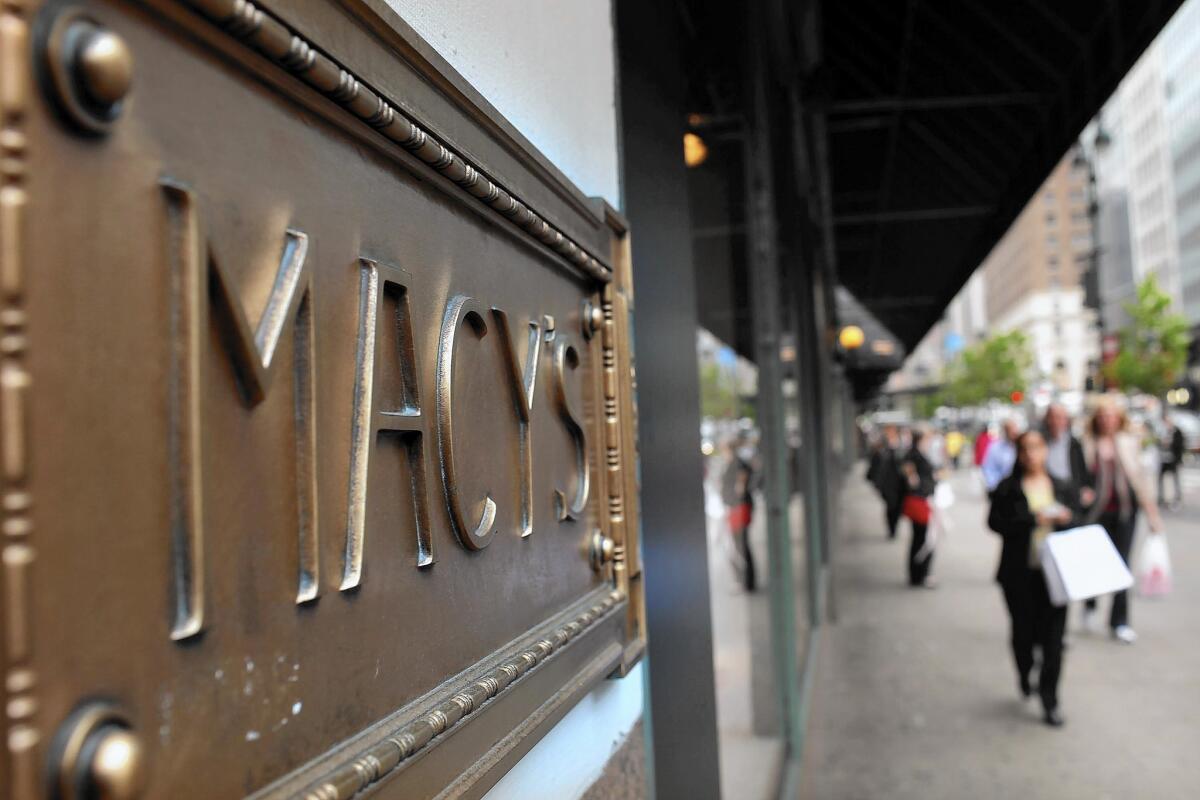 Macy's poor holiday showing could be an early sign of trouble for the retail industry.
After a disappointing November and December, the department store chain said it was slashing 4,800 jobs and closing 40 stores, including a shop at the Irvine Spectrum.
The travails of Macy's, which blamed warm weather and slower spending by international tourists, could also be reflected at many other retailers, analysts said.
SIGN UP for the free California Inc. business newsletter >>
"It was not a good holiday season," said Ron Friedman, a retail expert at advisory and accounting firm Marcum. "I don't think it's a Macy's problem. I think it was an industry-wide problem."
Warmer-than-expected temperatures pummeled sales of cold weather gear. Terry Lundgren, Macy's chief executive, said about 80% of the company's sales decline was due to "shortfalls" in areas such as coats, hats and scarves.
Stores have been forced to heavily discount, which could lead to a season in which sales grew but at the cost of profits, analysts said. That could be crippling for retailers, who can make up to 40% of their annual revenue during that time.
The National Retail Federation forecasts that sales during November and December will have climbed 3.7% to $630.5 billion, slightly below the 4.1% growth in the same period of 2014. The trade group will release holiday results Jan. 15.
Aside from the weather, consumers have shown a marked reluctance to spend heavily, even as the job market perked up and low gasoline prices put more money in their pockets, experts said.
Shoppers bought 1.5 fewer gifts than they did in 2014, said Britt Beemer, founder of America's Research Group, which interviews 20,000 consumers every week during the holidays. About 44% of parents said they planned to cut back on gifts to each other so their children could enjoy a good Christmas, Beemer said.
"You have more people employed, but they aren't employed in full-time jobs," he said. "There are a lot of people out there who don't have any hope that it's going to get better. Mentally, it's a huge drag."
During the holidays, retailers with physical stores suffered as more people opted to shop online. In the last two months of the year, in-store traffic at retailers dropped 6.4% and sales fell 2%, according to RetailNext.
Traffic at mall stores has taken an especially hard beating. During the holidays, only 16% to 21% of consumers were out shopping at malls on any given week, compared with 25% to 28% just two years ago, Beemer said.
"Mall traffic is becoming a disaster," Beemer said.
On Thursday, Standard & Poor's Ratings Services said ratings for upscale chain Nordstrom Inc. could be downgraded after signs pointed to poor holidays for department stores. Nordstrom already said in November that slow traffic led to disappointing third-quarter results and higher inventory levels.
"Performance in the department store sector has weakened materially from our previous expectations for holiday sales," Standard & Poor's said. There are also "diminished prospects for significant rebounds in 2016."
Macy's is seizing the moment now to exit malls, where its sales are likely falling or flat, analysts said. Two California stores — in the Irvine Spectrum and Country Club Plaza in Sacramento — are closing permanently, while a third location at Westfield Century City will be replaced by a larger store next year.
On Thursday, Irvine Co. said it planned to spend $150 million to revamp Irvine Spectrum Center, including two new buildings housing 20 stores that will sit on the current site of Macy's.
"The Macy's closing has been contemplated for months and has provided us with a unique opportunity to rebalance … with additional retail stores," said Easther Liu, chief marketing officer for Irvine Co. Retail Properties.
At the mall Thursday, many shoppers lamented that Macy's was closing, although some said they weren't too surprised.
"From the moment they opened, it always seemed untidy, and they don't carry as much as the stores near my house or South Coast Plaza," said Cristina Vaught of Mission Viejo.
Nevertheless, the Spanish-language interpreter said she still scours different Macy's stores, dropping at least $800 on the chain during the holidays.
"The mall is a great place," Vaught said. "I need to see, touch, especially try it on."
Nail technician Lisa Nguyen agrees. She spent almost $500 at Macy's for Christmas presents and dropped even more on kitchen supplies for herself.
See more of our top stories on Facebook >>
"I never go online," Nguyen said. "Things never look exactly like they look in the picture when you receive it at home."
But shoppers like Nguyen are increasingly rare.
More people than ever are shopping on computers and smartphones than ever before, analysts said. Online sales on Thanksgiving and Black Friday were up 18% from the year before, according to Adobe. E-commerce powerhouse Amazon.com said this week that more than 23 million items were ordered on Cyber Monday, up more than 40% over the previous year.
"When so much of your assets are invested in physical space," it's a problem when the stores attract "less foot traffic and less sell-through," said Richard Church, managing director at Discern Group. "That's what is precipitating Macy's to close more stores when you have the opportunity to do so."
But not all retailers got coal for Christmas.
Action-sports retailer Zumiez Inc. and L Brands, owner of Victoria's Secret, both reported healthy sales. J.C. Penney reported that same-store sales climbed 3.9%, in part because of higher online sales.
Twitter: @ByShanLi
Times staff writer Anh Do contributed to this report.

ALSO
China's financial turmoil won't disrupt California's economy
Yahoo could lay off 10% of its workforce, report says
$200-million takeover bid would bring Dov Charney back to American Apparel