Here's why pot growers are paying millions for old greenhouses in the Salinas Valley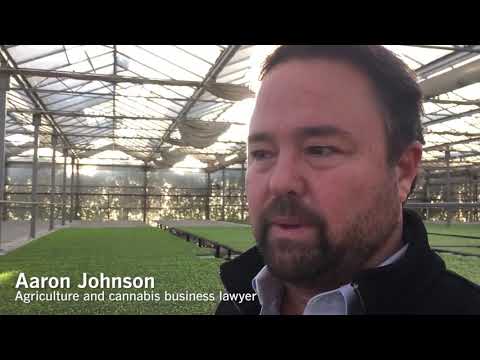 Marijuana came to the valley, and now agricultural real estate is booming. (Mark Boster / Los Angeles Times)
Buying and selling greenhouses in the Salinas Valley was never going to be the stuff of a reality TV show. But it was a good, quiet living for commercial Realtor Chuck Allen.
Then marijuana came to the valley. Now, agricultural real estate is booming.
The largely empty greenhouses where flowers once were grown are fetching multimillion-dollar prices, and Allen, 76, is raking in commissions bigger than many people's annual salary. A couple of weeks ago, he closed on a $2.6-million deal that netted him $78,000.
"It's kinda fun, actually," said Allen, who works for Keller Williams. "A year ago, I didn't even know what it looked like. I thought they were Christmas trees."
Monterey County's land rush was touched off by efforts to ban the crop from the canyons and forests of the Big Sur area and sequester it inside existing greenhouses, where it can more easily be monitored, and perhaps most importantly, taxed.
And cannabis will be taxed steeply if voters on Tuesday approve a $15-per-square-foot charge — rising to $25 in six years — that would bring in tens of millions of dollars to public coffers and make the crop as legitimate as the lettuce, berries and vegetables grown here by the biggest agricultural corporations in the state.
The Marijuana Business Tax, known as Measure Y, is backed by county chapters of both major political parties and the county deputy sheriff's association. It has attracted more than $90,000 in support from major cannabis cultivators, according to public records — enough to fund a local TV commercial during the recent World Series. There has been little organized opposition.
Separate measures are on local ballots in five small, impoverished cities strung along U.S. 101, which cuts the valley lengthwise and connects it with Bay Area and Southern California markets.
"Everybody's got their niche in the market. We may have location and a name."
— Greenfield City Manager Susan Stanton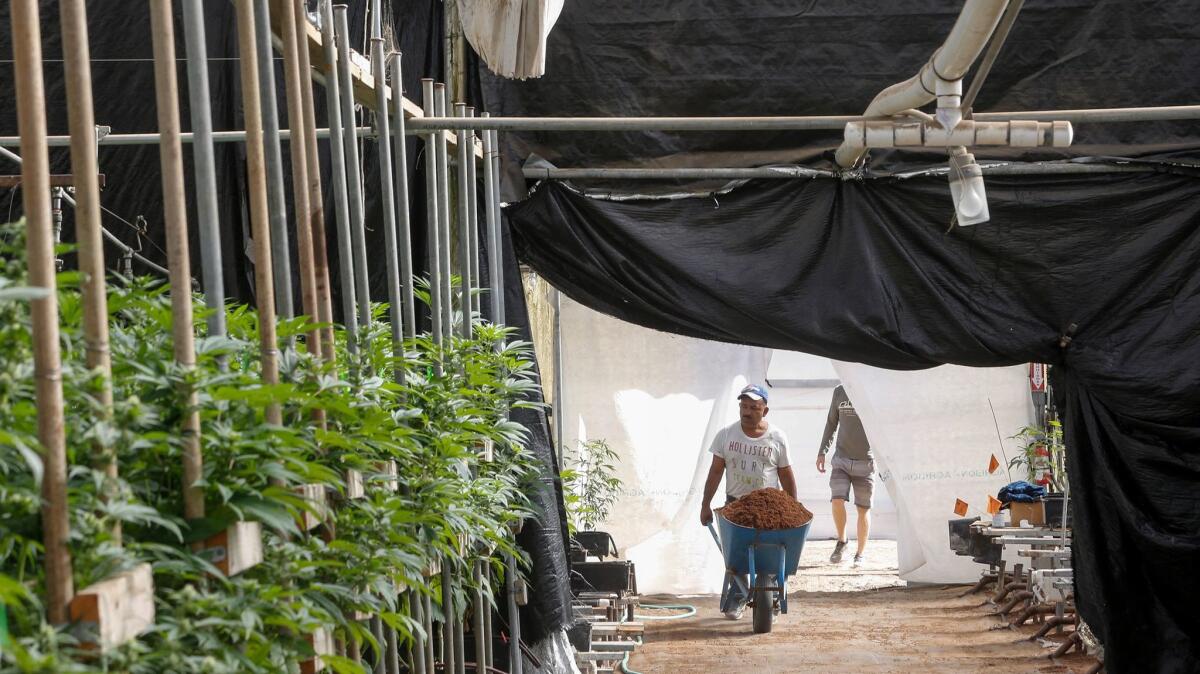 That geographical position is crucial to cannabis growers who serve the Bay Area and Southern California markets, and will become even more important if voters statewide approve a ballot initiative to allow marijuana to be sold for profit to recreational users.
"California in general, and the Salinas Valley in particular, is perfectly positioned to do with cannabis what it has done with many other fruits and vegetables, which is claim 50% or more of the national market," said Steve DeAngelo, CEO of Harborside Health Center in Oakland, and one of the founding fathers of the state's medical cannabis industry.
The greenhouses of Salinas Valley offer a Goldilocks "just right" climate for marijuana, capturing the daily maritime breezes through ceiling vents to moderate the heat from the the valley's long, sunny growing season. Cannabis growers say they can turn over four or five crops per year with very little energy cost. Studies suggest that greenhouse cultivation is half as expensive as cultivation under the artificial light and climate controls that will be required in the marijuana warehouses planned for the desert communities of Adelanto and Desert Hot Springs.
When DeAngelo started poking around idle and underused greenhouses nearly two years ago, prices were relatively low. The floral industry had been devastated by a 1991 trade agreement that removed import duties on cut flowers from South American nations — in part to offer Andean farmers an alternative crop to coca and marijuana.
Greenhouse prices have since doubled, DeAngelo said. Market watchers say it is no longer uncommon to see greenhouse properties fetch upwards of $200,000-$300,000 per acre — at least four times the going price of prime agricultural land in the county.
"Almost every greenhouse property south of Salinas is being prepared for, or being used for cannabis," Allen said.
Before cannabis interest emerged, "some of these properties were sitting on the market two, three years," said Kyle Brown, a commercial and agricultural appraiser with Stephen Brown Associates in Salinas. Those that did sell, generally went for well below their asking prices. Now, sellers get that price and more, he said.
DeAngelo's FLRish Inc. formed a limited liability corporation that paid $3.4 million for 47 acres filled with several dozen greenhouses, where a horticulture company once cultivated and shaped landscaping shrubs into topiaries.
Within months, two more greenhouse complexes nearby sold for $2 million to $3 million apiece, according to property records.
Even non-agricultural land in Gonzales, Greenfield, King City, and other impoverished towns lining the 101 Freeway has been selling at a premium, after each conformed with separate cannabis licensing rules.
One month after DeAngelo sealed his deal, Second Sun Grow, a cannabis cultivation and extraction company operating in four states, paid $2.9 million for 10 acres on four lots on the northwestern end of Greenfield, a city of about 17,000 people, where per-capita income is $13,567, according to the U.S. Census Bureau.
The industrial strip lined with trucking companies, warehouses and storage centers has suddenly become as pricey as Carmel. This spring, two newly formed limited partnerships spent $8 million for 5 acres on several lots.
All the deals have been mortgage-free, their buyers usually cloaked in limited liability partnerships.
One of them, Rubicon California, is an investment group connected with a Vancouver, Canada-based medical cannabis company. It bought 3 acres in northwest Greenfield for $1.1 million.
"From our perspective, Monterey County was an obvious choice," said Jesse McConnell, founder of Rubicon Organics, who expects to begin construction on a cultivation and cannabinoid extraction facility early next year. "We were looking for a municipality that was willing to work with us."
Susan Stanton, city manager of Greenfield, said she got interested in the tax prospects of cannabis during a seminar two years ago in Berkeley.
"Everybody's got their niche in the market," Stanton said. "We may have location and a name."
Greenfield could green up its coffers by about $3 million to $7 million per year in fees and taxes from the 13 applicants for licenses, Stanton estimated — an amount she said could nearly double the city's general fund.
"If you can control the economic impact, the environmental impact and the social impact on the community, it can be a positive thing," she said. "But if you don't, I think this can get real ugly real fast. It has a very corrupting influence on many levels in small communities, where you have an infusion of this much cash in a very small amount of time."
A whiff of scandal already is hanging over Greenfield. A divided City Council voted in September to censure Mayor John Huerta Jr. after an outside investigator found he had tried to influence a police investigation of a marijuana business that did not have a city license to operate. Huerta, who has denied the allegations, faces a recall election in January.
Getting a local license is the crucial first step in getting the more coveted state licenses under last year's Medical Marijuana Regulation and Safety Act. Sacramento will start to grant those in 2018.
But some land purchasers aren't interested in the license — just the chance to make quick money.
"Properties that were sitting alongside 101 that sat vacant, for the most part unusable, have been purchased, sold and flipped and purchased many different times," said Stanton.
"Some of these people haven't been able to find investors but they've tied up the property," said Aaron Johnson, an attorney at L&G law firm in Salinas, who has helped negotiate land and licensing issues for investors and represents the Coastal Growers Assn., a nonprofit organization that has pushed for cannabis reform.
His clients include DeAngelo's FLRish, which already is turning out several hundred plants per day on the former Schubert Nursery site on Encinal Road.
Jeff Brothers, CEO of FLRish, showed off a 56,000-square-foot greenhouse with 22,000 pots brimming with cannabis plants, each of them tagged with a product code that will allow consumers to learn more about the weed's origin.
"When consumers are at the counter, they're going to want to know how it was grown," said Brothers, a 23-year veteran of the cut flower industry. "We want to be on the right side of the paradigm shift."
Brothers and DeAngelo foresee a day when they can offer space to small-scale growers, such as those who have been cultivating for decades in the "emerald triangle" of Humboldt, Mendocino and Trinity counties.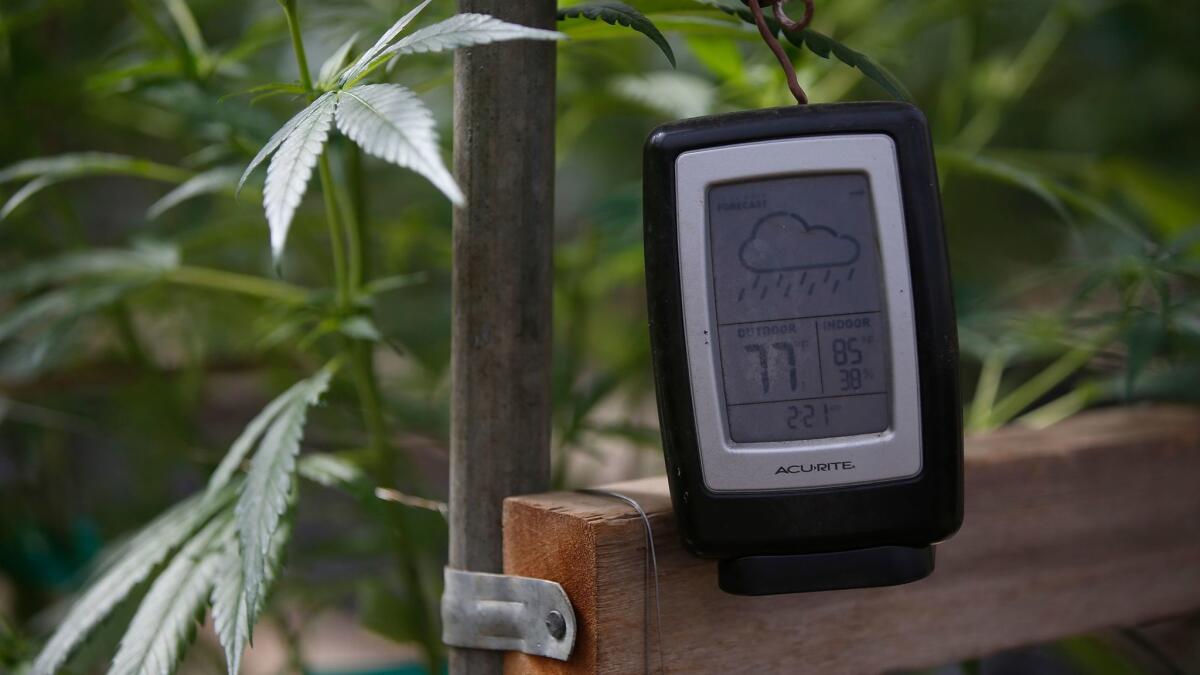 Some small growers worry they will be priced out of the market.
Jeff — a grower who did not want to use his family name — said he's ready for the real estate boom to go bust. Greenhouses he once rented for just 5 to 10 cents a square foot now fetch 10 times the rent, he said.
"Everybody is buying greenhouse space," he said. "They're buying these old, dilapidated greenhouses and spending $100 or $200 a square foot to build these elaborate facilities."
Jeff, who runs the Gold Coast Garden medical marijuana cooperative in Santa Cruz, is a third-generation horticulturist whose parents were pushed out of the rose business by Latin American competitors. He stayed, and shifted to foliage for the floral industry, cultivating cannabis on the side after seeing his nephew, who has autism, benefit from using cannabis extract. He told his parents about the side business only two years ago, he said.
To him, growing the Bosso G, Holy Grail, Gorrilla Glue and Suzy Q strains in his 40,000-square-foot rented greenhouse on the outskirts of Pajaro is no different than raising any other crop.
"It's like buying from a lettuce company," he said. "We grow a bed, see if we like it, and if we like it, we'll take cuttings off that bed – it's just farming."
Follow me: @LATgeoffmohan
ALSO
This Colorado county embraced the marijuana industry. Now it might ban pot businesses
If you think legalizing marijuana is no big deal, think again
Younger voters overwhelmingly favor marijuana measure, which is likely to pass, poll finds