Oil jumps to 2-year high, and stocks rise as chip makers climb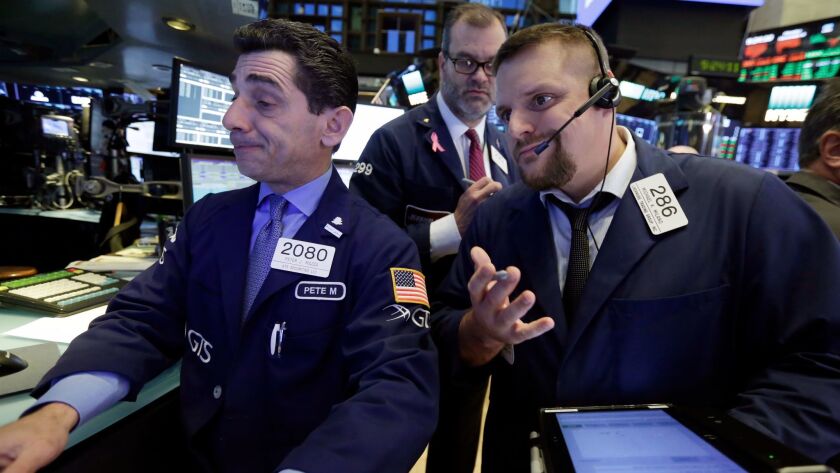 U.S. stocks made modest gains and set more records Monday as upheaval in oil-rich Saudi Arabia sent crude oil prices to two-year highs. Chip makers and media companies climbed on deal reports. Phone and household goods companies, on the other hand, sank.
U.S. crude oil reached its highest price since mid-2015 after dozens of Saudi princes, senior officials and businessmen were arrested as part of a purported corruption investigation. Saudi Arabia is the world's largest exporter of oil, and investors wondered whether the tumult would constrict oil supplies and drive up prices. Energy companies' shares jumped, with drilling companies making some of the biggest gains.
Chip makers surged after Broadcom offered to buy competitor Qualcomm for $103 billion, which, if it's completed, would be the largest technology acquisition ever. Wireless carriers Sprint and T-Mobile tumbled after they called off merger talks over the weekend, and reports that Sprint's owner, Japanese conglomerate SoftBank, might buy cable company Charter hammered shares of telecom giants AT&T and Verizon, which might face tougher competition.
Doug Coté, chief market strategist for Voya Investment Management, said that in the years after the global economic crisis, companies combined so they could survive. But now that the global economy is doing much better, they're doing mergers and acquisitions for different reasons.
"Global economic growth is expanding somewhat rapidly, and the M&A is looking to capitalize on the growth areas, in particular technology," he said. "Any capital investment cycle will begin with technology."
Companies that make and sell household goods slumped on weak quarterly results from CVS Health and food distributor Sysco.
Disney and 21st Century Fox climbed after CNBC reported the two companies recently discussed a deal in which Disney would buy most of Fox's assets. Those talks were said to have ended without an agreement.
The Standard & Poor's 500 index rose 3.29 points to 2,591.13. The Dow Jones industrial average edged up 9.23 points to 23,548.42. The Nasdaq composite advanced 22 points to 6,786.44. The Russell 2000 index of smaller-company stocks ticked up 3.05 points, or 0.2%, to 1,497.96.
Broadcom's unsolicited offer, which values Qualcomm at $70 a share, would combine two companies that control about 40% of the market for chips used in cellphones. Qualcomm's stock has been battered this year while the company is entrenched in a legal battle with its biggest customer, Apple. Combining with Broadcom might help Qualcomm end that dispute.
Broadcom shares rose 1.4% to $277.52. Qualcomm rose 1.1% to $62.52, adding to the sharp gains it made Friday on reports that Broadcom was going to make an offer. Apple rose 1% to $174.25 as technology companies rose for the eighth straight day.
That wasn't the only potential chip tie-up in the news. After the Wall Street Journal reported that Marvell Technologies is in talks to buy Cavium, Cavium jumped 12% to $76.43 and Marvell climbed 9.1% to $20.20.
Also, chip maker Advanced Micro Devices rose 7.3% to $11.93 after it said it would work with Intel to make a new graphics processor unit.
Sprint dived 11.5% to $5.90 and T-Mobile sank 5.7% to $55.54 after they dashed investors' hopes that they would finally combine.
Verizon dropped 4% to $45.53 and AT&T slid 1.3% to $32.86 after more reports that Japanese conglomerate SoftBank, which owns Sprint, is interested in buying cable provider Charter Communications. CNBC reported on those discussions Monday, and the New York Post said last week that the companies had recent talks about a deal. Combining Sprint with Charter, the country's second-largest cable company, could mean cost savings, deeper pockets and a combined wireless-home internet company that could act as a stronger competitor to AT&T and Verizon.
Anthem rose 2.1% to $216.30 after the health insurer named UnitedHealth executive Gail Boudreaux as its next chief executive.
Michael Kors Holdings soared 14.7% to $54.62. The luxury retailer raised its annual forecast after a strong quarterly report.
U.S. crude oil surged $1.71, or 3.1%, to $57.35 a barrel in New York. Brent crude, the international standard, climbed $2.20, or 3.5%, to $64.27 a barrel in London.
Coté said he is skeptical that any problems in Saudi Arabia will lead to higher oil prices because he thinks American companies will drill for more oil if prices stay where they are. That would increase supplies and push prices down.
With international tumult in the news, investors bought gold and government bonds. Gold rose $12.40 to $1,281.60 an ounce. Silver rose 40 cents to $17.24 an ounce. Copper rose 4 cents to $3.16 a pound.
The yield on the 10-year Treasury note slipped to 2.32% from 2.33%.
Wholesale gasoline rose 4 cents to $1.83 a gallon. Heating oil rose 6 cents to $1.94 a gallon. Natural gas jumped 15 cents to $3.13 per 1,000 cubic feet.
The dollar fell to 113.77 yen from 114.16 yen. The euro rose to $1.1606 from $1.1608.
In Britain, the FTSE 100 made a tiny gain while France's CAC 40 shed 0.2%. The German DAX slipped 0.1%. Japan's Nikkei 225 made a tiny gain and South Korea's Kospi fell 0.3%. Hong Kong's Hang Seng index lost less than 0.1%.
---
UPDATES:
3:50 p.m.: This article was updated with closing prices, context and analyst comment.
1:15 p.m.: This article was updated with the close of markets.
This article was originally published at 9:15 a.m.
---
For reporting and exclusive analysis from bureau chief John Myers, get our California Politics newsletter.
You may occasionally receive promotional content from the Los Angeles Times.