Dow plunges 1,175 points as stocks fall, wiping out all of this year's gains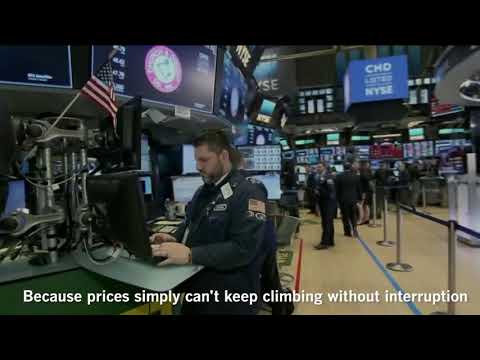 The Dow has now tumbled 8.5% since reaching a record high Jan. 26
The Dow Jones industrial average plunged a record 1,175 points, or 4.6%, on Monday as a sell-off in the stock market gained momentum less than two weeks after the market set record highs.
The percentage drop in the Dow, the famed average of 30-blue chip stocks, was well below its record single-day drop of 22.6% set Oct. 19, 1987, because stock prices have soared in the decades since then.
There was no discounting the damage Friday and again Monday. The Dow has now tumbled 8.5% since reaching a record high Jan. 26, wiping out its gains so far this year.
Although Wall Street is increasingly concerned about rising interest rates, there was no major news Monday that sparked the latest drop and, early in the session, the market tried to rally from its big setback Friday, when the Dow tumbled 666 points, or 2.5%.
But when the rally fizzled, investor confidence in stock prices quickly turned sour again. And with the market still sitting on major gains for the last 12 months, investors effectively threw in the towel for at least one day and resumed heavy selling to cash in their profits. The Dow at one point was down nearly 1,600 points.
"No one was willing to try to catch a falling knife," A.C. Moore, chief investment strategist at Dunvegan Associates Inc. in Santa Barbara, said of the market's downward momentum.
The Dow lost 1,175.21 points to 24,345.75, easily breaking its previous record point decline of 777.68 points set Sept. 29, 2008, during the nation's financial crisis, which at that time amounted to a 6.98% decline.
The percentage drop this time was smaller because stocks have been in a bull market during the nine years since then.
Last year alone, the Dow Jones industrials soared 25.1% and the benchmark Standard & Poor's 500 index gained 19.4%; The S&P 500 jumped an additional 7.5% just last month. The Dow, S&P 500 and the tech-heavy Nasdaq composite index all set record highs Jan. 26.
Still, Monday's drop was the worst percentage decline since August 2011.
The market has been propelled mainly by low interest rates, rising corporate earnings and economic growth both in the United States and abroad.
In light of those gains, analysts had warned that the stock market probably would be more volatile in 2018 because prices simply can't keep climbing without interruption.
On Monday, the S&P 500 fell 113.19 points, or 4.1%, to 2,648.94, and the Nasdaq composite lost 273.42 points, or 3.8%, to 6,967.53.
The economic underpinnings continue to be favorable for stocks, even if interest rates keep edging up, but the stock market was poised for a pullback in prices, analysts said. A drop of 10% or more is what Wall Street technically calls a "correction."
"We had come such a long distance in such a relatively short period of time that, by almost any measure, the market was overbought," said John Bollinger, head of Bollinger Capital Management in Redondo Beach.
"It just means the market had come too far too fast and that was unsustainable," he said.
The rout hammered stocks across the board, with some of the heaviest losses in the aerospace, healthcare, energy, technology and financial-services industries. Boeing Co. and Exxon Mobil Corp. fell 5.7%, Facebook Inc. lost 4.7% and Netflix Inc. tumbled 4.9%.
The main catalyst for the two-day drop was investors' growing fear of rising interest rates, especially after the Labor Department on Friday issued a robust U.S. jobs report for January.
The thinking is that as the economy grows stronger, especially with higher workers' wages, it will kindle higher inflation, which in turn will lead the Federal Reserve to keep nudging interest rates higher.
"The concern today is that the Fed may need to raise interest rates more quickly and that could hinder economic growth," Alexandra Coupe, associate director for investment firm Pacific Alternative Asset Management Co. in Irvine, said in an email.
As rates go up, so do interest costs for businesses and consumers, especially for big-ticket items such as houses and cars.
Market interest rates also have been rising. On Monday, though, the yield on the 10-year Treasury note fell to 2.70% from 2.84% on Friday, yet stocks still fell.
President Trump, who repeatedly had cited the market's gains as evidence that his economic policy initiatives were succeeding, was silent about the market Friday and again Monday as prices retreated.
During Monday's plunge, Trump was delivering a speech touting his tax cuts at a factory in Cincinnati, calling employees to the stage to discuss the gains they expected to make as a result of the recent U.S. tax reform plan and what they intended to do with bonus checks they were receiving.
Raj Shah, the White House deputy press secretary, told reporters on Air Force One that "markets do fluctuate in the short term. We all know that."
"But the fundamentals of this economy are very strong, and they're headed in the right direction — for the middle class, in particular," Shah said.
Some analysts said the stock market's downturn opens up buying possibilities for many stocks because they're now cheaper, but they warned that the market might well suffer more substantial declines before it rallies again.
"In the short term there's downside pressure of another 3% to 5% decline over the next few days," Tom Galvin, managing director of equities at City National Rochdale, a wealth-management unit of Los Angeles-based City National Bank, said in an email.
In the meantime, he said, "you're getting a quick correction that is overdue — a growth scare, if you will."
Stocks in Europe and Asia also fell.
Britain's FTSE 100 slipped 1.5%, France's CAC 40 slid 1.5% and the DAX in Germany declined 0.8%.
Japan's benchmark Nikkei 225 dropped 2.6% and the South Korean Kospi shed 1.3%. Hong Kong's Hang Seng index fell 1.1%.
Times staff writer Noah Bierman contributed to this report.
Twitter: @PeltzLATimes
---
UPDATES:
3:45 p.m.: This article was updated with the Dow's last percentage drop of this size, examples of stocks that fell and Wall Street's definition of a "correction."
2:45 p.m.: This article was updated throughout with Times staff reporting and additional analysis.
1:15 p.m.: This article was updated with closing prices.
1 p.m.: This article was updated with more recent prices.
12:20 p.m.: This article was updated with more recent prices.
12:10 p.m.: This article was updated with more recent prices.
11:35 a.m.: This article was updated with more recent prices.
10:45 a.m.: This article was updated with more recent prices.
7:50 a.m.: This article was updated with market prices and context.
This article was originally published at 7 a.m.