Stocks end mixed after Trump economic advisor Gary Cohn resigns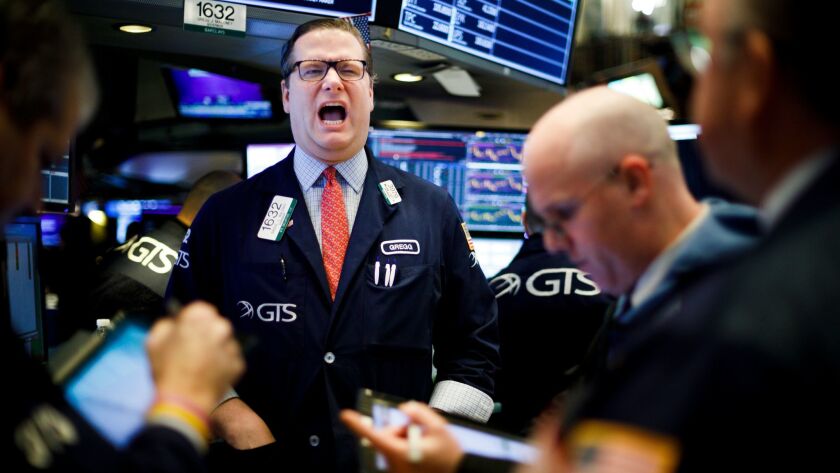 "What does it mean for trade?" That question continued to guide Wall Street on Wednesday, leading stocks to a mixed finish the day after President Trump's top economic advisor resigned.
Stocks fell in the morning as investors reacted to the departure of Gary Cohn, a former Goldman Sachs executive who opposed the administration's planned tariffs on imports of steel and aluminum and was seen as a proponent of free trade. The losses deepened after Trump suggested on Twitter that the U.S. may impose penalties on China as part of intellectual property disputes. At one point, the Dow Jones industrial average was down as much as 349 points.
Cohn, the director of the National Economic Council, was known to disagree with the tariff plan, which also has drawn criticism from Republicans in Congress as well as from much of corporate America.
"He was seen as a key proponent of free trade to balance some of the other more protectionist-type advisors in the administration," said Keith Parker, U.S. equity strategist for UBS. Cohn also was considered one of the architects of last year's corporate tax cut.
The market bounced back late in the session after the White House said some countries, including Canada and Mexico, might be granted exemptions to the tariffs. That suggested a lighter touch that wouldn't affect the global economy and corporate profits as much as a broader tariff would, and wouldn't result in as much retaliation from other countries.
Industrial companies such as Caterpillar and Boeing whipsawed on the news. Technology and healthcare companies ended higher. Energy companies fell with oil prices.
The Standard & Poor's 500 index fell as much as 1% during the day but finished with a loss of just 1.32 points, less than 0.1%, at 2,726.80. The Dow Jones industrial average ended down 82.76 points, or 0.3%, at 24,801.36. The Nasdaq composite rose 24.64 points, or 0.3%, to 7,396.65.
The Russell 2000 index of smaller-company stocks climbed 12.33 points, or 0.8%, to 1,574.53. It has fared better than the S&P and Dow over the last week, as the companies on that index are far more U.S.-focused and would stand to lose less from a flare-up in global trade tensions.
In response to the planned steel and aluminum tariffs, the European Union has proposed tariffs on U.S. exports including motorcycles and bourbon.
Jack Daniel's maker Brown-Forman sank 5.6% to $52.89 after its chief executive, Paul Varga, said his company "could be an unfortunate and unintended victim" of more hostile trade. Varga said the company has been selling more lower-priced liquors in Europe, a strategy that leaves it more vulnerable to higher costs. The company also forecast a smaller-than-expected annual profit.
Motorcycle maker Harley-Davidson fell 1% to $43.90.
Discount retailer Dollar Tree tumbled 14.5% to $89.25 after its fourth-quarter results and current-year forecasts disappointed investors. Ross Stores slid 6.3% to $75.40.
Benchmark U.S. crude dropped $1.45, or 2.3%, to $61.15 a barrel after the Energy Department reported that U.S. oil production rose last week. Brent crude, used to price international oils, fell $1.45, or 2.2%, to $64.34 a barrel.
Exxon Mobil shares retreated 2.5% to $74.26. Hess shares slid 4.1% to $46.48.
On Twitter, Trump said the government is "acting swiftly on intellectual property theft." The U.S. Trade Representative is investigating whether Chinese intellectual property rules are "unreasonable or discriminatory" to American business.
Parker said the tariffs could reduce corporate profits by about $10 billion, far less than the boost corporations will get from the federal tax overhaul that was signed into law in December. However, he said steps against China — and retaliation by the Chinese government — could raise the cost of items, including phones, technology goods and clothing.
"The risk is that, given China policy and actions, that there could be something specific placed on Chinese goods, which would potentially lead to a retaliatory action," he said.
While most investors interpreted Cohn's departure from the Trump administration as a loss, Parker said it might keep some of the administration's protectionist plans in check when combined with criticism from Republicans in Congress and the generally negative stock market reaction.
In other energy trading, wholesale gasoline fell 2 cents to $1.91 a gallon. Heating oil fell 3 cents to $1.87 a gallon. Natural gas rose 3 cents to $2.78 per 1,000 cubic feet.
Bond prices edged up. The yield on the 10-year Treasury note fell to 2.88% from 2.89%.
Metals prices gave back some of Tuesday's gains. Gold fell $7.60 to $1,327.60 an ounce. Silver slid 29 cents, or 1.7%, to $16.49 an ounce. Copper fell 2 cents to $3.14 a pound.
The dollar fell to 106.07 yen from 106.21 yen. The euro edged down to $1.2403 from $1.2405.
In overseas trading, Germany's DAX rose 1.1%, Britain's FTSE 100 gained 0.2%, and the French CAC 40 added 0.3%. Asian markets started flat but losses widened in the afternoon. The Japanese Nikkei 225 dropped 0.8%. South Korea's Kospi fell 0.4%. The Hang Seng of Hong Kong sank 1%.
---
UPDATES:
2:30 p.m.: This article was updated with closing prices and context.
9:55 a.m.: This article was updated with market prices, context and analyst comment.
This article was originally published at 7:05 a.m.
---
Your guide to our clean energy future
Get our Boiling Point newsletter for the latest on the power sector, water wars and more — and what they mean for California.
You may occasionally receive promotional content from the Los Angeles Times.