Stocks jump late in the day, regaining some ground lost on trade-war fears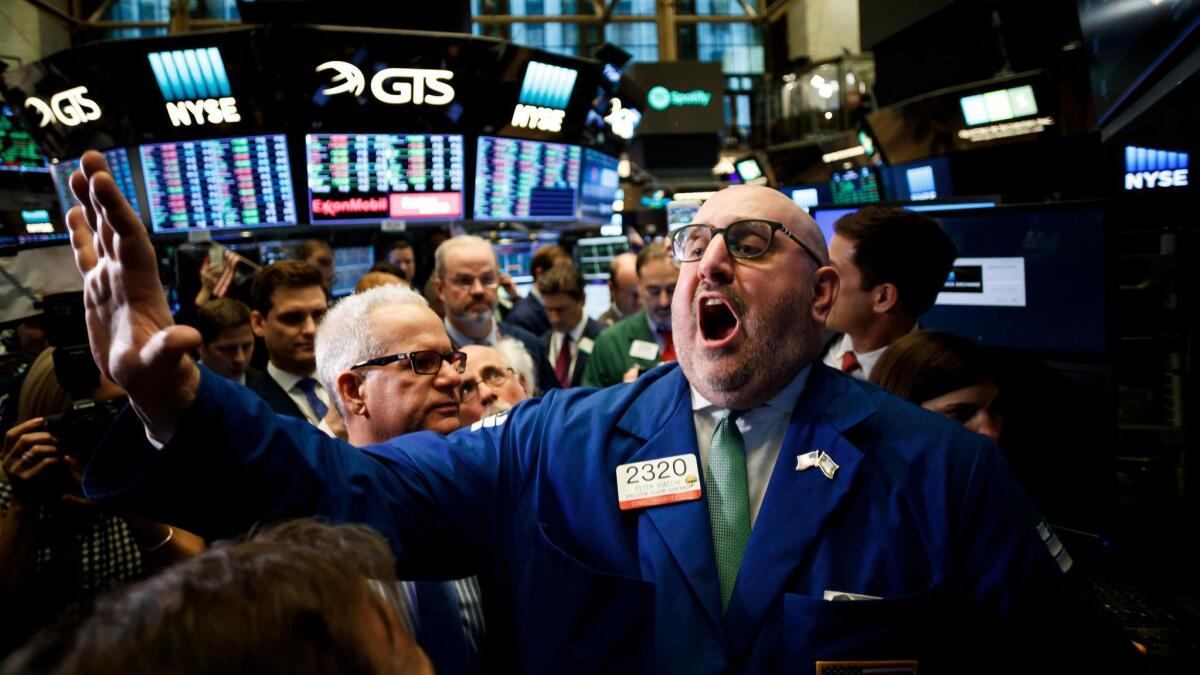 Banks, retailers, healthcare and energy companies climbed Tuesday as U.S. stocks regained much of what they lost in Monday's steep drop. Several big technology companies, including Apple, recovered too.
Banks rose as interest rates turned higher, and automakers Ford and General Motors jumped after saying their sales rose in March after a rough start to the year. Retailers such as Foot Locker and consumer-focused companies, including Netflix, also climbed.
The market got off to a shaky start, wobbled for much of the day, then surged in the last hour of trading. The Standard & Poor's 500 index rose 32.57 points, or 1.3%, to 2,614.45. A day earlier, it dropped 2.2%.
The Dow Jones industrial average rose 389.17 points, or 1.7%, to 24,033.36. The Nasdaq composite climbed 71.16 points, or 1%, to 6,941.28. The Russell 2000 index of smaller-company stocks added 19.62 points, or 1.3%, to 1,512.15.
Craig Holke, investment strategy analyst for the Wells Fargo Investment Institute, said the market will continue to bounce around as investors worry about changes in trade that could slow down the global economy and companies' profits. He noted that the U.S. hasn't entered a full-blown trade war since 1930, and trade relationships were much different back then.
"There was a lot less interconnectedness," he said. "Every country was actually more insulated, produced more of their own goods at that time. It's really hard to get around that nowadays."
Among individual stocks, CBS climbed 4.2% to $52.86 on reports it plans to make an offer to buy corporate sibling Viacom. The offer is reported to be for less than Viacom's current market value, and Viacom stock fell 3.7% to $29.42.
Music streaming company Spotify Technologies made its debut on the New York Stock Exchange. Instead of raising money through an initial public offering underwritten by an investment bank, Spotify took a more unusual route called a direct listing that lets investors sell the stock directly. It started trading at $165.90 a share, well above the previous high share price of $132.50 it reached in private deals. The stock wound up closing down 10.2% at $149.01.
It has been a rocky month for stocks as investors worry about changes to the North American Free Trade Agreement and tensions between the U.S. and China, the world's biggest economies. Stocks plunged Monday after China placed tariffs on a small number of exports, and investors fear that its response to a broader package of trade sanctions will be harsher. But Holke said the countries are likely to find ways to resolve their differences on issues including complaints that Beijing steals or pressures foreign companies to hand over technology.
"If they can get China to remove this process of having this technology transfer in place for companies that do business in China, the tariffs might not even go into effect," he said.
The Nasdaq, which set its most recent record high March 12, has fallen 7.5% in just three weeks. Some of the market's woes stem from the fact that several of the largest technology companies have come under fire at the same time. Facebook is still deep in the fallout of an ever-widening privacy scandal, and if the government decides to regulate online consumer data in new ways, that also might affect Alphabet, Google's parent company, as well as smaller social media companies such as Twitter and Snap.
Meanwhile, Amazon.com, which isn't classified as a technology company, has come under fire from President Trump, who has griped about the company's tax payments, deals with the U.S. Postal Service and other issues. His statements have often diverged from the facts, and also has blamed Amazon for critical news coverage of his administration by the Washington Post, which is owned by Amazon founder and Chief Executive Jeff Bezos but isn't part of Amazon.
Amazon shares jumped 1.5% to $1,392.05 on Tuesday after Bloomberg News reported that the White House isn't talking about taking any steps against the company. Still, Piper Jaffray analyst Michael Olson said Trump is likely to continue periodically bashing the company for as long as he's in office, but steps such as sales tax collection changes won't affect Amazon much, and the Postal Service probably won't raise shipping rates much either.
Bond prices declined. The yield on the 10-year Treasury note rose to 2.78% from 2.73%.
Gold slid 0.7% to $1,337.30 an ounce. Silver fell 1.7% to $16.39 an ounce. Copper rose 1 cent to $3.06 a pound.
The dollar rose to 106.61 yen from 105.85 yen. The euro fell to $1.2267 from $1.2300.
U.S. crude rose 50 cents to $63.51 a barrel. Brent crude, used to price international oils, rose 48 cents to $68.12 a barrel.
Wholesale gasoline rose 1 cent to $1.97 a gallon. Heating oil rose 1 cent to $2 a gallon. Natural gas ticked up 1 cent to $2.70 per 1,000 cubic feet.
Returning from the long Easter holiday weekend, Germany's DAX fell 0.8%, London's FTSE 100 declined 0.4%, and France's CAC 40 lost 0.3%. Earlier in Asia, Tokyo's Nikkei 225 shed 0.5% and Seoul's Kospi ended down 0.1%. Hong Kong's Hang Seng bucked the trend, finishing with a 0.3% gain.