Stocks close higher, lifted by a last-minute rally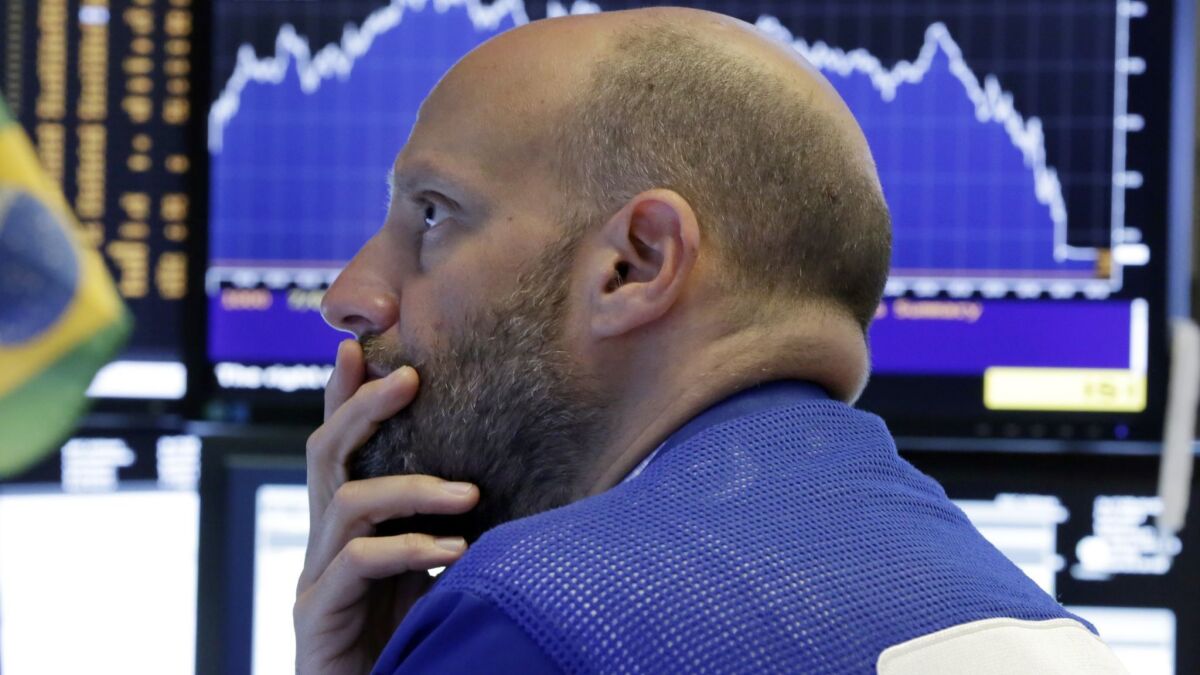 U.S. stocks closed higher Monday after a last-minute market rally erased the losses from a daylong slump.
Technology companies led the market rebound. Banks and healthcare stocks also notched gains. Energy took the biggest losses as crude oil prices declined. Big department store chains and consumer goods companies fell too.
The stock market, which was coming off two weekly losses in a row, was in the red for most of the day following disappointing economic data out of Asia that left global indexes sharply lower.
Trading volume was lighter than usual. On Tuesday, U.S. markets are scheduled to close early, at 1 p.m. EDT, and they will stay closed Wednesday for the Independence Day holiday.
"We opened very low and then, during the course of the day, the market started to basically gain some momentum," said Quincy Krosby, chief market strategist at Prudential Financial. "The volume in the market typically comes down markedly in a holiday week, and moves can be exaggerated to the upside as well as to the downside by events, headlines or data."
The Standard & Poor's 500 index rose 8.34 points, or 0.3%, to 2,726.71. The Dow Jones industrial average edged up 35.77 points, or 0.2%, to 24,307.18. The Nasdaq composite jumped 57.38 points, or 0.8%, to 7,567.69. The Russell 2000 index of smaller-company stocks climbed 12.02 points, or 0.7%, to 1,655.09.
A slump in global markets weighed on U.S. stocks from the get-go Monday, after new economic reports out of China and Japan disappointed traders. A German government crisis also weighed on markets in Europe, which closed lower.
"You saw some of the more tariff-sensitive stocks a little bit weaker on the opening," said JJ Kinahan, chief market strategist for TD Ameritrade. "It's all headline news trading."
U.S. stocks gradually pared their losses as the day went on, led by technology stocks' gains.
Investors continued to focus on global trade tensions. The European Union warned the Trump administration Monday that it might slap tariffs on $300 billion worth of U.S. exports in retaliation for Trump's threatened tariffs on European cars. On Sunday, Canada started imposing tariffs on billions of dollars' worth of U.S. goods in response to the Trump administration's duties on Canadian steel and aluminum.
The United States is set to impose a 25% tariff on up to $50 billion worth of Chinese products starting Friday. In response, China has said it will raise import duties on $34 billion worth of American goods.
"We're just not sure what's going to happen with that," said Rob Haworth, senior investment strategist with U.S. Bank Wealth Management. "We don't think a lot of the July 6 tariffs have yet to be fully priced into the market."
Technology companies led the market rebound. Micron Technology led the sector, climbing 3.9% to $54.48.
"You're getting a reaction to last week, when technology did so poorly and now they're getting a bounce here," Haworth said.
Tracking shares in computer maker Dell leaped 9% to $92.20 after Dell announced it would go public again after five years as a private company. Shares of VMware jumped 10.2% to $162.02 on speculation that Dell may buy the rest of the business software company, which will also issue a special dividend to shareholders.
Wynn Resorts sank 7.9% to $154.14 after June revenue growth at the casino operator's resorts in Macau fell well short of Wall Street's expectations.
Several department store chains' shares declined. Nordstrom fell 2.1% to $50.71. Macy's slid 2.4% to $36.54. Kohl's declined 2.2% to $71.33.
Bond prices fell. The yield on the 10-year Treasury rose to 2.87% from 2.86%.
The increase in bond yields helped lift bank shares. Interest rates on mortgages and other consumer loans tend to move along with bond yields, and rising interest rates mean banks can make bigger profits on credit cards, mortgages and other consumer loans. Capital One Financial shares rose 2.1% to $93.78.
Benchmark U.S. crude fell 21 cents to settle at $73.94 a barrel in New York. Brent crude, used to price international oils, sank $1.93, or 2.4%, to close at $77.30 in London. The decline in oil prices weighed on energy stocks. Cimarex Energy shares slid 4% to $97.66.
Heating oil dropped 5 cents to $2.16 a gallon. Wholesale gasoline fell 5 cents to $2.11 a gallon. Natural gas slid 6 cents to $2.86 per 1,000 cubic feet.
The dollar fell to 110.86 yen from 110.88 yen. The euro weakened to $1.1610 from $1.1669.
Gold fell $12.80, or 1%, to $1,241.70 an ounce. Silver slid 36 cents, or 2.2%, to $15.84 an ounce. Copper fell 2 cents to $2.94 a pound.
Major indexes in Europe finished in the red. Germany's DAX fell 0.6%, France's CAC 40 lost 0.9%, and Britain's FTSE 100 retreated 1.2%.
Markets in Asia were overshadowed by weaker-than-expected Chinese manufacturing data and a softening in Japan's economic outlook.
China's manufacturing activity slowed in June, adding to concerns that the economy is cooling due to tighter government controls on lending. Meanwhile, the Bank of Japan's "tankan" survey measuring confidence among large-scale manufacturers declined for the first time in two years.
Japan's benchmark Nikkei 225 index plunged 2.2%, and South Korea's Kospi tumbled 2.4%. Australia's S&P/ASX 200 lost 0.3%. Taiwan's benchmark fell but Southeast Asian indexes were mixed. Hong Kong's markets were closed for a market holiday.
---
Sign up for the California Politics newsletter to get exclusive analysis from our reporters.
You may occasionally receive promotional content from the Los Angeles Times.