Stocks rally despite U.S.-China trade war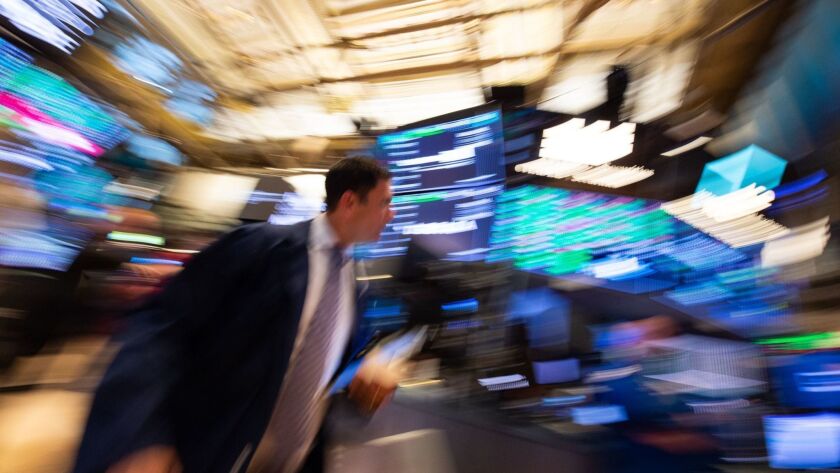 The trade dispute between the U.S. and China escalated Friday, but Wall Street focused on a solid jobs report instead.
After a wobbly start, U.S. stocks mounted a broad rally, shaking off two consecutive weekly losses.
Mounting jitters in recent weeks over a stepped-up trading dispute between the world's two largest economies had weighed on the markets well before Friday, when Beijing and Washington launched dueling tariffs on billions of dollars' worth of goods.
U.S. and China slap big tariffs on each other, escalating trade fight »
"The markets had already sold off the prior two weeks," said Dan Heckman, national investment consultant at U.S. Bank Wealth Management. "The market probably had built that expectation in already, and today we're seeing a nice rebound."
A solid pickup in hiring by U.S. employers last month also helped keep investors in a buying mood.
The Standard & Poor's 500 index rose 23.21 points, or 0.8%, to 2,759.82. The Dow Jones industrial average rose 99.74 points, or 0.4%, to 24,456.48. The Nasdaq composite climbed 101.96 points, or 1.3%, to 7,688.39. The Russell 2000 index of smaller-company stocks advanced 14.57 points, or 0.9%, to 1,694.05.
The U.S. put a 25% tax on $34-billion worth of Chinese imports Friday. China retaliated with taxes on an equal amount of U.S. products, including soybeans, pork and electric cars, calling the move the start of the "biggest trade war in economic history."
The first exchange of tariffs is unlikely to inflict much economic harm on either nation, but the damage could soon escalate. President Trump, who has claimed that winning a trade war would be easy, has said he is prepared to drastically raise tariffs on more Chinese imports. Mounting tariffs could raise costs across the board for consumers and businesses, slowing growth and investment and hurting companies that rely on imported parts to make their goods.
Despite the market's gains Friday, much damage has already been inflicted on stocks that would stand to lose in a protracted trade battle with China. American companies that do a lot of business there have seen their stocks drop steeply in the last few weeks.
Aircraft maker Boeing, which relies on China for 12.3% of its sales, according to FactSet, has seen its stock fall 9.9% over the last month as the trade tensions with China worsened.
Heavy equipment maker Caterpillar, whose two biggest markets are the U.S. and China, is down 13.5% over the same time. Liquor maker Brown-Forman, whose products include Jack Daniels, has dropped 15% since late May. Whiskey, along with soybeans, pork and cheese, is among the products on which China is slapping retaliatory tariffs.
As the prospect of Chinese tariffs on soybeans grew in recent weeks, the price of soybeans has fallen sharply. Soybean futures have fallen from $10.42 a bushel in late May to $8.95 on Friday, a drop of 14%.
That hurts U.S. soybean farmers and could also have an impact on makers of farm equipment, such as Deere & Co. Deere's stock has fallen 11.7% over the last month. Last year China bought 30% of the soybeans produced in the United States.
"The market is counting on this to subside," said Erik Davidson, chief investment officer at Wells Fargo Private Bank. "If they get an indication that this will continue to escalate, that will cause some problems."
Investors welcomed new data Friday from the government showing that U.S. employers kept up a brisk pace of hiring last month without having to hike wages much. Markets have been watching to see whether tight labor market conditions would force up wages, which would be a sign of inflation.
Healthcare stocks posted the biggest gains Friday, led by Biogen. The drugmaker's stock soared 19.6% to $357.48 on encouraging results from an Alzheimer's therapy.
Technology companies also notched solid gains. Advanced Micro Devices rose 5.6% to $16.36.
U.S. crude oil prices reversed an early slide. Benchmark U.S. crude climbed 86 cents, or 1.2%, to settle at $73.80 a barrel in New York. Brent crude, used to price international oils, fell 28 cents to $77.11 a barrel in London.
Heating oil slipped 1 cent to $2.17 a gallon. Wholesale gasoline fell 2 cents to $2.11 a gallon. Natural gas rose 2 cents to $2.86 per 1,000 cubic feet.
Bond prices rose. The yield on the 10-year Treasury fell to 2.82% from 2.83%.
The dollar fell to 110.45 yen from 110.68 yen. The euro rose to $1.1745 from $1.1680.
Gold fell $3 to $1,255.80 an ounce. Silver fell 3 cents to $16.07 an ounce. Copper was little changed at $2.82 a pound.
Major indexes in Europe finished higher. Germany's DAX added 0.3%, and France's CAC 40 and Britain's FTSE 100 each gained 0.2%.
Asian markets finished mostly higher as the uncertainty ended over whether Washington would escalate tensions with Beijing. Hong Kong's Hang Seng index gained 0.5%. South Korea's Kospi advanced 0.7%. Tokyo's Nikkei 225 jumped 1.1% after a four-day losing streak.
---
UPDATES:
2:15 p.m.: This article was updated with closing prices, context and analyst comment.
This article was originally published at 7:10 a.m.
---
For reporting and exclusive analysis from bureau chief John Myers, get our California Politics newsletter.
You may occasionally receive promotional content from the Los Angeles Times.