Stocks rise broadly on earnings and trade reports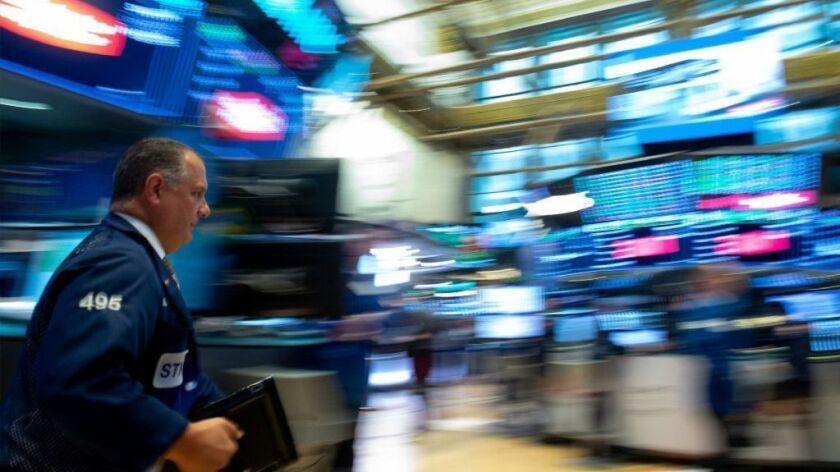 Reporting from New York —
U.S. stocks rose Tuesday following strong results from industrial and healthcare companies as well as a report that the U.S. and China are trying to restart trade talks. Small companies rallied.
Bloomberg News reported that representatives of the U.S. and China are looking for ways to open new talks to end their trade war. The report cited two people familiar with those efforts and said there was no agreement about a time frame for talks or what issues would be discussed. Earlier this month both nations placed import taxes on $34 billion worth of goods, and they've been threatening more severe measures.
The trade dispute could affect sales for many industrial companies and new tariffs on aluminum and steel imports are also sending costs for those companies higher. Companies including Deere and Caterpillar jumped while engine maker Cummins rose after its second-quarter report.
Vincent Reinhart, chief economist at Standish Mellon, a unit of BNY Mellon Asset Management, said investors have mostly stayed calm during the trade dispute because they think most of the tensions will get worked out by the November elections. Rising corporate profits, which have been helped by the recent tax cuts, are also helping.
"Everybody thinks a deal will be cut before the midterms," he said. "That allows you to shake off the bad news and embrace the good."
Earnings from companies including Pfizer and Illumina gave healthcare stocks a boost, and real estate companies climbed as well. Banks were left out of the rally as interest rates slipped.
The S&P 500 index rose 13.69 points, or 0.5%, to 2,816.29, making up most of the losses it took on Monday. The Dow Jones industrial average gained 108.36 points, or 0.4%, to 25,415.19. The Nasdaq composite added 41.78 points, or 0.5%, to 7,671.79. The Russell 2000 index of smaller-company stocks jumped 17.67 points, or 1.1%, to 1,670.80.
Deere, a farm equipment maker whose profits would be hurt by China's tariffs on soybeans, surged 4.8% to $144.79. Engine maker Cummins gained 4.1% to $142.81 after a better-than-expected second-quarter report. After a slump on Monday, construction equipment maker Caterpillar rose 2.9% to $143.80.
Genetic testing tools maker Illumina raised its forecasts after a strong second quarter and its stock climbed 12.1% to $324.36. Pfizer rose 3.5% to $39.93 after the biggest U.S. drugmaker topped analysts' projections and raised its forecasts for the year.
Elsewhere, cable company Charter Communications advanced 3.6% to $304.58 after its quarterly profit surpassed analysts' estimates.
High-powered laser maker IPG Photonics nosedived 26.9% to $164.04 after it said demand from Europe and China worsened during the second quarter. The company's revenue forecast for the current quarter fell far short of Wall Street's estimates.
Apple climbed 2.5% to $195.14 in after-hours trading after reporting that its third-quarter profit and sales both topped analysts' projections. Its fourth-quarter sales forecast was also better than expected. Before the report, Apple had risen 0.9%.
The Commerce Department said consumer spending grew another 0.4% in June, and a key measurement of inflation is up 2.2% over the last year. For the last four months, inflation has equaled or been slightly higher than the Federal Reserve's target of 2%. The Fed is meeting Tuesday and Wednesday but isn't expected to raise interest rates again until later this year.
The Labor Department said wages and benefits for U.S. workers continued to rise, but they grew at a slightly slower pace in the second quarter. That's a sign that even though unemployment is low, wages aren't picking up.
Technology companies ended a three-day losing streak. Chip equipment maker KLA-Tencor soared 10.5% to $117.42 after it topped Wall Street expectations in the second quarter. Chipmaker Qualcomm gained 3.3% to $64.09 as it started to buy back stock from shareholders.
Technology stocks had plunged more than 5% in three days, and they regained only a small portion of that Tuesday.
Bond prices rose. The yield on the 10-year Treasury note fell to 2.96% from 2.97%.
Economic growth in the 19-country eurozone slowed to 0.3% in the second quarter as trade tensions between the U.S. and Europe hurt business confidence. Since then, the EU and U.S. have agreed to hold off on imposing more tariffs and try to free up trade, though details remain hazy.
The French CAC 40 rose 0.4% and the British FTSE 100 gained 0.6%. The DAX in Germany added 0.1%.
Japan's Nikkei 225 index rose less than 0.1% after the Bank of Japan didn't announce any major changes to its monetary policies. South Korea's Kospi added 0.1%. Hong Kong's Hang Seng index fell 0.5%.
Benchmark U.S. crude lost 2% to $68.76 per barrel in New York. Brent crude, used to price international oils, fell 1% to $74.25 a barrel in London.
Wholesale gasoline slid 1.4% to $2.13 a gallon. Heating oil shed 1.8% to $2.13 a gallon. Natural gas slipped 0.5% to $2.78 per 1,000 cubic feet.
Gold rose 0.2% to $1,223.60 an ounce. Silver added 0.1% to $15.56 an ounce. Copper rose 1.4% to $2.83 a pound.
The dollar rose to 111.83 yen from 111 yen. The euro slipped to $1.1697 from $1.1710.
---
UPDATES:
2:10 p.m.: This article has been updated with closing prices.
8:20 a.m.: This article was updated throughout with additional stock prices and other economic news.
This article was originally published at 7:05 a.m.
---
Must-read stories from the L.A. Times
Get the day's top news with our Today's Headlines newsletter, sent every weekday morning.
You may occasionally receive promotional content from the Los Angeles Times.