Stocks rise for fourth day in a row, led by banks and tech companies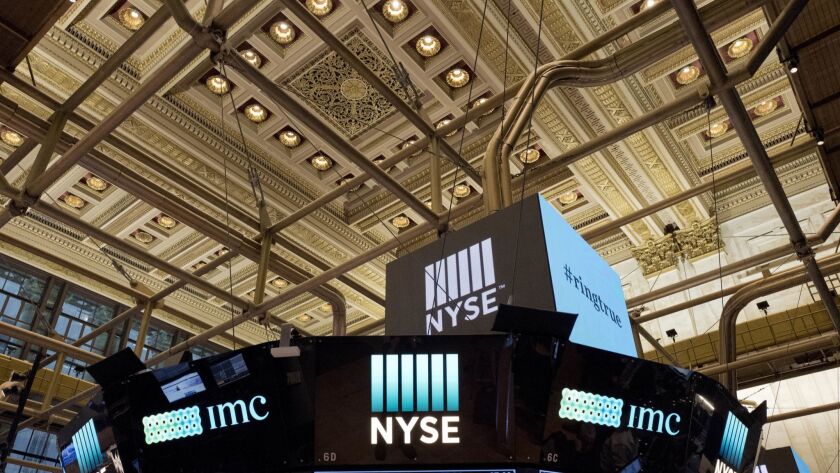 U.S. stocks climbed for the fourth straight day Tuesday as strong earnings continued to pull the market closer to the all-time high it set in late January.
Industrial companies rose, and banks moved higher as interest rates increased. Gains for Microsoft and Google's parent company, Alphabet, helped the technology sector.
Companies including Hertz, Etsy and Mosaic climbed after their results surpassed investors' forecasts. Tesla surged after Chief Executive Elon Musk said he might take the company private.
Gina Martin Adams, chief equity strategist for Bloomberg Intelligence, said companies are reporting huge profit and revenue growth. That has nudged concerns about trade tensions with China, Europe, Canada and Mexico out of investors' minds.
"Very strong top-line and bottom-line growth from the vast majority of companies overwhelmed any fears that started to bubble up in June," she said.
She added that the tariffs that the United States and its trading partners have announced recently are still small and haven't affected the broader market very much.
The Standard & Poor's 500 index rose 8.05 points, or 0.3%, to 2,858.45. The Dow Jones industrial average climbed 126.73 points, or 0.5%, to 25,628.91. The Nasdaq composite rose 23.99 points, or 0.3%, to 7,883.66. The Russell 2000 index of smaller-company stocks edged up 3.99 points, or 0.2%, to 1,688.30.
The S&P 500 closed at an all-time high Jan. 26. After that, it dived 10% in nine days as investors worried about signs that inflation was accelerating. That hasn't materialized, but trade fears have weighed on the market since then.
Rental car company Hertz soared 24.6% to $19.53, its biggest gain in almost a decade. But the stock is still down 12% for the year.
A little more than four years ago, Hertz stock traded above $120 a share. It plunged as the company dealt with overcapacity in the rental car market and the value of its vehicles decreased. Hertz has changed CEOs twice in four years.
Bond prices fell. The yield on the 10-year Treasury note climbed to 2.98% from 2.95%. Shares of banks and financial firms climbed as interest rates rose.
Tesla stock jumped after the Financial Times reported that Saudi Arabia's sovereign wealth fund had invested in the company. It soared further after Musk tweeted that he might take the maker of electric cars private. Musk followed up with a blog post saying that he hadn't made a decision, but that such a move would make it easier for Tesla to focus on long-term goals.
Musk, who owns about 20% of Tesla's stock, said shareholders could be bought out at $420 a share, well above Tesla's all-time high from September. The stock jumped 11% to $379.57.
Dental products maker Dentsply dropped 18.7% to $39.41 after it cut its forecasts and took a $1.26-billion charge connected to its technology and equipment business. It said sales and profit margins have been weaker than expected and it plans to restructure its business.
Online real estate marketplace Zillow fell 14.8% to $49.56 after it cut its revenue forecast for the year and said it's buying Mortgage Lenders of America. Terms weren't disclosed.
Weight Watchers International sank 14.8% to $78.53. The weight loss company raised its forecasts for the year but said it lost subscribers in the second quarter. The share price was about $6 in October 2015, when the company announced a deal with Oprah Winfrey to promote its products.
Billionaire investor Carl Icahn said health insurer Cigna shouldn't buy pharmacy benefits manager Express Scripts. He said that the $52-billion deal costs too much and that Express Scripts faces several major threats.
Icahn owns Cigna stock and has bet that Express Scripts stock will fall. But both stocks rose Tuesday. Express Scripts climbed 2.8% to $78.95, and Cigna edged up 0.2% to $188.27.
Cigna is up 5% since the Wall Street Journal reported that Icahn opposes the deal. Express Scripts is down less than 1%.
U.S. crude oil ticked up 0.2% to $69.17 a barrel in New York. Brent crude, the standard for international oil prices, rose 1.2% to $74.65 a barrel in London.
Wholesale gasoline rose 1.9% to $2.10 a gallon. Heating oil rose 1.4% to $2.17 a gallon. Natural gas rose 1.3% to $2.90 per 1,000 cubic feet.
A government newspaper said Beijing planned to issue policies to encourage investment amid concern about slowing economic growth and trade tensions. The China Daily said some state banks issued orders to local branches to lend more money.
Gold was little changed at $1,218.30 an ounce. Silver rose 0.2% to $15.37 an ounce. Copper rose 0.8% to $2.75 a pound.
The dollar rose to 111.43 yen from 111.40 yen. The euro rose to $1.1594 from $1.1556.
---
UPDATES:
3 p.m.: This article was updated with closing prices, context and analyst comments.
This article was originally published at 7:25 a.m.
---
For reporting and exclusive analysis from bureau chief John Myers, get our California Politics newsletter.
You may occasionally receive promotional content from the Los Angeles Times.