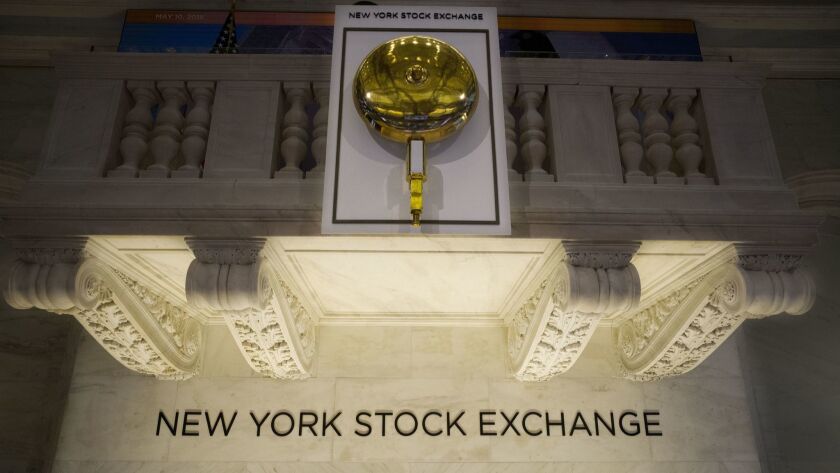 Stocks in the United States and Europe skidded Friday as investors worried about the financial stability of Turkey and how it might affect the global banking system.
Turkish President Recep Tayyip Erdogan has accumulated more and more control over the country's central bank as well as its financial system, which is now run by his son-in-law. Turkey's currency is plunging, and the country is also in a diplomatic spat with the U.S., a major trading partner.
Alex Dryden, global markets strategist for JPMorgan Asset Management, said Erdogan showed no signs of changing course Friday, and investors are losing hope that Turkey's government has the knowledge or independence needed to deal with the country's financial problems.
"There was some hope that maybe they'd step back from the brink and you'd see a reestablishment of central bank independence," he said.
Although Dryden and other analysts say Turkey's problems aren't a major risk to the financial system, investors didn't wait to find out Friday.
They sold stocks and bought U.S. dollars and government bonds. The bond purchases pushed down interest rates, which hurt banks. The dollar got stronger, partly because the Turkish lira nosedived, and major exporters such as technology, basic materials and industrial companies sank.
The Standard & Poor's 500 index slid 20.30 points, or 0.7%, to 2,833.28. That was its biggest loss in a month and wiped out its gains from this week, ending the index's five-week winning streak.
The Dow Jones industrial average dropped 196.09 points, or 0.8%, to 25,313.14. The Nasdaq composite slid 52.67 points, or 0.7%, to 7,839.11, ending its eight-day winning streak.
The Russell 2000 index of smaller-company stocks took a smaller loss, slipping 4.08 points, or 0.2%, to 1,686.80. The companies in that index are less reliant on exports, and the stronger dollar makes their imports less costly.
Investors are concerned about Erdogan's economic views. He says higher interest rates lead to higher inflation — the opposite of what standard economic theory says — and has pushed Turkey's central bank to keep interest rates low, threatening its independence and preventing it from shoring up the lira.
The United States is the biggest importer of Turkish steel, and on Friday, President Trump said he will authorize higher tariffs on steel and aluminum from Turkey, a North Atlantic Treaty Organization ally. That sent the lira down even further. It's down 40% this year against the dollar.
The U.S. sanctions come after Turkey arrested an American pastor and put him on trial for espionage and terror-related charges.
The weakening lira has been pushing up the cost of goods for Turkish people and has damaged international investors' confidence in the country. Because some of Turkey's debt is in dollars, it's also making the country's financial situation worse.
European banks fell sharply. The U.S.-listed shares of Germany's Deutsche Bank slid 4.7% to $11.82, and Spanish Banco Santander slid 4.7% to $5.19.
Dryden, of JPMorgan Asset Management, said Erdogan has replaced independent advisors and leaders with relatives and supporters and set off a "gradual process of eroding economic credibility among financial and economic institutions."
Bond prices jumped. The yield on the 10-year Treasury note fell to 2.87% from 2.93%. That helped send bank stocks lower. JPMorgan Chase shares slid 1% to $115.73, and Citigroup shares retreated 2.4% to $70.26.
Emerging-market currencies fell, and the dollar jumped. The ICE U.S. Dollar Index, already trading around annual highs, rose an additional 0.9%, a large move.
The euro fell to $1.1398, its lowest in more than a year, from $1.1542. The dollar fell to 110.64 yen from 111.04 yen after a strong economic growth report from Japan.
Germany's DAX dropped 2% and the CAC 40 in France declined 1.6%. Britain's FTSE 100 lost 1%. The Nikkei 225 index in Japan sank 1.3%. Hong Kong's Hang Seng slid 0.8%. In South Korea, the Kospi lost 0.9%.
Energy companies rose slightly as oil prices increased. Benchmark U.S. crude oil rose 1.2% to $67.63 a barrel in New York. Brent crude, the standard for international oil prices, rose 1.1% to $72.83 a barrel in London.
Wholesale gasoline rose 2% to $2.04 a gallon. Heating oil rose 1.3% to $2.14 a gallon. Natural gas fell 0.4% to $2.94 per 1,000 cubic feet.
Online discount retailer Overstock.com surged 7.9% to $41.65 after it said private equity firm GSR Capital will make an investment in its blockchain business. Overstock is one of the few major retailers that accepts payment in bitcoin, and its stock surged as bitcoin prices rose last year. However, digital cryptocurrency prices and the company's stock have both dropped in 2018.
Dropbox sank 9.8% to $31.05 after the online file-sharing company said its chief operating officer will step down in September.
Microchip Technology dropped $10.67 to $87.41 after the chipmaker forecast weaker quarterly revenue than analysts expected.
TrueCar leaped 12.4% to $12.79 after the online car-shopping firm posted quarterly results that relieved investors.
The Labor Department said consumer prices climbed 2.9% in July compared with a year earlier. The main cause was an increase in housing prices. That matched June's pace, which was the highest in six years.
Gold fell 0.1% to $1,219 an ounce. Silver fell 1.1% to $15.30 an ounce. Copper fell 0.8% to $2.74 a pound.
---
UPDATES:
3:50 p.m.: This article was updated with closing prices, context and analyst comment.
1:15 p.m.: This article was updated after the close of markets.
This article was originally published at 6:50 a.m.
---