U.S. stocks make broad gains on optimism over truce in China trade war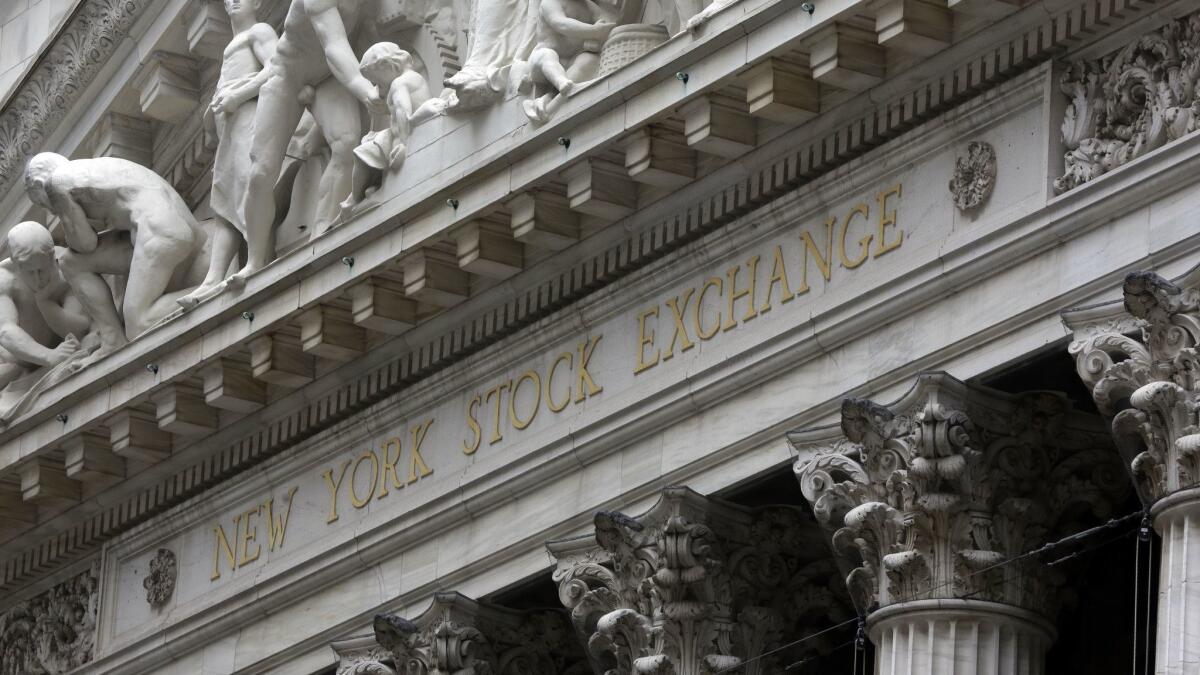 A welcome truce in the escalating U.S.-China trade dispute put investors in a buying mood Monday, sending U.S. stocks solidly higher and extending the market's gains from last week.
The broad rally, which lost some of its early-morning momentum, followed gains in overseas markets as investors welcomed news of the temporary, 90-day stand-down, which was agreed to over dinner between President Trump and his Chinese counterpart, Xi Jinping, at the Group of 20 summit during the weekend.
The long-running dispute between the world's two largest economies has rattled investors for months, stoking traders' fears that it could begin dragging down corporate profits and weighing on global economic growth.
"We're going to have to see what happens over these 90 days," said Tom Martin, senior portfolio manager at Globalt Investments. "In the meantime, you're not getting an increase in the tariffs, so that's an interim positive."
The encouraging development on trade helped extend a swift turnaround for the market, which notched its biggest weekly gain in nearly seven years last week after Fed Chairman Jerome H. Powell indicated the central bank might consider a pause in interest rate increases next year while it gauges the effect of its credit-tightening program.
Technology stocks, automakers, retailers and industrial companies accounted for much of the market's gains Monday, offsetting losses in household goods makers. Energy stocks also climbed as U.S. crude oil prices rose sharply.
The S&P 500 index climbed 30.20 points, or 1.1%, to 2,790.37. The benchmark index vaulted 4.9% last week. The Dow Jones industrial average jumped 287.97 points, or 1.1%, to 25,826.43. The average was up as much as 441 points earlier.
The Nasdaq composite rose 110.98 points, or 1.5%, to 7,441.51. The Russell 2000 index of smaller-company stocks picked up 15.69 points, or 1%, to 1,548.96.
The yield on the 10-year Treasury note fell to 2.97% from 3.01% late Friday.
Monday also marked the first time that a section of the U.S. Treasuries yield curve inverted since 2007. The spread between three- and five-year yields fell to negative 1.4 basis points and the two- to five-year gap soon followed.
The yield on longer term Treasuries is typically higher, reflecting the risk buyers take in holding securities that mature later. When the yield curve inverts, that is usually seen as a sign that there is risk of a near-term recession. However, that risk is typically displayed when the spread between two- and 10-year yield falls to negative.
Other reasons may be behind Monday's inversion, including a bet by investors that the Federal Reserve could be cutting interest rates in five years to pump up the economy when the current expansion has slowed or has halted.
After a steep decline in October, U.S. stocks steadied in early November. But the selling picked up again as investors abandoned highflying technology stocks amid concerns over the U.S.-China trade tussle and slowing global economic growth and bailed on energy stocks as the price of oil plummeted.
Trump and Xi met at the Group of 20 summit over the weekend and agreed to a cease-fire, lasting for at least 90 days, to allow time to smooth out a dispute over Chinese technology policies that the U.S. and other trading partners consider predatory.
Auto manufacturers also rose after Trump said on Twitter late Sunday that Beijing agreed to cut import duties on U.S. autos. There was no Chinese confirmation of the move, which would have little effect on trade because most American vehicles sold in China are made there.
Ford Motor rose 2% to $9.60, while General Motors added 1.3% to $38.45. Tesla gained 2.3% to $358.49.
The trade truce was one of several factors that helped push oil prices higher Monday. Crude prices also jumped on news that Qatar will withdraw from OPEC in January. The move, which marks the first time a Mideast nation has exited the cartel since its founding in 1960, came ahead of an OPEC meeting Thursday.
In addition, the government of the Canadian province of Alberta announced a large cut in oil production Monday.
"We expect OPEC to follow suit and agree to a production cut in Vienna this coming Thursday," analysts with Goldman Sachs wrote in a note Monday.
Benchmark U.S. crude gained 4% to $52.95 a barrel in New York. Brent crude, the international standard, rose 3.8% to close at $61.69 a barrel in London.
Monday's pickup in oil prices gave energy stocks a boost. Devon Energy climbed 6.4% to $28.77.
A couple of corporate deals also helped move the market Monday.
Tribune Media jumped 11.7% to $44.98 after the TV station owner agreed to be acquired by Nexstar Media Group, four months after a bid from Sinclair Broadcast Group collapsed. Nextar shares added 6.9% to $88.32.
GlaxoSmithKline slumped 7.8% to $38.61 after the drugmaker agreed to acquire Tesaro, which makes the ovarian cancer treatment Zejula. Tesaro soared 58.5% to $73.50.
Meanwhile, Wynn Resorts gained 9.5% to $119.79 after gambling revenue in Macau rose last month at a higher rate than analysts expected.
The dollar rose to 113.69 yen from 113.63 yen late Friday. The euro strengthened to $1.1342 from $1.1309.
Gold gained 1.1% to $1,239.60 an ounce. Silver jumped 2% to $14.50 an ounce. Copper added 0.8% to $2.81 a pound.
Wholesale gasoline rose 2.1% to $1.43 a gallon. Heating oil climbed 3.2% to $1.89 a gallon. Natural gas lost 5.9% to $4.34 per 1,000 cubic feet.
Markets in Europe also finished higher. Germany's DAX gained 1.8%, while France's CAC 40 rose 1%. Britain's FTSE 100 added 1.2%.
Major indexes in Asia finished higher. Hong Kong's Hang Seng surged 2.6%, while Japan's Nikkei 225 index climbed 1%. The Kospi in South Korea jumped 1.7%. The S&P ASX/200 in Australia added 1.8%. Shares rallied in Taiwan and throughout Southeast Asia.
U.S. traders observed a moment of silence before markets opened Monday in honor of former President George H.W. Bush, who died Friday at 94. The New York Stock Exchange and Nasdaq said they will close trading Wednesday in observance of a national day of mourning for Bush. The federal government will also be closed.
Bloomberg contributed to this report.
---
UPDATES:
4:25 p.m.: This article was updated with closing stock prices.
This article was originally published at 6:45 a.m.