U.S. wants to seize $7 million of Martin Shkreli's assets, including that Wu-Tang Clan album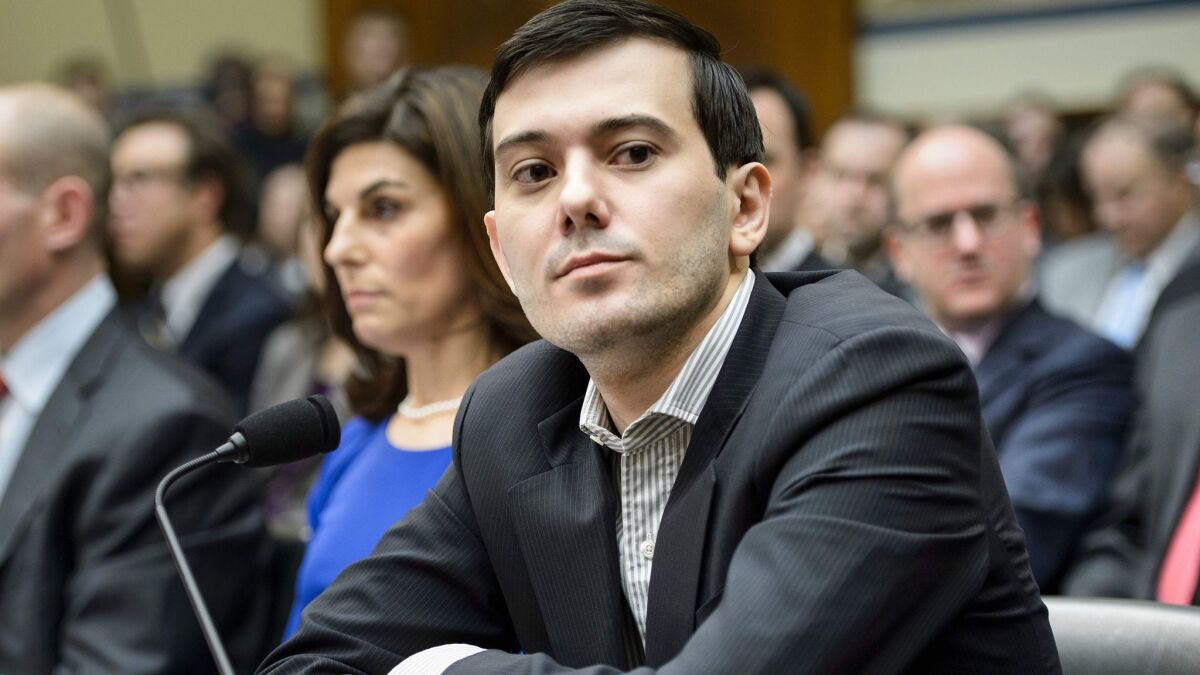 Reporting from New York —
"Pharma Bro" Martin Shkreli appeared in court Friday for the first time since a judge locked him up for his online antics, hearing the government argue that he's on the hook for more than $7 million in connection with his securities fraud conviction.
The brash former pharmaceutical chief executive had a new look since his bail was revoked in September: a scruffy beard that made his appearance less boyish. He also was wearing a loose-fitting jail uniform instead of street clothes.
"Under the circumstances, I think he's doing remarkably well," his attorney, Ben Brafman, told reporters when asked about Shkreli's stint in a fortress-like federal jail in Brooklyn, N.Y.
Shkreli was convicted on charges he cheated investors in two failed hedge funds.
U.S. District Judge Kiyo Matsumoto didn't immediately rule on the government's demand that Shkreli should have to forfeit $7.3 million in assets, including a one-of-a-kind Wu-Tang Clan "Once Upon a Time in Shaolin" album that he has boasted he bought for $2 million. Prosecutors also want him to give up $5 million in cash in a brokerage account, his interest in a pharmaceutical company and other valuables, including a Picasso painting.
The defense has argued that Shkreli owes nothing because the hedge fund investors actually ended up making a profit off drug company stock he gave them. It also says that unlike most securities fraud cases, Shkreli himself never made anything off the scheme.
"This case was never about money as far as Mr. Shkreli is concerned," the defense said in court papers. The papers added: "Simply put, Mr. Shkreli was not indicted because he stole anyone's money."
Shkreli, 34, is known for boosting the price of a lifesaving drug by 5,000% and for trolling his critics on social media, where he became known as "Pharma Bro."
Shkreli was out on bail during his trial last year. But the judge decided to jail him for violating his bail conditions after his social media post offering a $5,000 bounty to anyone who could get a strand of Hillary Clinton's hair — including the follicle — while she was on a book tour.
Shkreli's sentencing is set for March 9.
---
Sign up for the California Politics newsletter to get exclusive analysis from our reporters.
You may occasionally receive promotional content from the Los Angeles Times.