Fisher-Price's sleeper recall clouds Mattel's rebound bid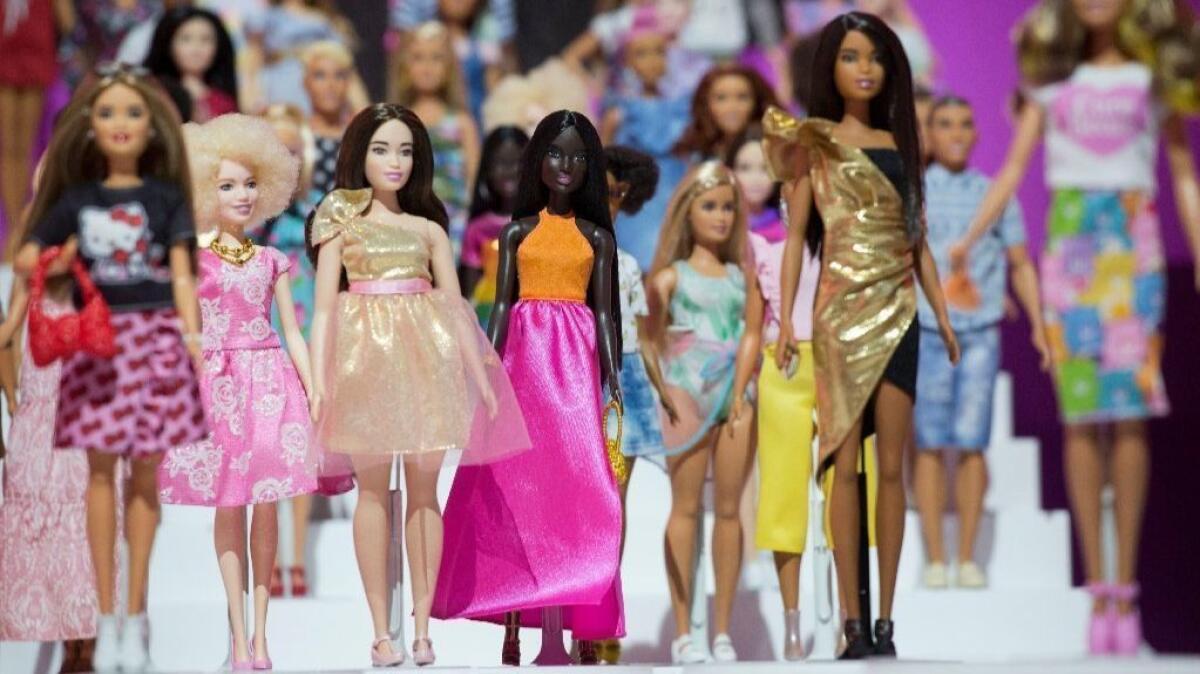 Mattel Inc.'s bid to reverse the toy maker's years-long slump faces a hurdle that doesn't involve a toy: a product recall after infant deaths.
The El Segundo company is trying to spark renewed sales growth, stem its losses, pare its heavy debt and put the Toys R Us Inc. liquidation completely behind it, all of which have sent Mattel's stock on a roller-coaster ride the last six months.
But the maker of Barbie dolls and other toys, which reports its first-quarter results Thursday, also is grappling with its recently announced recall of the Rock 'n Play Sleeper made by its Fisher-Price unit.
The recall came after the deaths of more than 30 infants linked to the product since it was introduced in 2009, according to the U.S. Consumer Product Safety Commission.
"It has been a real rocky ride" for Mattel, said Richard Gottlieb, principal of Global Toy Experts, an industry consulting firm.
Mattel and the consumer safety agency jointly announced the recall of all 4.7 million sleepers, which enable infants to rest on an incline, on April 12, a week after Consumers Report published an investigation into the sleeper and asked, "Why is it still on the market?"
On April 9, the American Academy of Pediatrics urged the safety agency to "step up and take immediate action" to recall the sleepers, a more significant action than the April 5 warning issued by the agency. Some babies rolled over and suffocated while in the sleepers, Consumer Reports said.
Mattel said it was not at fault.
"We stand by the safety of our products" but launched the recall "due to reported incidents in which the product was used contrary to the safety warnings and instructions," Chuck Scothon, general manager of Fisher-Price, said in a statement.
S&P Global Ratings said Mattel "likely has adequate insurance coverage for any potential litigation settlements" related to the sleeper but that the recall "puts added pressure on the company's ability to grow revenues and cut costs enough" to support improved earnings.
The recall and lost sales of the sleeper probably will cost Mattel at least $58.5 million, and "lawsuits and settlements also are likely to arise, giving rise to more financial liability" for Mattel, Gerrick Johnson, an analyst at BMO Capital Markets, said in a note to clients.
"We think this issue will eventually subside as many recalls do, but we still have concern that it could become a much larger issue, a cash drain, and a distraction for management," Johnson wrote.
Camilla Yanushevsky of CFRA Research said in a note that Mattel also had suffered "heightened reputational risk" from the recall.
Lawsuits seeking class-action status already have been filed alleging that Fisher-Price, based in East Aurora, N.Y., ignored the risks to babies for years, according to the Buffalo News.
The developments appeared to weigh on Mattel's stock, which tumbled 12% over three sessions recently. And short-sellers, or those who make investment bets that a stock will drop in price, have pounced.
John Hempton, founder of Bronte Capital, wrote on the firm's website: "I am short Mattel based on seemingly dysfunctional management and too much debt" in addition to the effect of the Rock 'n Play deaths.
In addition to Fisher-Price, Mattel makes the iconic Barbie line of dolls — a brand with $1 billion in annual sales that's celebrating its 60th anniversary this year — and its other brands include Hot Wheels and American Girls dolls. Overall sales last year totaled $4.5 billion.
The company has been slumping for the last few years and unable to establish a strong path forward, with four chief executives in the last four years. Its current CEO, former studio executive Ynon Kreiz, took over a year ago.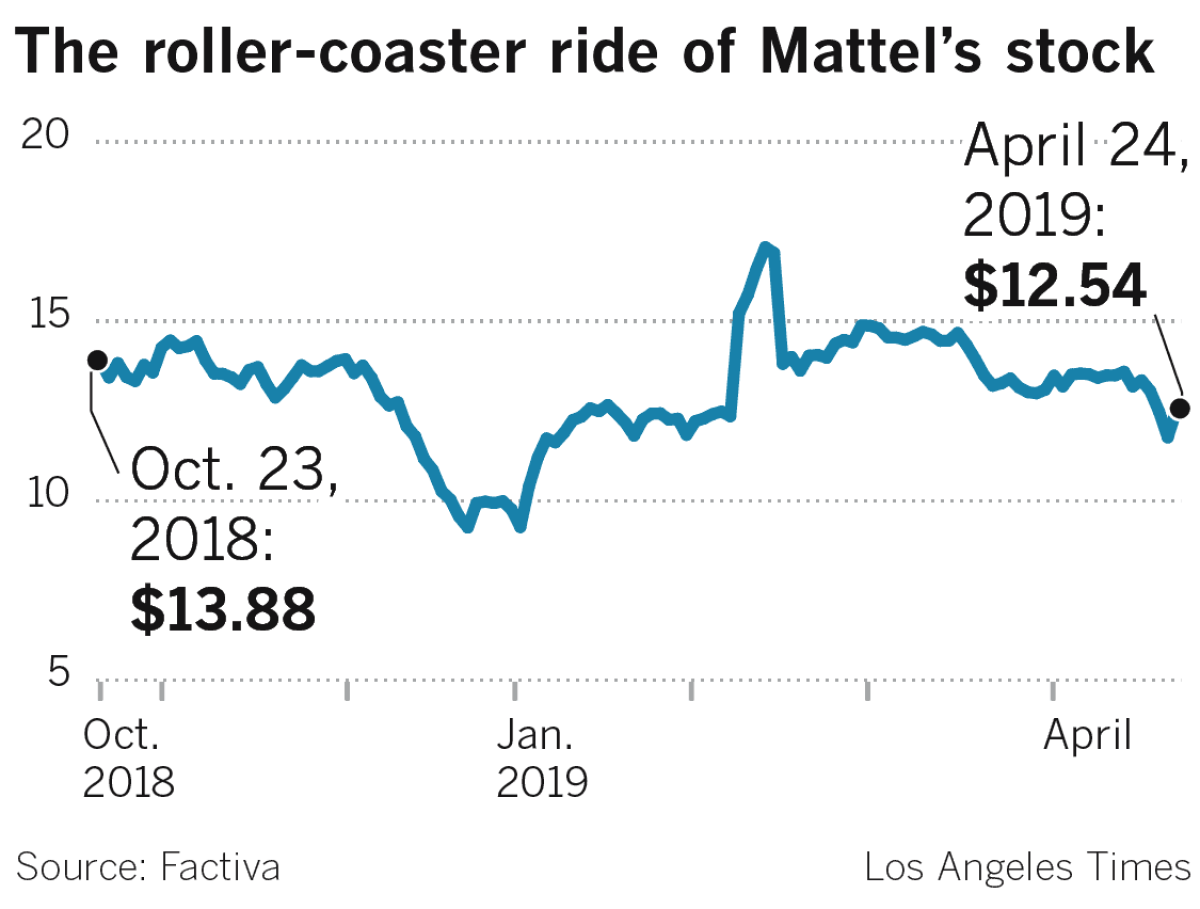 The company is expected to post another loss for the first quarter, an adjusted 56 cents a share, according to analysts polled by FactSet.
Several issues are giving Mattel trouble, including that the toy industry overall is barely growing. U.S. toy sales last year fell 2% to $21.6 billion amid the disruption caused by the Toys R Us liquidation, according to research firm NPD Group.
Some analysts also say that Mattel has struggled to adapt to changing playing habits, specifically that children are migrating from conventional toys to computer tablets, other electronic devices and social media at ever-earlier ages.
Kreiz is trying to address that while also expanding the marketing of Mattel's widely known toy brands to generate higher sales. At the same time, he's streamlining the company under a plan to shed $650 million in operating costs.
While Mattel and its main rival, Hasbro Inc., long have made toys licensed from outside film and television studios, Mattel now has created its own film and TV units to partner with studios, with live-action feature films scheduled for some of its key brands.
They include Barbie and Hot Wheels with Warner Bros. Pictures Group — actress Margot Robbie is scheduled to star in a live-action Barbie film — and its American Girl dolls in a live-action movie with Metro Goldwyn Mayer Pictures.
Mattel also is trying to leverage its brands in digital gaming, live events, music and consumer products.
The goal is "to extend our toy franchises into new areas to drive top-line performance and greater profitability," Kreiz said in a letter to shareholders this month. He declined to be interviewed ahead of Mattel's earnings announcement.
But given the glut of films aimed at younger audiences, such as those involving superheroes and comics-based figures, it's unclear whether Mattel's investments in those efforts will generate substantial returns, some analysts said.
"We view entry into entertainment as a risky strategy amid mounting debt and deteriorating free cash flow" at Mattel, CFRA's Yanushevsky said in a note to clients last week.
"As of year-end 2018, [Mattel] had debt of $2.9 billion and a debt-to-equity ratio of 426.6%, which management has yet to address," she wrote.
Gottlieb agreed that tie-ins with movies, video games and other entertainment are risky "because there's so many of them. A child only has so much time and so much focus and passion. There's too much content in the marketplace."
Mattel started 2019 with promise, announcing Feb. 7 that it had turned a profit of 4 cents a share in last year's fourth quarter, compared with a 14-cent loss that analysts expected.
It appeared Mattel was reaping the benefit of its streamlining effort, which included eliminating 2,200 jobs in mid-2018, or nearly 10% of its workforce, and that it was working through the Toys R Us bankruptcy by finding enough alternate sales channels.
Mattel's stock, which had been on a prolonged slide since late-2013, soared 23% the next day.
Yet only a week later the stock plunged 18.3%, its biggest one-day percentage drop in 20 years, after Mattel executives told analysts that sales for all of this year would be flat compared with the prior year, after adjusting for currency fluctuations.
Mattel managers considered that a "significant improvement" because it showed sales had stabilized after two years of declines. But to investors the guidance seemed to offset the good news Mattel had reported a week earlier, and the stock had a tough time regaining much lost ground.
Two months later, the infant-sleeper recall was announced.
Twitter: @PeltzLATimes