Parasite-borne illness spurs McDonald's to pull salads from 3,000 restaurants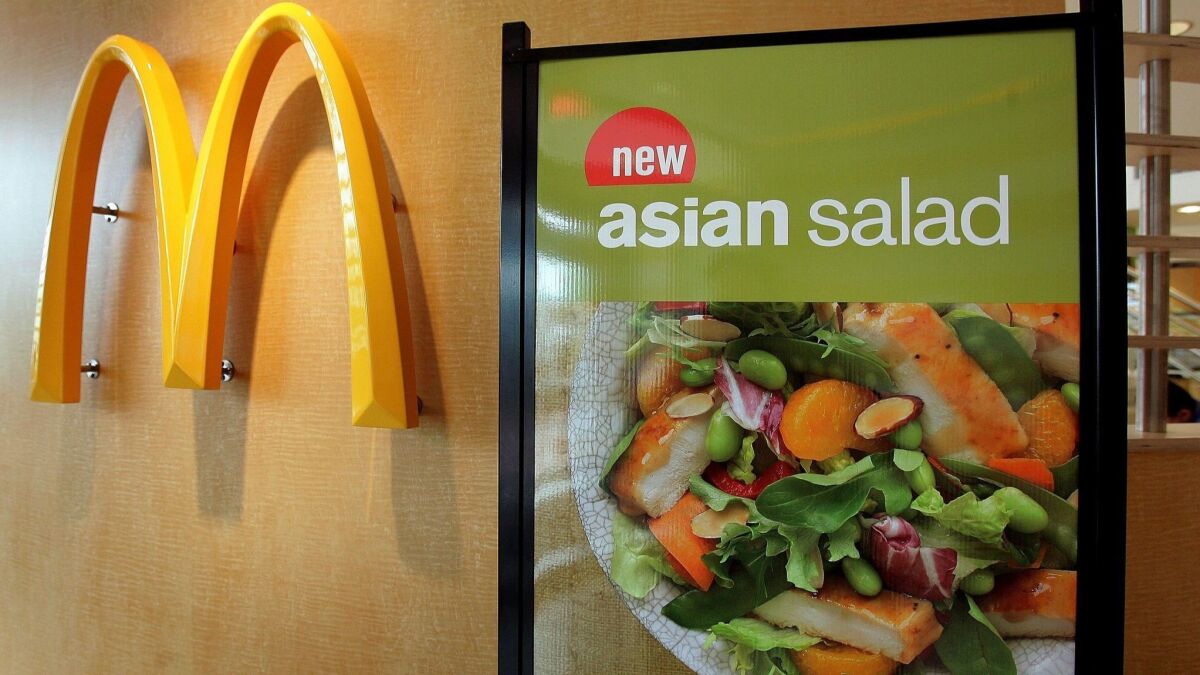 McDonald's halted sales of its salads at 3,000 franchises in the Midwest on Friday, after authorities in Illinois and Iowa reported an outbreak of a parasite-borne illness linked to greens served by the fast-food chain.
More than 100 people have fallen ill in the two states since May, and many of them reported having eaten salad items at the chain, according to health authorities in Illinois and Iowa.
Tests of those who have fallen ill revealed the presence of the fecal-borne parasite Cyclospora cayetanensis, which can cause severe diarrhea, cramps and fever, those health departments reported.
McDonald's said in a statement it has halted sales of salads at the franchises "out of an abundance of caution" until the company can switch to another supplier, which the company did not identify.
In addition to Illinois and Iowa, states affected by the salad ban include Indiana, Wisconsin, Michigan, Ohio, Minnesota, Nebraska, South Dakota, Montana, North Dakota, Kentucky, West Virginia and Missouri, the McDonald's statement said.
"McDonald's is committed to the highest standards of food safety and quality control," the statement said. "We are closely monitoring this situation and cooperating with state and federal public health authorities as they further investigate."
The illness caused by infestation with the parasite, called cyclosporiasis, is marked by severe and frequent bouts of diarrhea, cramps, bloating, nausea, fever, and loss of appetite and weight, according to the U.S. Centers for Disease Control and Prevention.
Illinois health authorities said about a quarter of the 90 cyclosporiasis cases reported since May had a connection to a McDonald's franchise. Iowa authorities confirmed 15 cases linked to McDonald's since June. Neither state reported any hospitalizations or deaths.
The outbreak follows the recall last month of salad trays sold by Del Monte Fresh Produce after 227 people fell ill with cyclosporiasis after eating vegetable-and-dip trays bought in convenience stores in Wisconsin, Minnesota, Iowa and Michigan, according to the CDC.
The agency last year reported a sharp increase in cyclosporiasis — more than 1,065 reported cases in 40 states. There were 384 cases reported during a similar period in 2016, compared with 546 in 2015 and 304 in 2014, according to the CDC.
"We are seeing more of these outbreaks popping up," said Erin DiCaprio, a cooperative extension assistant specialist at the UC Davis' Department of Food Science and Technology.
The parasites are specific to humans and tend to spread through poorly processed sewage that may find its way into irrigation sources, DiCaprio said. "It's usually associated with produce that's from outside the United States," she said.
There is no routine testing for presence of the parasite in the U.S. produce industry, in part because it has been difficult to develop a test in the laboratory, DiCaprio said. Many physicians also overlook testing ill patients for the parasite, according to the CDC.
The outbreak comes as the produce industry is recovering from a 36-state outbreak of illnesses linked to E. coli bacteria in romaine lettuce, which killed five people and sickened more than 200 others, about half of whom had to be hospitalized, according to the CDC.
The E. coli strain was traced to an irrigation canal in the lettuce growing region around Yuma, Arizona. The outbreak, which began in April, was declared over on June 28.
Follow me: @LATgeoffmohan
---
Sign up for the California Politics newsletter to get exclusive analysis from our reporters.
You may occasionally receive promotional content from the Los Angeles Times.