Bratz maker's next home: a Silicon Valley-style campus in the San Fernando Valley
Toy maker MGA Entertainment is relocating the house that Bratz built.
The Van Nuys company, famous for creating the pouty and provocative dolls that challenged the leggy Barbie, is breaking ground Thursday on what will be its new headquarters in a former Los Angeles Times printing plant in Chatsworth.
When construction is completed, MGA will be at the center of an ambitious development project that will transform 24 acres into a sprawling campus in the San Fernando Valley. The campus, called 24, will include apartment buildings, office and retail space, and outdoor gathering places such as an amphitheater and a dog park.
"We were outgrowing the space that we had," said Isaac Larian, chief executive of MGA. "The new facility will be a state-of-the-art facility for people to create and work and live and play."
The project will also be the first big test for Uncommon, the real estate development company started by Larian's son, Jason, and his son-in-law, Ryan Hekmat. They are sinking at least $150 million into the project, Larian said, with mostly family funds and money from a few investors.
MGA will serve as the main tenant at the converted printing press (a production company is also planning to rent part of the building, including space for a soundstage). Jason Larian and Hekmat said they will also lure other companies to open up there as well, with the goal of creating a campus that offers a wide array of housing, leisure and dining options — giving MGA employees and others an option to live mere minutes from where they work.
The neighborhood is home to a mix of industrial spaces and office buildings. A project like 24 would bring in housing and entertainment options that were previously unavailable in what was originally designed to be a business park, real estate agents said. MGA bought the land in 2006 and began using the printing plant as a showroom in 2008.
Jason Larian said he was inspired by his years in Hong Kong, where he handled sales and supply chain for MGA in Asia.
"A lot of the models in China — where you live and where you socialize are within a quarter of a mile of each other," he said. "You don't have to drive to work. If you wanted to go out to eat, there is food around you."
Hekmat, who is married to Jason's sister Jasmin, said the project will roll out in three phases. The first includes the renovation of the Times printing plant into creative office space, slated to open in 2018. Eventually four apartment buildings will be built, with 660 units in total; the entire project should be completed by 2022.
Isaac Larian said he thinks that creating an inviting community for his employees will help retain talented workers, much like Silicon Valley tech giants such as Facebook, which have created all-encompassing campuses where employees can eat, work, exercise and nap on-site.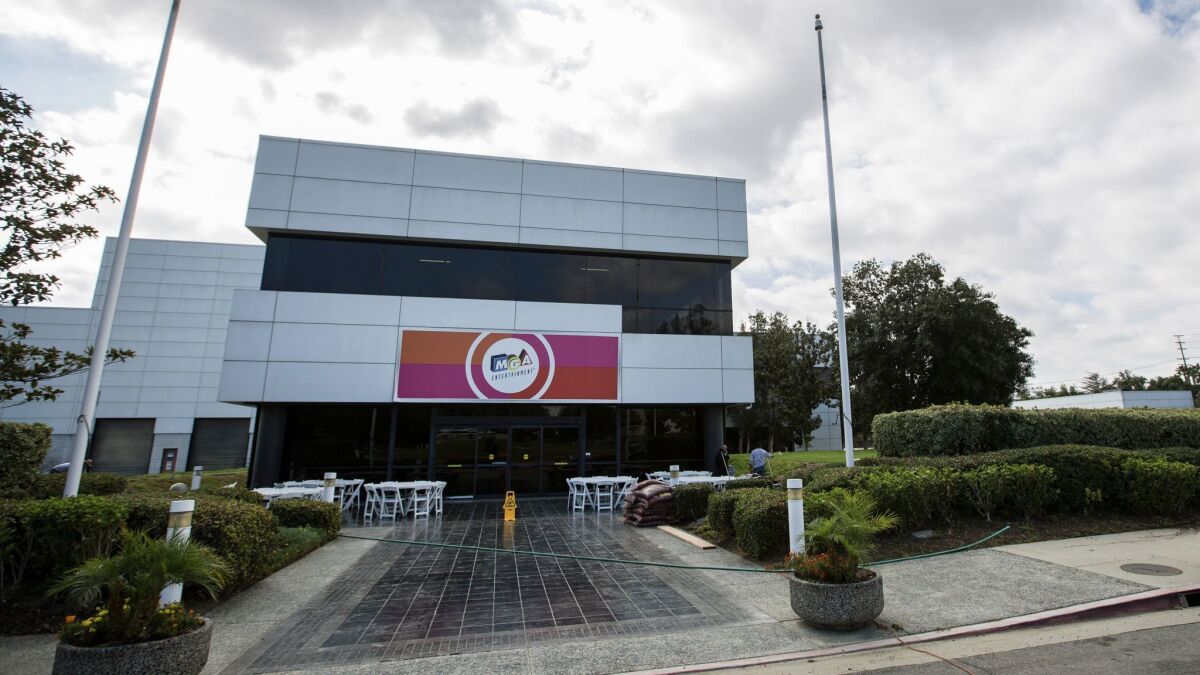 About 30% to 40% of MGA's 300 employees who work at headquarters are likely to choose to live in the apartments, he said. They will receive perks such as rent concessions and also the first chance at leasing. All the apartments will be rentals, with units set at market rate.
"It's like a Google campus," he said. "It's very competitive to find and hire the best creative people, and if you have a nice environment for employees to work, hopefully you can retain the great employees."
MGA is a privately held company. As its CEO and founder, Larian reached the Forbes billionaire list for the first time in 2014 with an estimated $1.1-billion fortune.
He declined to disclose financial specifics about the toy company, but said MGA has been enjoying double-digit sales growth. It employs about 1,200 employees worldwide.
MGA first gained attention with the 2001 debut of Bratz, a line of dolls with attitude that contrasted sharply with the princess and fairy characters then available to girls. The success of Bratz cut deeply into sales of Barbie and also kicked off years of contentious litigation with rival Mattel over intellectual property (the main battle was decided in MGA's favor; MGA also has an ongoing lawsuit against Mattel alleging the theft of trade secrets).
At the height of its success in 2006, the Bratz franchise raked in $1 billion a year in sales, or about 70% to 80% of MGA's total revenue, Larian said. A makeover last year of the Bratz brand was not as successful as the company had hoped, Larian said, although MGA no longer depends heavily on Bratz for its financial success.
The company's biggest moneymaker is Little Tikes, a line that includes playhouses, swing sets and kid-sized car toys. MGA acquired the company in 2006 during an expansion that included purchasing two other toy makers and opening three international offices.
Lise Bornstein, a partner at Santa Monica architecture firm Killefer Flammang, which designed the campus, said 24 is intended to appeal to a wide swath of people. There is plenty of room for outdoor activities, she said, including a village green with a lawn for outdoor movies and an exercise path that circles the perimeter.
"This site is almost a destination as well as a complement" to the existing area, Bornstein said. "It's kind of a little bit on steroids, because a lot of the neighborhood" is not as meticulously planned as 24.
Real estate agents said apartments that offer entertainment and dining within walking distance are a big draw, especially among the millennial set, who value convenience over space.
"They are not really geared the same way to want to go buy a home out in the suburbs," said John DeGrinis, a senior executive vice president at Colliers International. "They want to be in the city and walk or ride their bicycle to their workplace."
DeGrinis said that big developments like 24 have been rare in Los Angeles, however, because land is so tight.
"There are people dying to do more of these projects," he said. "The overriding theme for L.A. is we are not used to it and we have had a lack of available land to develop this stuff."
That may change, if Jason Larian and Hekmat have their way.
The pair hopes that 24 is just the start of what they envision to be a string of big-scale projects, some with the same work/play concept as 24. Uncommon already bought a property on Roscoe Boulevard near the current MGA headquarters in Van Nuys, and a stretch of land in East Los Angeles called Frogtown (now more commonly known as Elysian Valley).
"We have our sights on a few other properties as well," Hekmat said. "Hopefully within a year, you'll be seeing a splash."
Follow Shan on Twitter @ByShanLi
ALSO
Businesses and investors are betting Clinton will win. What if she doesn't?
Facebook stock drops 7% on concern over upcoming dip in 'ad load'
How, prosecutors say, a DirecTV executive kept cable companies from adding the Dodgers channel