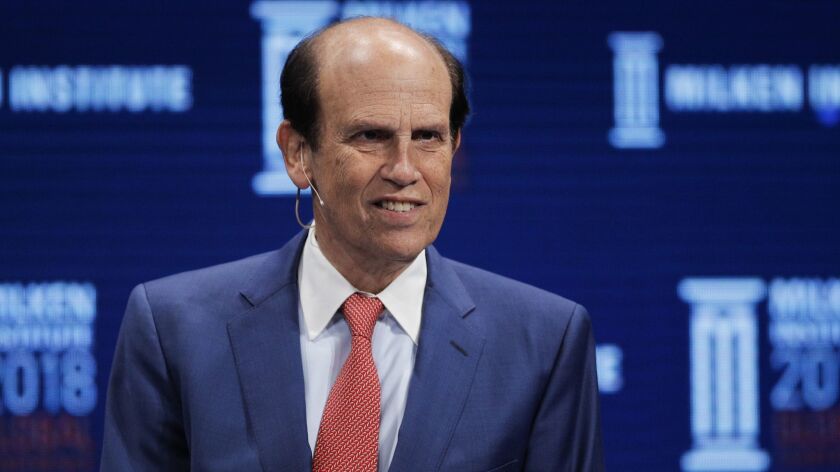 Even at its height in the 1980s, Michael Milken's high yield-bond conference drew at best 3,000 or so executives, investors and buyout artists to the Beverly Hilton for what was dubbed the Predator's Ball — all looking for deals fueled by the same junk bonds that made the financier a fortune.
Fast forward and the Milken Institute Global Conference, starting this weekend at the same Beverly Hills hotel, has grown not only in size but scope.
Along with its traditional cadre of global business titans, it now attracts research scientists, nutrition experts and green energy advocates, as well as leading political figures from the Trump administration, including Jared Kushner, Ivanka Trump and acting White House Chief of Staff Mick Mulvaney.
"I kind of think of [the Milken conference] now as the Davos of North America in terms of the conference prestige, impact and the folks that are there," said Nathan Sheets, a former Obama Treasury official who is now chief economist for the fixed-income asset management arm of Prudential Financial, which manages $750 billion.
Whether the comparison to Switzerland's World Economic Forum is hyperbole — the heads of state quotient doesn't compare and there are other prestigious U.S. economic summits, including the Allen & Co. invitation-only event in Sun Valley, Idaho — it would be a misnomer to call the present-day Milken conference Predator's Ball 2.0.
Making money still drives the event, with dozens of sessions touching upon every aspect of finance, ranging from the broad ("Reinventing Financial Services") to the esoteric ("50 Ways to Leave Your LIBOR").
And some of the leading figures in the banking, private equity and hedge fund worlds are expected to speak on business and the economy, including Christine Lagarde, chairwoman of the International Monetary Fund, and billionaires Stephen Schwarzman of Blackstone Group and Leon Black of Apollo Global Management.
Although those discussions are the heart of the conference, they constitute at best a plurality of the more than 100 scheduled panels. Other tracks focus on medical research, nutrition, energy and the environment, and media and technology — as well as equality for women in the business world.
The talks reflect the broader values of the Milken Institute, the nonprofit think tank the L.A. billionaire founded in 1991, the same year he was banned from the securities industry for life after pleading guilty to securities fraud. Its mission is to "increase global prosperity by advancing collaborative solutions that widen access to capital, create jobs and improve health."
But there are dark undercurrents that would have been foreign to the 1980s proceedings at the height of the buyout boom.
The zeitgeist of that era was famously captured by Oliver Stone in his film "Wall Street," in which corporate raider Gordon Gekko uttered the phrase "greed, for lack of a better word, is good."
But that decade was eventually marred by the October 1987 market crash — which turned out to be only a taste of the upheavals to come, including the tech bust, the 2008 financial crisis and now: the decade-long economic recovery that has seen a widening gap between the wealthy and everyone else.
This year, the four-day conference is addressing the issue of inequality head-on in a politically charged environment that has seen the election of left-wing Rep. Alexandria Ocasio-Cortez (D-N.Y.) and the ascent once again of Democratic presidential candidate Sen. Bernie Sanders, for whom socialism isn't a dirty word — even as President Trump and the Republican Party have tried to make it so.
"You have younger people in particular, in poll after poll, thinking socialism is a pretty good idea. People feel disenfranchised from the American dream like it's not theirs," said Milken Institute President Richard Ditizio, who has been with the nonprofit for six years after a career as a private banker for the ultra-rich.
The closing session, one of several hosted by Milken himself, features a talk with Ray Dalio, a Greenwich, Conn., financial wizard who built his Bridgewater Associates into the world's largest hedge fund — but has been preaching of late that the American dream is dead.
"I believe that all good things taken to an extreme can be self-destructive and that everything must evolve or die," Dalio wrote in a widely read April post on LinkedIn. "This is true for capitalism."
Milken declined to be interviewed for this article, but Ditizio said that Dalio's message needed to be heard at the conference given the threat that inequality poses to the U.S. economic system.
"Too often the people that are making decisions live in very insulated environments," he said.
Whether Dalio will convince any of the conference-goers that capitalism needs basic reforms is questionable. Their cumulative wealth is in the untold billions of dollars, and his prescription includes taking a chunk of that money in taxes and redistributing it into social programs that assist low- and middle-income Americans and increase overall productivity.
Expect some sparks no matter what. Among the conference panelists is documentary filmmaker Abigail Disney, the granddaughter of Disney co-founder Roy O. Disney. She recently created a stir with tweets and a newspaper op-ed criticizing Disney Chief Executive Bob Iger's $65.6-million 2018 pay package as "insane" for being more than 1,400 times the median pay of company workers.
The conferences has no break-outs on CEO pay, but Ditizio said it is set up to create what might be called intellectual dissonance.
This is accomplished by the almost bewildering number and variety of panel discussions. The 2:30-to-3:30 p.m. Monday time slot, for example, lists more than a dozen sessions on topics as diverse as artificial intelligence in cancer medicine, the retirement shortfall and inclusion within the entertainment industry.
Ditizio said many people attended talks that had nothing to do with their day jobs, where they would probably run into attendees from different fields and foreign countries.
"You put people in a room who might never have the opportunity to meet one another and they get to bring their perspectives to various issues," he said.
But for all the opportunity to broaden intellectual horizons, the primary driver for many is probably the chance to mix and mingle with attendees including entertainment honcho Jeffrey Katzenberg, leading American businesswoman Lynda Resnick and Transportation Secretary Elaine Chao. And that's not to mention Calvin Klein, Alex Rodriguez and Lady Gaga's mother, who are all among the scheduled panelists.
"The attendance is thick and exhaustive. It's a great place to go and just run into people and catch up," said Sheets, whose company, Prudential Financial, is hosting a conference-related lunch at the posh Peninsula Hotel in Beverly Hills for clients and others.
Prosek Partners — a public relations firm with offices in New York, Los Angeles, Connecticut and London — is holding its own reception at the nearby Mosaic Hotel on Sunday night.
"If we do Milken right, there is a commercial impact," managing partner Jennifer Prosek said. "I would say indeed we have gained new clients."
Befitting a conference where you can chat with a billionaire, it's not cheap to get into the door.
Fees start at more than $10,000 and run up to $50,000 depending on the level of perks, though Milken Institute spokesman Geoffrey Baum said deeply discounted rates are available to make the event accessible to a "broad range of individuals," including those from nonprofit, government or education organizations.
The conference provides the single greatest unrestricted source of funds for the Milken Institute, Baum said, which may provide a clue for why everywhere you look these days some organization is holding a conference about something.
Anil Punyapu, a senior vice president at Cvent, an events-management software company servicing the conference, said many organizations are getting into the game, including Wall Street banks.
"Every major company is starting to do big conferences," he said, noting it helps them with their branding and connecting face to face with customers in a crowded online marketplace.
In Las Vegas, shortly after the Milken conference, Skybridge Capital, the New York investment fund founded by outspoken Trump supporter Anthony Scaramucci, will hold its SALT hedge fund conference at the Bellagio hotel.
It will also feature big names and what might be called a publicity stunt: Scaramucci will interview former White House Chief of Staff John F. Kelly, who fired the hedge fund manager after less than two weeks as the president's communications director. But the event is expected to draw several thousand fewer than Milken's conference.
The former junk bond king — a sobriquet he abhors and rails against on his personal website — has assiduously built up his conference over the years.
The gathering takes place not far from the Beverly Hills offices where Milken famously ran his high-yield bond unit of Drexel Burnham Lambert from an X-shaped desk.
Attending will be former colleagues from the investment bank, who remain loyal even though Drexel went bankrupt after the insider trading investigation and a sharp downturn in the high-yield bond market.
Conference panelist Bobby Turner is one of those loyalists. He worked for Drexel in New York and now runs Turner Impact Capital, a Santa Monica social impact fund that invests in workforce housing, community healthcare clinics and charter schools.
He calls Milken, 72, not only one of the most brilliant financial minds ever but a brilliant philanthropist who's "not afraid of being provocative."
"He doesn't want a one-sided conference," Turner said. "There will be a lot about the environment. There will be a lot about social justice."
Even so, expect much of the discussion to live within constraints. After all, although it may not be a predator's ball, it is one for capitalists whose core belief is that the economic system is the only one capable of solving the world's problems.
"Inequality is one of the outcomes of capitalism that is not deployed correctly or efficiently," is how Ditizio puts it, adding:
"How do you be the catalyst to unfurling some of that capital towards things that matter."
---