Treasury nominee Steven Mnuchin discloses holdings and pledges divestments if confirmed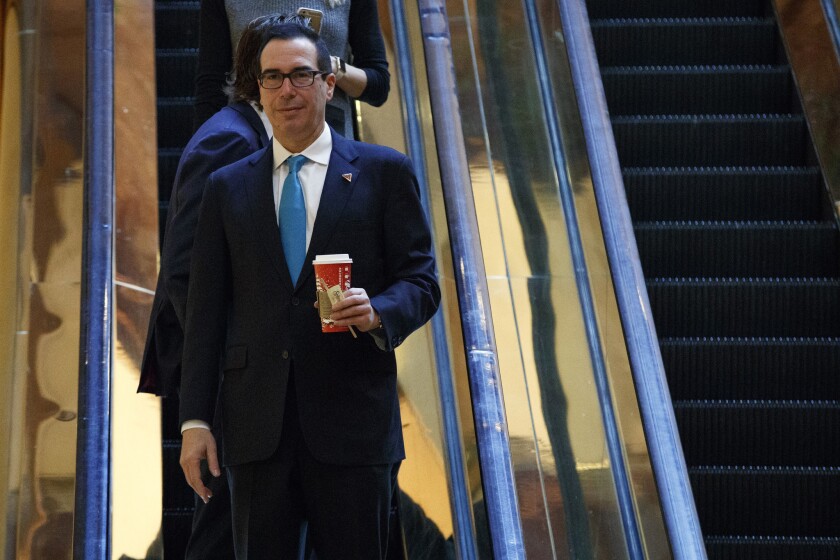 Los Angeles banker and film financier Steven Mnuchin, if he is confirmed as U.S. Treasury secretary, will sell his stakes in numerous hedge funds, investment vehicles and companies, including AT&T, Microsoft and Goldman Sachs, the firm where he started his career.
In a financial disclosure report released Wednesday by the federal Office of Government Ethics, Mnuchin detailed his holdings in or income from hundreds of entities, funds, stocks and other assets including real estate, artwork and a plane. In a letter accompanying the report, Mnuchin said he would sell his holdings in 43 companies and hedge funds within 90 days of his confirmation.
The filings were made public the same day that President-elect Donald Trump, through an attorney speaking at a long-awaited news conference, laid out his own plans for limiting potential conflicts of interest related to his more extensive holdings. Trump, in a controversial move, plans to let his sons run his business empire, while Mnuchin plans a more traditional approach: selling most of his holdings, including stakes in firms he does not manage.
That includes more than $1 million in shares of Warren Buffett's Berkshire Hathaway Inc., more than $1 million in Goldman Sachs shares and stock holdings in AT&T, General Electric, Microsoft and other blue-chip companies. He will also sell his stake in CIT Group, the New Jersey lender that in 2015 bought Pasadena's OneWest Bank from Mnuchin and other investors.
As of March 1, Mnuchin owned nearly 2.5 million shares of CIT, worth about $106 million at Wednesday's closing price, according Securities and Exchange Commission filings.
Mnuchin's financial disclosure report, submitted Dec. 16, shows the former Wall Street investment banker turned hedge-fund manager and film financier had income of at least $52 million over the last two years, and perhaps as much as $71 million. Much of that income came from CIT in the form of stock options and severance pay. He was an executive at the company until March and remained on its board until last month.
Filings show Mnuchin has total assets of at least $166 million, and possibly closer to $400 million. That broad range is because asset and income figures are often reported in ranges — for instance, from $1 million to $5 million — rather than as precise numbers.
Mnuchin said he would sell another of his holdings, an interest in RatPac-Dune Entertainment Holdings, within 120 days of confirmation.
Mnuchin has backed a variety of Hollywood films, including the August blockbuster "Suicide Squad," "American Sniper" and "Mad Max: Fury Road." He was an executive producer of last year's Howard Hughes film "Rules Don't Apply," and even makes a cameo appearance in the picture as a banker.
If Mnuchin is confirmed and he follows through with selling the assets listed Wednesday, it's not clear where he will invest all that capital. He said in the letter sent Wednesday to a Department of Treasury ethics official that he will ensure "that all proceeds are invested in non-conflicting assets." A spokesman for Mnuchin did not respond to requests for comment.
In his letter, Mnuchin also said that if he is confirmed he will step down from his positions with 42 different companies and entities, including the LAPD Foundation. He has already resigned from board seats at CIT, Sears Holdings and the Los Angeles Museum of Contemporary Art.
The disclosures also show that Mnuchin has wide-ranging investments, mostly held in a web of trusts and personal holding companies. Many of his investments come as no surprise for a longtime Wall Street pro, with millions invested in stocks, corporate debt, hedge funds and various Goldman Sachs investment vehicles.
Mnuchin spent 17 years at Goldman, where he was a partner and later chief information officer. He left the firm in 2002 and started an investment fund with billionaire investor — and prominent Democratic Party donor — George Soros before founding hedge fund Dune Capital Management.
But he also has an array of smaller, niche investments.
He owns a small stake in an Oklahoma oil company, is owed $500,000 to $1 million by a golf course on New York's Long Island and owns a stake in a company called Halo WeWin II, which Mnuchin identifies in the filing as a Los Angeles online gaming company. He's also part owner of the Willem de Kooning painting "Untitled III," which was acquired in 2014 for $14.7 million, according to auction house Christie's.
Mnuchin's father, former Goldman Sachs banker Robert Mnuchin, is a de Kooning collector and founded a Manhattan art gallery that has displayed the artist's work.
Wednesday's filing, though, shows that Mnuchin's biggest score by far was OneWest Bank.
He and other wealthy investors — including Soros, Michael Dell and hedge fund manager John Paulson — established the bank after buying the assets of failed Pasadena thrift IndyMac in 2009. The investors put up about $1.6 billion in cash and, with the help of a generous agreement under which the Federal Deposit Insurance Corp. agreed to eat much of the losses on bad loans, were able to reap big dividends and then sold the bank for $3.4 billion in 2015.
It's not clear how much Mnuchin personally made on the deal, but his stake in CIT and his earnings from the company over the last two years add up to nearly $150 million.
The deal cushioned his already substantial wealth, but it will also be a source of ammunition for his opponents during his yet-to-be-scheduled confirmation hearing. The former bank boss is expected to face tough questions from Democratic lawmakers about his time at OneWest, which has drawn criticism from bank regulators and advocacy groups over its aggressive foreclosure practices.
In 2011, two years after Mnuchin's group came in, bank regulators said the bank had failed to follow various procedures when foreclosing on homeowners. The California Department of Justice found numerous cases in which the bank had improperly backdated documents, according to a leaked memo. Department insiders urged a lawsuit against the bank, though none was filed.
Follow me: @jrkoren
---
UPDATES:
5:55 p.m.: This article was updated with details on Steven Mnuchin's total net worth.
4:50 p.m.: This article was updated with more details about Steven Mnuchin's holdings, his Hollywood career and his involvement with OneWest Bank.
This article was originally published at 12 a.m.
---
Your guide to our new economic reality.
Get our free business newsletter for insights and tips for getting by.
You may occasionally receive promotional content from the Los Angeles Times.