Protesters cite labor violations at Chinese automaker's L.A. plant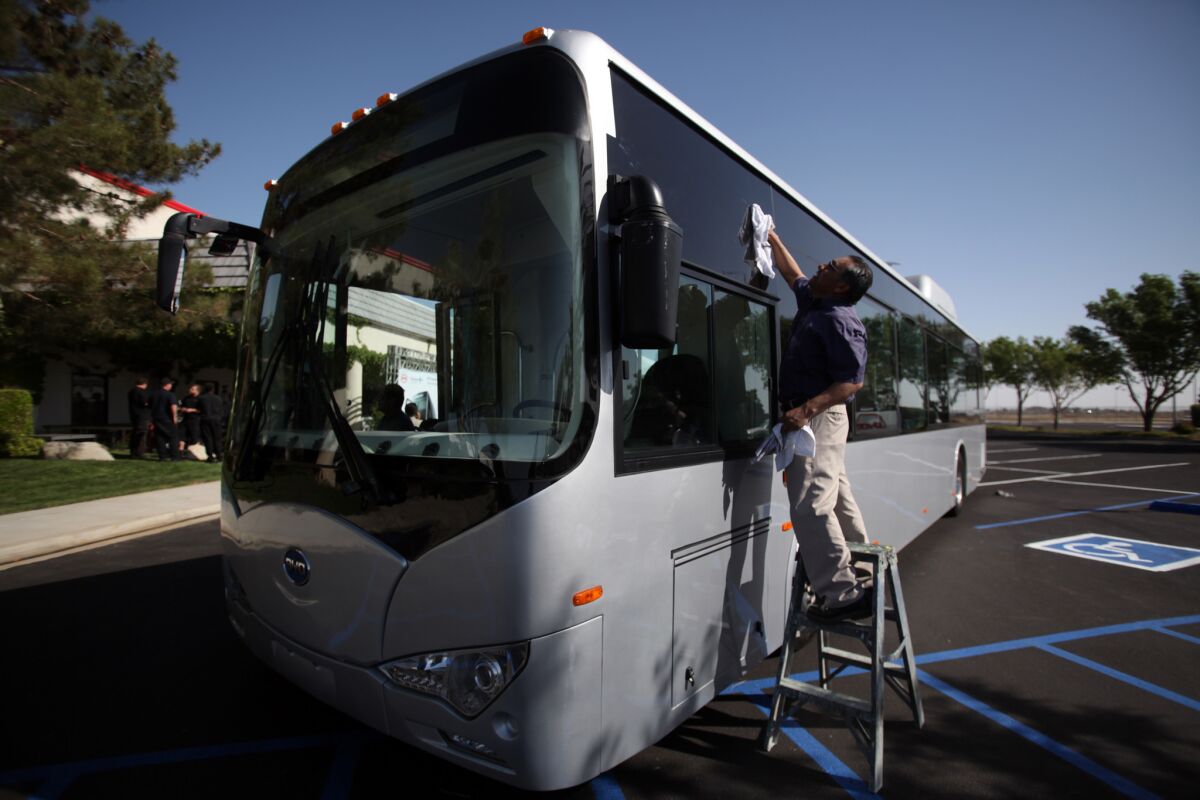 Protesters gathered outside the Los Angeles headquarters of Chinese automaker Build Your Dreams to protest working conditions at the company, which is under a state investigation for breaking labor laws including paying some employees below minimum wage.
A crowd of labor activists and supporters called for the Long Beach transit agency and the Los Angeles Metropolitan Transit Authority to reconsider its contracts with the company for electric-powered buses.
"The way they brought their Chinese workforce over here is incredibly exploitative," said Madeline Janis, national policy director of the advocacy group Los Angeles Alliance for a New Economy, which tipped off state officials to working conditions at BYD. "This is a big, wealthy company. They should know better."
PHOTOS: Richest and poorest cities in America
BYD, which plans to open a bus manufacturing plant in Lancaster by year's end, is facing an investigation by the state's Department of Industrial Relations. The department already issued five citations earlier this month, ordering BYD to pay nearly $100,000 in fines and back wages for violations involving 22 employees.
The investigation found that BYD failed to pay minimum wage to some workers at its L.A. headquarters and the factory in Lancaster, among other violations.
"We want job creation in California. We want business to set up shop to thrive and to profit," California Labor Commissioner Julie Su said. "But, we want them to play by the rules. An invitation to do business in California is never meant to be an invitation to come here and pull the floor out from underneath California labor standards."
PHOTOS: Best and worst countries in which to grow old
Micheal Austin, a vice president at BYD, said the company was "perplexed by the misinformation" spread by LAANE and is hoping to reach a "conciliatory and satisfactory resolution" with state officials.
"Questions have been raised about the wages paid to a few technology experts who are visiting here temporarily from BYD's parent company in China to train our American workforce and to assist with the transition from overseas of our state-of-the-art design, but the information being disseminated is incomplete," Austin wrote in an email.
Advocacy groups are trying to distribute flyers to Chinese workers at BYD to encourage them to seek legal counsel and advice on their rights.
"Especially people from another country, they may not know what their rights are in California," said Justin Ma, supervising attorney at Asian Americans Advancing Justice. "The purpose of the flyers is to offer them free and strictly confidential advice."
Staff writer Marc Lifsher contributed to this report.
ALSO:
99 Cents Only chain lays off 160 workers

Income inequality is linked to depression, study finds
Occidental Petroleum says third-quarter earnings jumped 14%
Follow Shan Li on Twitter @ShanLi
---
Sign up for the California Politics newsletter to get exclusive analysis from our reporters.
You may occasionally receive promotional content from the Los Angeles Times.