Teens protest Chick-fil-A gay marriage stance at new O.C. branch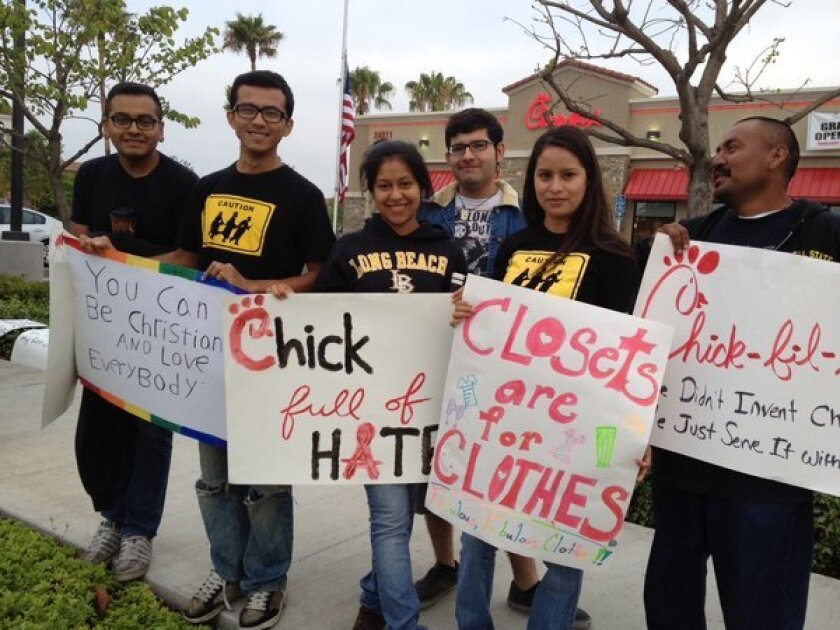 The Chick-fil-A gay marriage controversy spilled into the Southland early Thursday morning, as a large group of teens protested the chain's perceived anti-gay stance outside a newly opened Laguna Hills branch.
About 70 protesters from the nonprofit group Youth Empowered to Act handed out fliers and asked customers at the Orange County restaurant to make a different fast-food choice.
Activists dressed up as chickens, wore shirts emblazoned with "Gay O.K." slogans, carried rainbow flags and carried signs riffing on the chain's "Eat Mor Chikin" slogan. They began arriving at 5 a.m.; the restaurant opened at 6 a.m., said Rich Ferraro, a spokesman with the Gay & Lesbian Alliance Against Defamation.
At issue: Chick-fil-A's millions of dollars in donations to anti-gay organizations as well as company president Dan Cathy's comments last week that the chain is "guilty as charged" of defining marriage as the union of a man and a woman.
Photos: Fast food gets outrageous
Response to Cathy's statements have been passionate from both sides.
The company has endured backlash from the creator of the Muppets, mayors from Boston and Chicago, and a slew of Hollywood celebrities. But several prominent conservatives, including Mike Huckabee and Michelle Malkin, have publicly championed the chain.
On Wednesday, Rick Santorum tweeted about the Aug. 1 Chick-fil-A appreciation day proposed by Huckabee.
"With two of my boys, Enjoying chick-in-strips and an awesome peach shake at Chick-fil-A," Santorum tweeted. "See you here next Wednesday!"
ALSO:
Chick-fil-A steps out of public debate on gay marriage
Is Chick-fil-A anti-gay marriage? 'Guilty as charged,' leader says
LGBT Oreo: Businesses embrace gay pride, and controversy follows
---
Your guide to our new economic reality.
Get our free business newsletter for insights and tips for getting by.
You may occasionally receive promotional content from the Los Angeles Times.