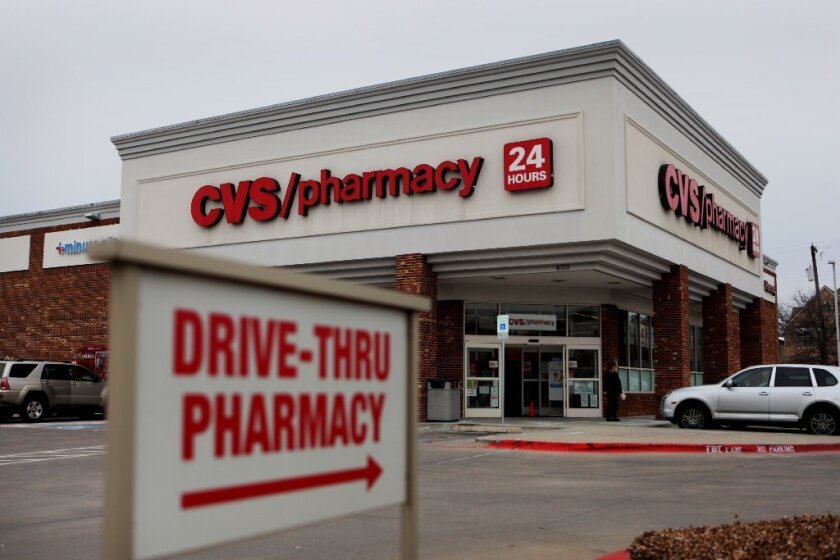 CVS Caremark Corp.'s shares climbed Tuesday after the drugstore chain raised its profit estimate for the first three months of the year and reassured investors that it could withstand its decision to stop selling tobacco products.
The nation's second-largest pharmacy chain also said that its fourth-quarter profit climbed 12% to $1.27 billion from $1.13 billion in the same period a year earlier.
Last week, CVS said it planned to discontinue the sale of tobacco products, a move the company said would trim $2 billion from annual sales and about 6 cents to 9 cents from its earnings per share.
PHOTOS: Top 10 Southern California companies
In a conference call with analysts, CVS executives said they expected the tobacco move to attract new business.
"We are seeing this tobacco decision as an opportunity to connect even more with consumers as an expert in health and beauty and to build our loyalty with them," said Helena Foulkes, president of the company's pharmacy business.
CVS said its business was strong enough to absorb the lost tobacco business. On Tuesday, it backed up that sentiment by raising its forecast for first-quarter earnings to $1.03 to $1.06 per share from 96 cents to 99 cents.
"With our unique pharmacy health care model, we have the ability and agility to offer innovative solutions and capitalize on these changing market dynamics," said CVS chief Larry Merlo. "As a result, we look forward to continued strong growth in 2014 and beyond."
CVS shares were up $1.83, or nearly 3%, to $68.77 in afternoon trading.
ALSO:Mallinckrodt acquires San Diego pharma firm Cadence
New Fed chief Janet Yellen signals further cuts in stimulus
Twinkies, Ding Dongs at a discount: Big Lots in deal with Hostess
Follow Stuart Pfeifer on Twitter
---