Union sympathizers slam Hostess over shutdown [Google+ Hangout]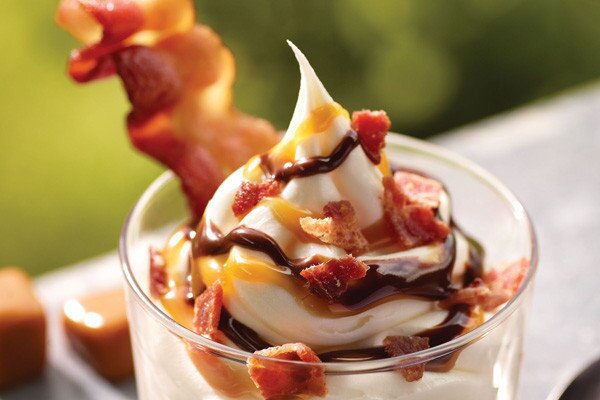 Yes, that's bacon on that ice cream. Burger King, the world's second-biggest burger chain, introduced the bacon sundae as part of its summer menu.
More on Burger King's effort to win over your taste buds:
Get that with a side of sweet potato fries
.
(Noel Barnhurst / Burger King / Associated Press)
The Heart Attack Grill has made headlines with its fatty foods -- meals that regularly weigh in at nearly 10,000 calories. It's a lifestyle that carries risk -- even the owner says so. The grills' record-setting Quadruple Bypass burger weighs in over three pounds and has nearly 200 calories per ounce. That works out to more than 9,500 calories.
More:
Customer at Heart Attack Grill suffers heart attack
Owner calls customers risk-takers
(Samson Loo / Flickr)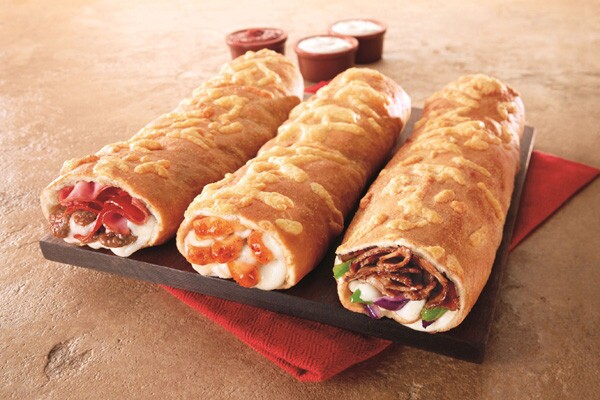 Pizza Hut's new product comes in Meat Trio, Italian Steak and Buffalo Chicken and looks like a cross between a sub, a roll and a Costco-style chicken bake.
Read more on Pizza Hut's
grab for Subway's market share
.
(Pizza Hut)
From Jack in the Box comes the bacon milkshake. But the concoction, which is heavy on the calories, uses flavored syrup, not real meat, to simulate the porky taste.
Like milkshakes? Check out
what competitors are doing
.
(Kjetil Ree / Flickr)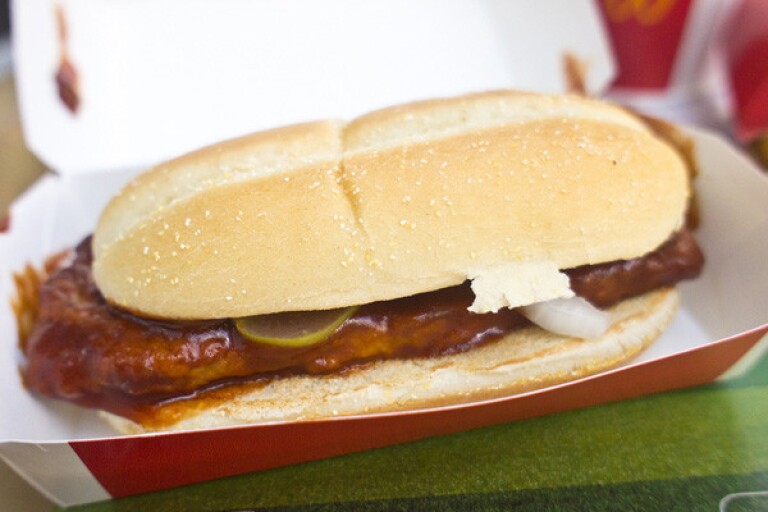 It seems the barbecue-sauce-smeared boneless pork patty molded into the shape of ribs just can't stay away -- remember the 2005 "McRib Farewell Tour"? McDonald's says the McRib is 500 calories (for a 7.3-ounce serving).
More:
Got rib?
(Ruocaled / Flickr)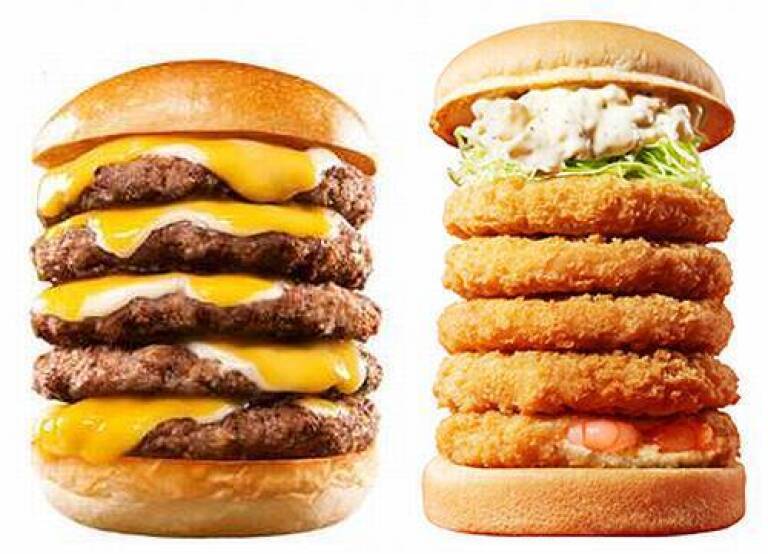 For its 40th anniversary, Japanese burger chain Lotteria sold two burger towers - one a minaret made of cheeseburger and the other a high-rise fried shrimp burger.
(Lotteria)
Burger King Japan is making a name for itself with fanciful creations. First came the Kuro Burger, a sandwich with black buns darkened by stirring bamboo charcoal into the dough. The chain also sells the seasonal Pumpkin Burger, which pops slices of kabocha in with the standard burger trappings.
(Burger King Japan)
Pizza Hut Singapore launched a Double Sensation Pizza in late 2012. One crust is stuffed with cheesy chicken sausage, the other is crammed with three kinds of cheese. Toppings include chicken, turkey and ham on top of pepper alfredo and salsa.
(Pizza Hut)
The Hostess Brands Inc. shutdown is still leaving consumers reeling as they ponder a potential future without Twinkies, Ding Dongs and Ho Hos.
The 82-year-old company is blaming its closure -- which will affect 565 distribution centers, 33 bakeries and 570 bakery outlets -- on a labor strike by members of the Bakery, Confectionery, Tobacco Workers and Grain Millers International Union.
The union has accused the Texas business of slashing workers' wages and benefits while awarding substantial pay raises to its top brass.
In a statement, the National Consumers League threw its support behind the union, saying Hostess executives were "scapegoating" workers instead of "taking responsibility themselves."
"It is years of poor management -- not the reasonable demands to improve working conditions of the BCTGM -- that led to the company's demise, said the league's executive director, Sally Greenberg. "What a terrible time of year to take away the livelihood of 18,500 workers and the dozens of communities with factories that will be shuttered."
Quiz: How well do you know fast food?
When the company filed for bankruptcy in January, there were 14,276 social media mentions in the first 12 days of the month, according to social medial analytics firm NetBase. In early November, there were 542 mentions.
But starting Nov. 9, when workers began walking off the job, through Friday, the number of mentions soared to 17,632, according to NetBase.
Join us for a live video chat at 2:30 p.m. with food reporter Tiffany Hsu and host Michelle Maltais. Leave your comments and questions below.
ALSO:
Hostess shutdown sparks grief, Twinkie runs, criticism
Kodak to cut nearly 4,000 jobs in 2012, loses top executives
Hostess, maker of Twinkies, to go out of business; strike cited
---
Your guide to our new economic reality.
Get our free business newsletter for insights and tips for getting by.
You may occasionally receive promotional content from the Los Angeles Times.