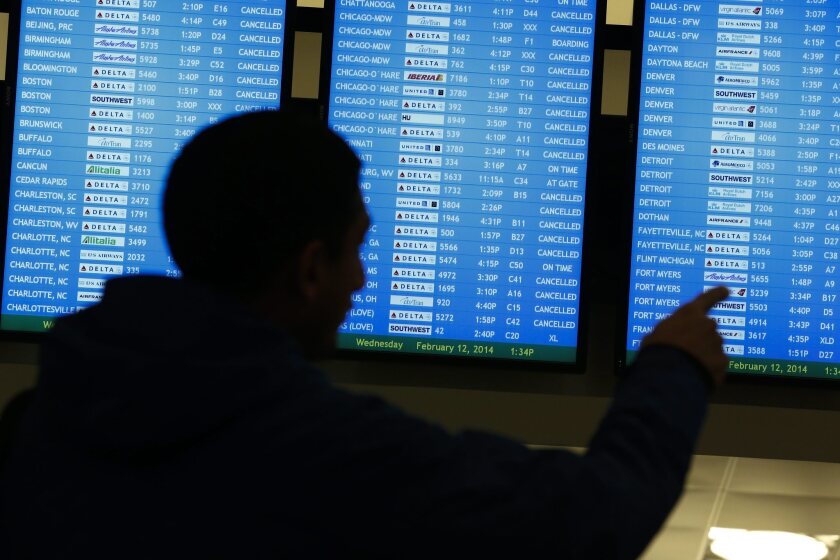 This post has been updated, as indicated below.
The freezing temperatures and storms described by the National Weather Service as "an event of historic proportions" forced the cancellation of nearly 3,500 flights Wednesday, with thousands more expected Thursday.
An additional 4,700 or so flights were delayed, mostly in the southern section of the country, where an ice storm is moving from central Mississippi up to the Eastern Seaboard.
The ripples of the canceled flights have forced the cancellation of several dozen flights in and out of Los Angeles, San Francisco and San Diego, according to the flight monitoring site, Flightaware.com.
The National Weather Service has issued a winter storm warning for a large swath of the country, from Eastern Texas to New England.
Airlines plan to cancel another 2,800 flights on Thursday, mostly in Atlanta, New Jersey, New York and Washington, D.C., according to Flightaware.
The storm is only the latest this winter to wallop the eastern half of the country and disrupt air travel across the country.
In January, snow and sleet forced the cancellation of about 49,000 flights, more than double the number halted by Superstorm Sandy in 2012.
[Updated 2:25 p.m. PST, Feb. 12: Since Jan. 1, about 71,000 flights have been canceled by U.S. carriers because of severe storms across the South, Midwest and East Coast. The cancellation rate so far this winter is more than double that of last winter, according to MasFlight, an aviation operations technology company in Bethesda, Md.]
The cancellations have been especially high, industry experts say, partly because of new rules regarding rest time for pilots and penalties against airlines that leave passengers stranded on delayed planes.
ALSO:
Restrictions to expire at Love Field, sending Southwest soaring
At Starwood hotels, smartphones will be room keys
Low expectations for low-cost airlines may mean fewer complaints
---