KPMG auditor deserves 3 years for insider trading, probation office says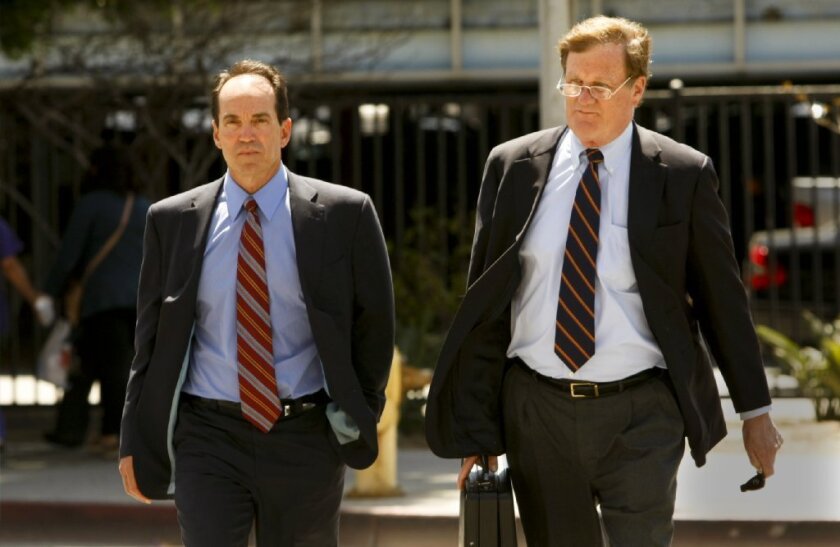 Former KPMG partner Scott London should be sentenced to three years in prison for selling secret information about the accounting firm's clients to a stock-trading friend, who used the tips to make more than $1.2 million in profitable trades, the federal probation office has recommended.
London, who supervised a team of auditors at KPMG's Los Angeles office, was charged with insider trading in April after FBI agents secretly photographed him accepting cash from his friend, Encino jeweler Bryan Shaw, as payment for past tips about the accounting firm's clients.
London later pleaded guilty to insider trading, admitting he gave Shaw sneak previews of earnings reports from companies that included Los Angeles nutrition firm Herbalife Ltd. and footwear maker Skechers USA Inc.
Photos: Top 10 Southern California companies
London's attorney, Harland Braun, said in a sentencing motion that the proposed three-year term and $100,000 fine are excessive. He recommended a sentence of 18 to 24 months and a fine of $25,000, saying London has already paid dearly for his crime, losing his $900,000-a-year job and a host of friends from the company who are banned from talking to him.
"A large number of people, many of whom numbered among Scott's closest friends, have been permanently removed from his life," Braun said.
Thom Mrozek, a spokesman for the U.S. attorney's office, which is prosecuting the case, declined to comment on the proposed sentence.
Braun said the probation office has inappropriately calculated the financial loss -- a key sentencing factor -- as $1.27 million, the amount London's friend made from illegal trades. London had no way of knowing that his friend was making so much money, Braun said.
"Shaw told Mr. London that he would be receiving one-third of the total gains," Braun said. Because Shaw paid London "around $66,000 in cash and gifts," London believed that Shaw's total profits were about $200,000, Braun said.
"Mr. London should not be held responsible for the $1.27 million unless he could have reasonably anticipated that Shaw's illicit earnings would add up to that amount," Braun said.
If the sentence were based on a loss of $200,000, London's potential sentence would be reduced to a range of 18 to 24 months, Braun said.
In his sentencing motion, Braun suggested that London started the scheme to help his friend, who was having financial difficulties.
"When Mr. London made the ill-conceived decision to provide Bryan Shaw with illegal stock tips, beginning in October of 2010, it was largely in response to Shaw telling him that his jewelry business was doing very poorly," Braun said. "Mr. London felt very sorry for Shaw and, unfortunately, made the bad decision to provide him with quarterly earnings information as well as acquisition information concerning a few select companies."
London is scheduled to be sentenced Dec. 9 by U.S. District Judge George H. Wu in Los Angeles. Shaw, who has also pleaded guilty, is scheduled to be sentenced Jan. 23.
ALSO:
Alan Greenspan praises Fed chair nominee Janet Yellen as 'very bright'
Does Villaraigosa have a conflict working for Edelman and Herbalife?
Foreclosure starts sink in California in 3rd quarter, near 7-year low
Follow Stuart Pfeifer on Twitter
---
Your guide to our new economic reality.
Get our free business newsletter for insights and tips for getting by.
You may occasionally receive promotional content from the Los Angeles Times.