PBR parent a lead bidder for Twinkies, other Hostess cake brands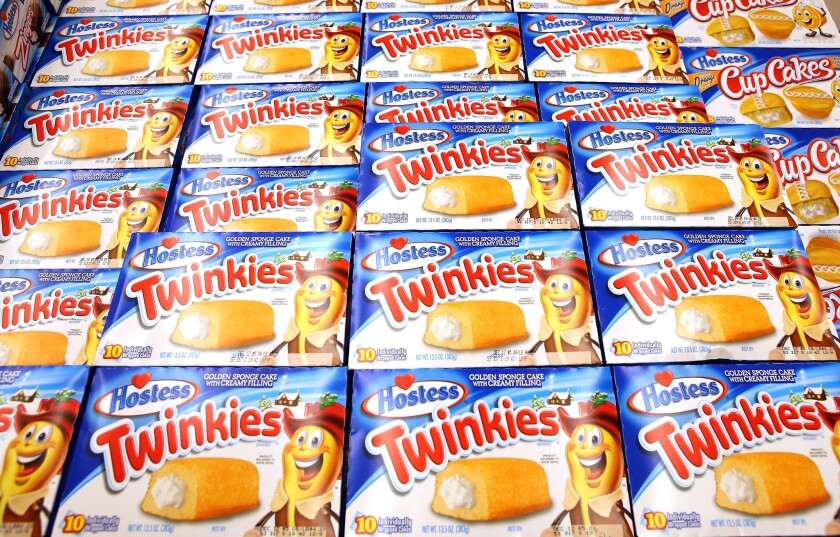 The dismantling of Hostess Brands Inc. continued this week as bidders, including the owner of Pabst Brewing Co., emerged to buy the bankrupt company's bread and cake brands.
C. Dean Metropoulos & Co., the private equity firm that owns the popular Pabst beer label, is one of the likely stalking horse bidders for Hostess cake brands such as Twinkies, Ho Hos, Ding Dongs and CupCakes, according to a person close to the deal.
Metropoulos would be joined by Apollo Global Management, a private equity firm that owns major companies such as Carl's Jr. parent CKE, the source said.
The stalking horse bidder sets the auction standard for other prospective buyers. Hostess' cake brands, with their long history and cult appeal, are seen as the crown jewel in the company's portfolio of assets.
Hostess, based in Irving, Texas, filed for Chapter 11 bankruptcy a year ago. In November, a federal bankruptcy judge gave Hostess the go-ahead to wind down after failed negotiations with its striking bakers union.
Also this week, two other firms offered to buy some of Hostess' bread brands and the company's Drake's snack segment.
United States Bakery Inc., based in Portland, Ore., offered $28.9 million Monday to buy Sweetheart, Eddy's and other bread brands from Hostess.
McKee Foods Corp. of Tennessee, which makes Little Debbie snacks, said it wants to take over Drake's brands, such as Ring Dings and Yodels, for $27.5 million.
Earlier this month, Hostess agreed to sell a large of chunk of its bread holdings -- including Wonder and Nature's Pride -- to Flowers Food for $290 million.
ALSO:
Poor management, not union intransigence, killed Hostess
Twinkies maker Hostess to go out of business, lay off 18,500
Hostess, union mediation fails; Twinkies return to chopping block
---
Your guide to our new economic reality.
Get our free business newsletter for insights and tips for getting by.
You may occasionally receive promotional content from the Los Angeles Times.