Appeals court deals setback to L.A. mortgage discrimination suits against big banks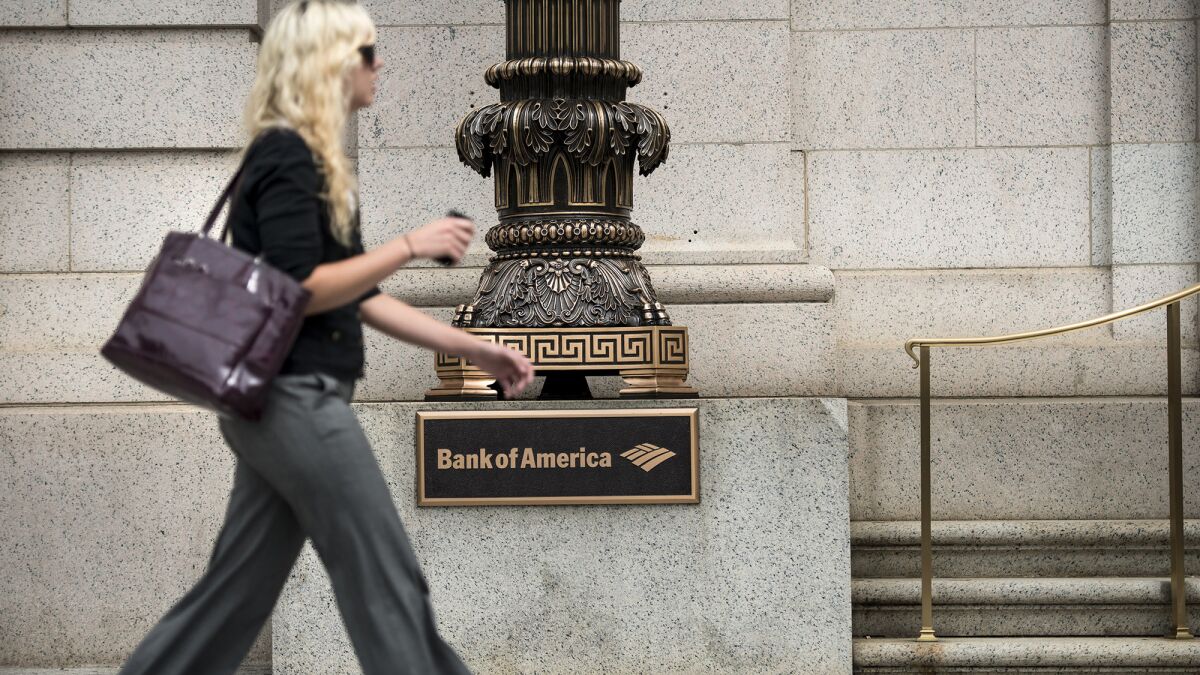 Mortgage discrimination lawsuits filed by Los Angeles against Bank of America and Wells Fargo & Co. have hit a roadblock, with a federal appeals court saying the cases spurred by last decade's housing bust lack merit.
Opinions in those two cases, released late last week by a three-judge panel of the U.S. 9th Circuit Court of Appeals, mark a significant setback for the city. And they come just weeks after the U.S. Supreme Court issued a ruling in companion Miami cases that was widely seen as strengthening cities' legal hand against mortgage lenders.
The high court ruling, though, addressed only whether cities have a right to sue banks under federal fair housing laws, whereas the 9th Circuit opinions in the L.A. lawsuits focused on the facts of the cases — showing that, even with the recent Supreme Court decision, cities face tough hurdles if they continue to push ahead with their lawsuits.
The appeals court found that Los Angeles had not backed up its key allegation: that the banks in the years leading up to the bust had policies that pushed minority borrowers — intentionally or otherwise — into mortgages that were pricier or riskier than those offered to white borrowers.
It's not clear what the city will do next. It could drop the cases, having already done so with similar suits against Citigroup and JPMorgan Chase in 2015, or ask a larger panel of 9th Circuit judges to rehear the case. It could also bypass the appeals court and go directly to the Supreme Court.
Rob Wilcox, a spokesman for Los Angeles City Atty. Mike Feuer's office, said the city is reviewing the 9th Circuit's opinions.
Tom Goyda, a spokesman for Wells Fargo, said the bank was pleased with the court's decision "to uphold the district court's thoughtful ruling and confirm the dismissal of the Los Angeles city attorney's mortgage case against Wells Fargo. We will continue our focus on helping to expand home ownership opportunities in the city and across the country."
Bank of America spokesman Lawrence Grayson said: "We are pleased that the court found that the city failed to articulate a viable legal claim and affirmed the dismissal of the lawsuit."
Amy Schur, campaign director with the Alliance of Californians for Community Empowerment, an advocacy group that supports the city lawsuits and has sought to uncover shady mortgage and foreclosure practices by banks, said that the latest development is disheartening but that she hopes Feuer's office will appeal.
"This really does seem to be a case where you question if there's justice in the justice system," Schur said. "It's hard for me to imagine how this court could not see deliberate policies and practices of these banks to target African Americans and Latinos for higher-cost loans. We think that's well established."
The court opinions cap what's been an eventful month in the years-long push by cities to sue banks, alleging discriminatory mortgage lending amid last decade's housing boom.
Los Angeles and other cities, many working with the same outside legal team, have filed a handful of similar lawsuits, all arguing that the nation's big banks pushed black and Latino borrowers into costlier, riskier loans that went bad more often than those offered to whites.
That led to foreclosures and blighted neighborhoods — and, cities argued, to hundreds of millions of dollars in increased city spending and decreased property tax income.
The Los Angeles lawsuit against Wells Fargo cited a report from the Alliance of Californians for Community Empowerment and another advocacy group that estimated the city lost at least $481 million in property tax revenue and spent $1.2 billion on costs related to foreclosures, including increased police and emergency calls, property maintenance and safety inspections.
Cities including Oakland, Miami and, most recently, Philadelphia, which filed a mortgage discrimination suit against Wells Fargo just two weeks ago, used statistical analysis to show that minority borrowers were much more likely than similarly credit-worthy white borrowers to get loans that carried higher interest rates or fees.
In its case against Wells Fargo, for instance, Los Angeles alleged that black mortgage borrowers were more than twice as likely as white borrowers with similar credit scores to receive loans the city deemed predatory. Latino borrowers were 1.5 times as likely.
The lawsuits rely on an argument known as disparate impact — the idea that a policy can lead to illegal discrimination even if, on its face, the policy does not appear to be discriminatory. The trouble in the Los Angeles cases, the 9th Circuit justices said, is that the city did not draw a clear connection between the racial disparities in mortgage lending and policies or practices at the banks.
In both the Wells Fargo and Bank of America cases, Los Angeles argued that mortgage loan officers have incentives to have borrowers take out larger loans, that bank marketing efforts targeted low-income borrowers and that the banks did not monitor their loans for racial disparities.
But the judges said that it was not clear how or whether those policies would push minority borrowers into unfavorable loans. Employee incentives and marketing materials, for instance, "would affect borrowers equally regardless of race," the justices wrote.
Both Wells Fargo and Bank of America had said the 9th Circuit should toss the Los Angeles lawsuits for another reason. Banks have argued that cities should not be able to sue under the Fair Housing Act because the cities themselves are not victims of any alleged discrimination, unlike, for instance, a minority borrower denied a loan for no valid reason.
The U.S. Supreme Court, though, ruled 5 to 3 this month in one opinion covering two cases brought by Miami that cities can sue under that law as long as they can show that they were directly injured by discriminatory practices. That was seen as a victory for cities and pushed Philadelphia to file its suit against Wells Fargo.
Attorneys in the cases brought by Philadelphia and Oakland are also hoping their cases against Wells Fargo in particular will get a boost from some of the information that's come to light from the San Francisco financial giant's unauthorized accounts scandal.
A report commissioned by Wells Fargo's board of directors found that the bank's practice of opening unauthorized accounts for customers was able to persist for years because of a lack of proper oversight by executives and internal compliance officers. Attorneys for the cities now argue that the same lack of oversight may have contributed to discriminatory mortgage practices.
Goyda, the Wells Fargo spokesman, said the two issues have nothing to do with one another and that cities are "just trying to leverage a hot issue in their favor."
Follow me: @jrkoren
ALSO
Op-Ed: Why are small banks disappearing?
Wells Fargo must guarantee class-action settlement will fully repay customers, judge says
Column: Banks, making record piles of cash, plead for 'much-needed regulatory relief'
Sign up for the California Politics newsletter to get exclusive analysis from our reporters.
You may occasionally receive promotional content from the Los Angeles Times.