Wells Fargo must guarantee class-action settlement will fully repay customers, judge says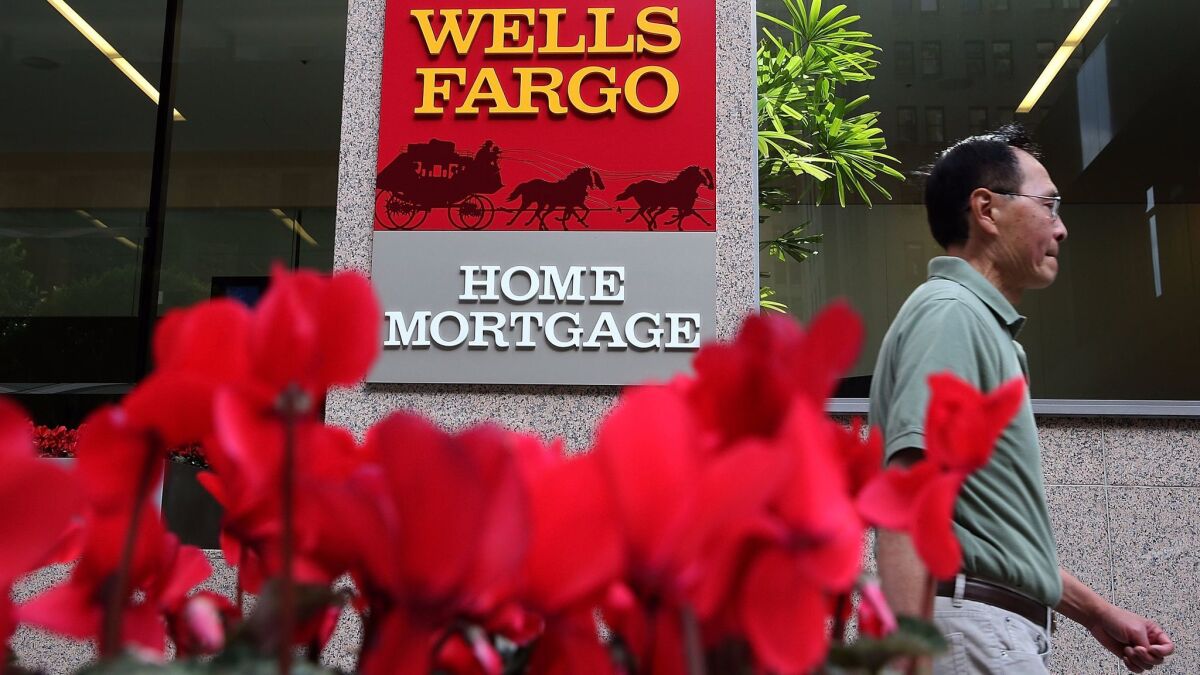 Wells Fargo & Co. may have to cough up more than $142 million to settle a bevy of class-action lawsuits in connection with its unauthorized-accounts scandal.
A federal judge in San Francisco said late Wednesday that he would approve a settlement deal reached by the bank and plaintiffs' attorneys, but only if they agree to several conditions — including a guarantee that all customers will be fully compensated for their losses.
That could further boost the amount the bank will have to pay to put the lawsuits behind it as questions remain about how many customers were harmed and how much money they lost.
The two sides had most recently agreed that the bank would pay $142 million to compensate customers for fees and other damages related to millions of unauthorized checking, savings and credit card accounts, up from a proposed $110 million settlement amount agreed to in March.
But at a hearing last week, U.S. District Judge Vince Chhabria had said the proposed sum — while potentially more than enough — still could fall short and leave customers in the lurch.
"If Wells Fargo wants to make things right, what about a full compensation guarantee?" Chhabria asked Wells Fargo's attorneys during the hearing.
In a filing late Wednesday, Chhabria laid out 11 conditions, including the guarantee, and gave the bank and plaintiffs' attorneys two weeks to come back with an amended deal.
He also wants the settlement to allow potential victims of the bank's practices to have more time to request payouts and for him to have the authority to appoint a settlement monitor.
David Fry, an attorney for Wells Fargo, had argued at last week's hearing that, in practice, a compensation guarantee could result in the bank making payments to customers who never suffered any monetary losses.
It's not clear, though, whether Chhabria's demand for a guarantee could push the bank to walk away from the deal.
Wells Fargo spokesman Ancel Martinez said Thursday that the bank and its attorneys "are reviewing the court order, and working with the plaintiffs' attorneys to prepare a revised settlement agreement."
At last week's hearing, Chhabria seemed especially concerned about bank customers whose credit scores were damaged by unauthorized credit card accounts.
The proposed settlement includes a method for compensating those customers if, as a result of damaged credit, they paid higher interest rates for loans. But Chhabria said he is unsure whether the settlement will make those customers whole.
Part of his concern stems from the fact that neither the number of consumers affected nor the amount of consumer harm are definitively known.
"We're working with incomplete information," Chhabria said at last week's hearing. "I think, because of that, stricter-than-normal scrutiny is required by the court."
The $110-million proposed settlement in March covered unauthorized accounts created as early as 2009. At the time, the number of potentially unauthorized accounts was thought to be 2.1 million, a figure pulled from the $185-million settlement Wells Fargo reached with regulators in September.
Wells Fargo Chief Executive Timothy Sloan called the deal "another step in our journey to make things right with customers and rebuild trust."
Then, last month, after a bank internal report said the practice of creating unauthorized accounts may have dated to 2002, Wells Fargo agreed to up the settlement sum for class-action lawsuits to $142 million.
In court filings in support of the larger settlement amount, plaintiffs' attorneys estimated that as many as 3.5 million sham accounts may have been created, but also estimated that customers' total out-of-pocket losses probably amount to no more than about $75 million.
The settlement agreement would first compensate customers for out-of-pocket losses. Any leftover cash would be split among settlement participants.
In Wednesday's filing, Chhabria said Wells Fargo should pay more "if it becomes apparent that [customers] suffered significantly greater injury than is currently assumed."
Other conditions in Chhabria's latest order are also aimed at making sure customers, specifically those with credit damage, get a fair shake.
The judge said he wants the authority to appoint a monitor specifically to scrutinize credit-related settlement payouts. He also said he'd like the settlement claims process to give customers a way to describe how their credit was harmed and how that affected them, a request aimed at giving Chhabria the ability to assess whether he believes customers are being properly compensated.
He also wants it to be easier for customers to opt out of the settlement — a move that allows customers to try taking the bank to court on their own — and wants the parties to send settlement notifications to a broader swath of current and former Wells Fargo customers than is currently called for.
Ed Mierzwinski, consumer program director for the U.S. Public Interest Research Group, has opposed the settlement, saying that the deal could stifle attempts to uncover more information about the scope and scale of the unauthorized accounts scandal.
Still, he applauded Chhabria's call for a compensation guarantee and other changes to the deal.
"It's great to see the judge is paying attention," Mierzwinski said. "A good settlement must always return cash to the class members, who shouldn't need to jump through hoops."
Twitter: @jrkoren
---
UPDATES:
4:10 p.m.: This article was updated with more details of the judge's ruling and a comment from Ed Mierzwinsk of the U.S. Public Interest Research Group.
This article was originally published at 12:35 p.m.
---
Sign up for the California Politics newsletter to get exclusive analysis from our reporters.
You may occasionally receive promotional content from the Los Angeles Times.