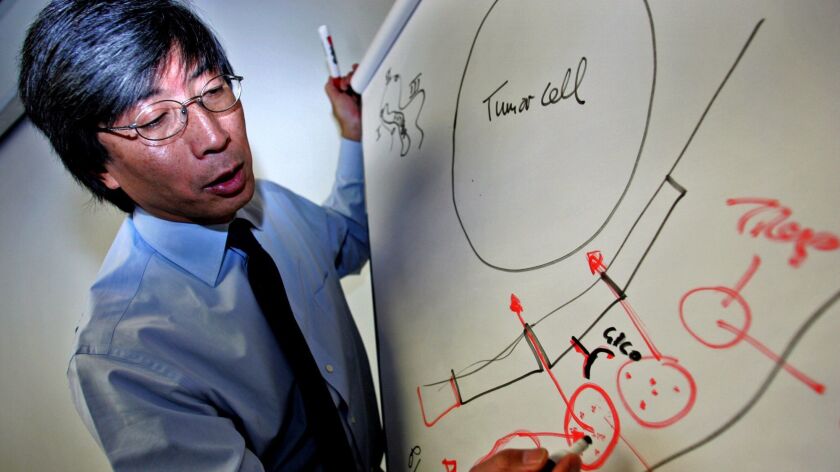 Los Angeles billionaire Patrick Soon-Shiong's NantHealth Inc. said it would cut about 300 employees and sell some assets as the biotech company looks to focus on artificial intelligence for cancer treatment.
The Culver City company said Thursday that it signed an agreement to sell its provider and patient engagement assets to Chicago-based healthcare IT firm Allscripts Healthcare Solutions Inc., allowing NantHealth to "integrate the remaining engineering teams to focus on cancer."
NantHealth said the assets sale, integration of acquired businesses and other moves are expected to result in annual cost savings of more than $70 million.
On Thursday, the company reported a net loss for the quarter ended June 30 of $70.1 million. Its net revenues fell 17% from the same period a year earlier, to $26.2 million.
NantHealth spokeswoman Jen Hodson said in a statement Friday that the company's moves could help it become "one of, if not the leading cancer company driving 21st century delivery of care."
However, the company's share price fell sharply. Shares of NantHealth closed at $3.49, down 13.8%.
Brandon Couillard, an equity analyst at Jefferies, remarked in a note to clients that NantHealth had grown "immensely complex" after it acquired a number of companies prior to its stock market debut last summer.
Between "synergies," transferring a "significant" number of workers to Allscripts and internal consolidation, the company said it expected to cull its workforce by about 300.
One of NantHealth's key products is a genetic test known as GPS Cancer, which helps oncologists determine individualized cancer treatments. Soon-Shiong, the company's CEO, is the second-largest shareholder of Los Angeles Times owner Tronc Inc.
Soon-Shiong announced a research initiative last year called Cancer MoonShot 2020 focused on developing cancer treatments.
NantHealth touted sales of its GPS Cancer commercial tests in the second-quarter earnings report. The company said it had its "largest month of orders to date" in July, and that 379 GPS Cancer commercial tests were ordered in the second quarter, with 264 deliveries.
But in the note to clients, Couillard said commercial uptake of the GPS Cancer test remained "lackluster" as orders and tests completed were essentially flat compared with the previous quarter and GPS test revenue figures were unchanged from the previous two quarters.
The company's stock was priced at $14 a share when it went public, and shares traded as high as $18.59 last year.
But its share price has tumbled since then, especially after healthcare publication Stat reported in March that Soon-Shiong and his charitable foundation donated $12 million to the University of Utah for genetic-disease research, and the university paid NantHealth $10 million for genetic analysis.
NantHealth has said the university was free to choose any vendor and disputed the assertion that the donation was made to benefit Soon-Shiong's commercial interests.
"We remain focused on extending coverage and driving physician engagement for our GPS Cancer solution around the world," Soon-Shiong said in a statement Thursday. "We strongly believe that GPS will result in extended and improved quality of life."
Twitter: @smasunaga
ALSO
Uber shareholder group wants early investor off board
Column: How a factory deal Trump touted puts the 'con' in 'Foxconn' — and how taxpayers will get taken
Squeezed out by Silicon Valley, the far right is creating its own corporate world
---