Feds sue nation's largest student loan servicer, accusing it of cheating borrowers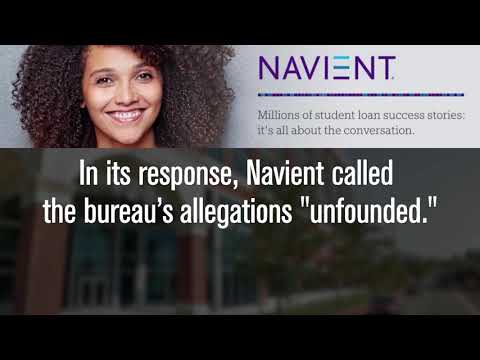 The Consumer Financial Protection Bureau accused Navient Corp. of cheating borrowers.
The Consumer Financial Protection Bureau sued the nation's largest servicer of student loans Wednesday, alleging that Navient Corp. cheated borrowers, resulting in higher payments for Americans struggling to pay back their student loans.
The federal consumer agency said that Navient, formerly part of Sallie Mae, "failed to provide the most basic functions of adequate student loan servicing at every stage of repayment for both private and federal loans."
The Wilmington, Del., company, the agency said, provided student borrowers with inaccurate information, ignored complaints, processed payments incorrectly and steered borrowers toward higher-cost repayment options.
"For years, Navient failed consumers who counted on the company to help give them a fair chance to pay back their student loans," CFPB Director Richard Cordray said in a statement. "At every stage of repayment, Navient chose to shortcut and deceive consumers to save on operating costs. Too many borrowers paid more for their loans because Navient illegally cheated them, and today's action seeks to hold them accountable."
The lawsuit, filed in U.S. District Court in Pennsylvania, says Navient violated the Dodd-Frank reform act, the Fair Credit Reporting Act and the Fair Debt Collections Practices Act. The agency is seeking redress for borrowers harmed by the practices and to prevent any future harm.
In response, Navient called the bureau's allegations "unfounded" and questioned the timing of Wednesday's lawsuit, noting it came just days before the Obama administration is set to leave office.
"The timing of this lawsuit — midnight action filed on the eve of a new administration — reflects their political motivations," the company said in a statement posted on its website.
The filing of the lawsuit comes amid a flurry of new rules and regulations in the waning days of the Obama administration — and as the CFPB is under threat from Republican critics, who have complained that the bureau has too much power and that its attempts to help consumers have restricted access to credit.
Some Republican senators have even asked President-elect Donald Trump to remove Cordray as director, which if undertaken would probably set up a legal showdown over Trump's right to do so.
A major focus of the bureau under Cordray has been education, specifically for-profit colleges and technical schools, which have been accused of encouraging students to load up on student loans and misrepresenting the jobs prospects of graduates.
Corinthian Colleges in Santa Ana was among the schools sued by the agency, which accused it in 2014 of deceiving tens of thousands of students through an "illegal predatory lending scheme." The school later went out of business.
More recently, the CFPB has turned its eye toward the servicing of student loans.
In 2015, the agency issued a report documenting widespread problems in the industry, including borrowers who said that servicers often failed to disclose the availability of cheaper repayment options.
At the time, the bureau said more than a quarter of the nation's student borrowers were delinquent or in default.
Consumer advocates have praised the agency for its aggressive actions, including Wednesday's suit against Navient.
"The action by the CFPB against Navient demonstrates the importance of having a strong and independent consumer watchdog on the side of students and working families," said Persis Yu, director of the National Consumer Law Center's student loan borrower-assistance project. "We call on President-elect Trump to reject calls from Wall Street to fire CFPB Director Rich Cordray or to weaken the consumer watchdog."
Among the borrowers who say they have had problems with Navient is Michele McKeever, 46, of Austin, Texas, who has nearly $190,000 left to pay on her student loans.
McKeever, who attended two graduate programs, said in the last two years Navient has levied her with increased payments after the servicer wrongly claimed she didn't submit her application for a reduced payment plan in time.
"The first year it happened, I thought, "OK, maybe I didn't get it in in time. But this year, I know I did," she said.
McKeever said she emailed company representatives and tried to call Navient, but "they just informed me that there's not a lot you can do."
In its lawsuit, the consumer agency alleged many other borrowers had problems enrolling in programs to reduce payments and Navient instead steered struggling borrowers into plans that made more money for Navient but saddled borrowers with higher costs.
Specifically, the government alleged that Navient maintained compensation policies that encouraged customer service representatives to push borrowers into forbearance, which allows borrowers to suspend payments without defaulting but does not stop interest from accruing.
However, most federal student-loan borrowers earned the right in 2009 to enroll in the less costly payment options that are based on their income.
Although those plans save borrowers money, forbearance was more lucrative for Navient, the agency alleged because the company could enroll borrowers in forbearance in less time and with less staff.
In all, the servicer slapped borrowers with additional interest charges of up to $4 billion by enrolling them in repeated forbearance plans from January 2010 to March 2015, according to the consumer agency.
"For many of these borrowers, had they been enrolled in an income-driven repayment plan, they would have avoided much or all of their additional charges," the agency said in its complaint, noting the government would have picked up the tab for unpaid interest on subsidized loans for three years.
When borrowers did enroll in the income-driven repayment plans, the agency said Navient failed to provide enough information on renewal deadlines. That caused students to miss enrollment, which "could have caused their monthly payments to jump by hundreds or even thousands of dollars." the bureau said in a news release.
In an email, a Navient spokeswoman said the company actively promotes income-driven repayment programs and "sends multiple notices and communications to borrowers to help them complete re-enrollment on time, meeting or exceeding all federal requirements."
Navient services private and federal loans worth more than $300 billion for more than 12 million borrowers, according to the agency.
The bureau also alleged that Navient reported to credit reporting agencies that severely disabled Americans, including veterans, had defaulted on their loans, when in fact their loans were discharged under a program for such borrowers.
Click here for a Spanish version of this story
ALSO
The U.S.' priciest house for sale is a Bel-Air mansion that includes 7 staffers and a helicopter
Snapchat has changed Venice, and the neighborhood isn't changing back
Donald Trump, Rand Paul and the myth of a cheap Obamacare replacement
---
UPDATES:
6 p.m.: This article was updated with an email comment from a Navient spokeswoman.
1:10 p.m.: This article was updated with additional details about the allegations against Navient, a comment from the National Consumer Law Center and background on the CFPB's crackdown on for-profit colleges and the Obama administration's last-minute flurry of new regulations.
4:00 p.m.: This arictle was updated with comment from a student borrower and background on problems with loan servicers.
This article was originally published at 11:15 a.m.