Snapchat has changed Venice, and the neighborhood isn't changing back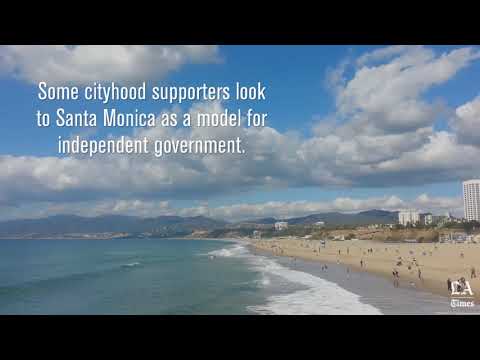 Venice is known for its quirky artistic vibe, bustling boardwalk and designer real estate, but some residents believe L.A. is holding it back.
Don Salmon says his Rastafarian clothing shop in Venice suffered no dip from the Great Recession, leaving only one culprit in his mind for a recent sales plunge.
"I have no question this is the Snapchat effect," Salmon said surrounded by his black-red-yellow-and-green goods. "It's not even up for debate."
The enormous popularity of the self-destructing-message app Snapchat has helped its developer, Snap Inc., grow to more than 1,500 employees — most of them inside a web of owned and leased properties in Venice.
The company's growth in the beachside neighborhood has crowded out other businesses though, including a once-beloved burger joint behind Salmon's shop that he said drove customers his way. In the year since Sean's Cafe became a private Snap cafeteria, Salmon says revenue fell 30%. Adding to his frustration, patrols by Snap's security guards, with black-and-white outfits and earbuds, scare away would-be customers, he said.
Even after improving an e-commerce presence and taking out a five-digit loan, he worries an inevitable rent hike this summer will oust him for good.
But Salmon now has a possible reprieve.
Snap has leased about 300,000 square feet at Santa Monica Business Park, with the option for 100,000 square feet more, according to Westside real estate experts not authorized to speak publicly about the agreement. The deal, possibly the largest real estate move yet by the company, comes after Snap signed a six-year lease in September to take over 79,000 square feet of office and hangar space at Santa Monica Airport.
The company's real estate broker, Gary Horwitz of JLL, said Snap will keep its offices in Venice but expects future expansion will be concentrated in Santa Monica.
The strategy could reflect Snap's acknowledgement that additional Venice development would blunt the creative diversity and bohemian vibrancy that drew it to the locale five years ago. Snap doesn't comment on real estate, but says it strives to be a friendly neighbor. It has donated to local programs for the homeless and arts education.
"They have to find that balance without killing the soul of Venice," said Jenniffer Bernal, who has picked up on neighborhood dynamics in four months of working at a clothing shop under Snap offices. "This is the one place you can be you. You can see different cultures, races, and everyone is happy being here."
For Venice residents and shopkeepers like Salmon, the Santa Monica news doesn't affect their attitudes about Snap. The damage has already been done in their eyes, and it's opened the doors to other big-company land grabs. But they do hope a Snap real estate slowdown reinstates their leverage with landlords and helps steady rents.
"I would hope that would ease the pressure off us," Salmon said. "We're at the mercy of Snapchat."
When property owners didn't have Snap eagerly waiting in the wings, small shops say they could defer rent payments during the rainy season — waiting to close the tab until summer crowds came through. They could get five-year leases instead of just three. Most obviously, rents were more affordable.
Johnny Parco, who owns a Venice boardwalk bike shop, said he's months into a lease that nearly doubled in payments. It marked the largest increase in 21 years for Parco, who began his career selling skates from his van in a parking lot now used by Snap.
To help make up the cost, Parco turned a residential property he owns into a short-term rental. He's grown pessimistic about landing a second boardwalk space; one landlord recently asked him for as much as $9,400 for 500 square feet, or almost $19 per square foot, Parco said.
Such rent hikes are a burden even for tech start-ups. Sensay, whose service anonymously connects strangers in an online chat, moved to Santa Monica from Venice three months ago because of the specter of rising costs.
Santa Monica appeared more affordable, accessible and safer. Snap picked up half of the building Sensay shared, according to the start-up. That's after the nearby restaurant employees frequented for taco Tuesdays became another frosted-windowed Snap cafeteria.
"Snapchat has been driving out smaller tech companies," Sensay co-founder Crystal Rose said in a statement. "I was worried Venice would become a ghost town."
Antonio Rendon, owner of an Ocean Front Walk leather and metal goods store, endured an 18% rent increase recently — the steepest in 25 years. His concern is the declining number of attractions on the strip.
"People come here to see the unordinary," he said. "Offices shouldn't be here."
Venice has grown in popularity with office renters since the dot-com boom of the late 1990s brought hundreds of small tech firms to the Westside in search of a seaside lifestyle, but it is a peon of an office market compared with Santa Monica, which reigns as the heart of Los Angeles tech culture and has 9.6 million square feet to lease.
Growing demand for space from firms in creative fields such as technology and entertainment has helped make Santa Monica one of the most expensive office markets in the West. The city, which favors strict limits on development, is seeing its first new office construction in 20 years.
Average asking rents across Santa Monica were $5.61 per square foot per month in the fourth quarter, a 20-cent jump from the same period a year ago, according to brokerage CBRE Group Inc. Vacancy fell from 13.8% to 9.5%, making for a tight market that favors landlords.
Financial terms of Snap's new lease were not available, but landlord Blackstone is asking for at least $4.65 per square foot a month in rent at the park, according to real estate data provider CoStar Group. The business park on Ocean Park Boulevard at Centinela Avenue also houses the headquarters of video game maker Activision Blizzard.
Snap asked about financial incentives to locate in the area, but Santa Monica doesn't offer such subsidies, said Jason Harris, the city's economic development manager.
The city hasn't estimated Snap's economic impact, but Harris says he prefers a big employer to several smaller ones. In the coming years, Snap could become one of the city's largest employers, at around 3,000 employees, Harris said.
"If that's 10 firms, and they are very singularly focused on their operations, they might not be in the same position to be providing philanthropic support and engaging with the community," he said. "It's great to have another partner, with some size."
Community activists aren't sure that the calculus is that simple. Snap's arrival doesn't raise the same cultural concerns as in Venice, but it could push housing costs higher and spur faster commercial development than intended, said Diana Gordon of the Santa Monica Coalition for a Livable City.
For Snap, the office needs stem from increasing ambitions. The $18-billion company continues to develop new features for chatting with friends. But it's also gathering user-shot images to produce news stories from them. And it's partnering with major TV studios to develop shows for airing on Snapchat.
Last year, Snap released Spectacles — sunglasses with a video camera on the hinge. The device is just the start of the company's hardware development plans, investors have said.
The nearly 6-year-old company's giant financial pipeline has kept it fueled. Snap has raised nearly $3 billion from private equity investors and could double that haul by selling some shares publicly in the coming months. It also has generated about $400 million in revenue from selling ads that appear inside its app.
Snap uses shuttles to ferry employees between offices and parking lots. The same shuttle program is expected to move workers between Santa Monica and Venice. It's secretive about many locations, its presence revealed only by security guards at the doors and badge-carrying employees coming and going. Its Market Street headquarters now has Snap Inc. etched on the door, but security guards shoo away those who gaze too long.
Twitter: @peard33
ALSO
WhatsApp's privacy woes show how messaging app tries to balance security and ease of use
Two big Snapchat updates make the app work more like Facebook, Instagram or Twitter
Snapchat maker Snap dodges uproar — and maybe taxes — with London office