Airline flight delays were a hiccup, but created pressure to end government shutdown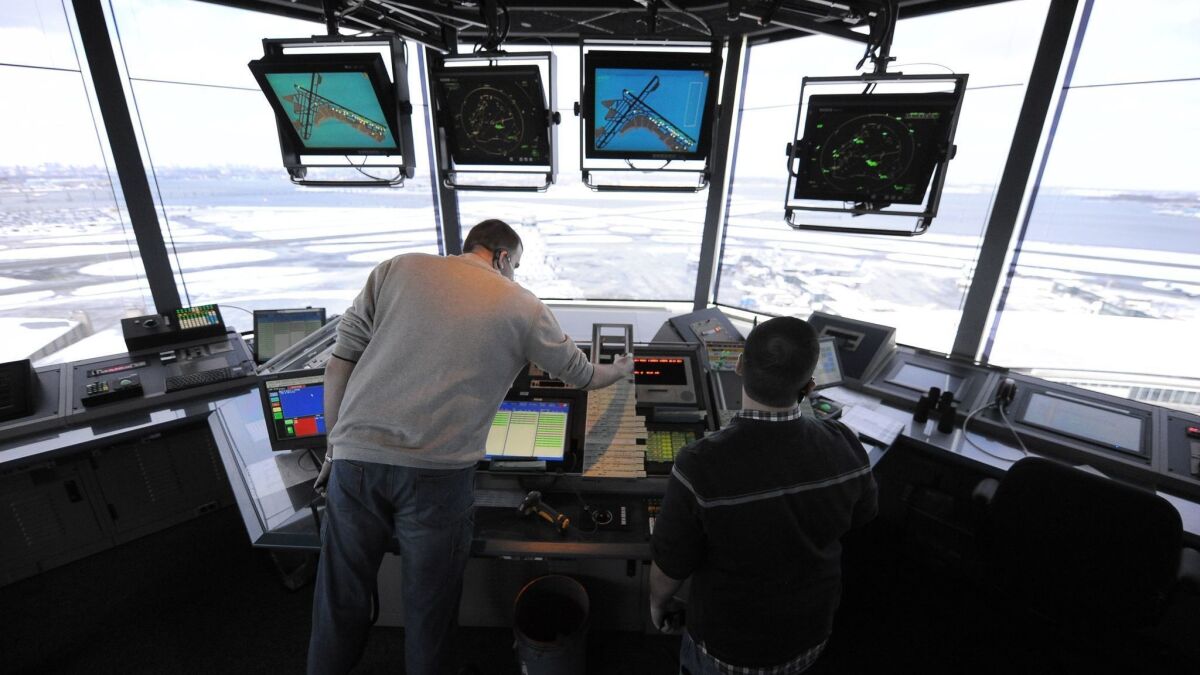 On a normal day, an 82-minute halt in landings at a single U.S. airport would be a headache for travelers, a complication for airlines and barely a blip on the radar for everyone else.
But Friday morning's hiccup at New York's LaGuardia Airport wasn't caused by adverse weather or an errant drone. And it was a galvanizing moment.
It made tangible what had, to many, been esoteric: the effects of the partial shutdown of the U.S. government, which was in its 35th day.
During the shutdown, hundreds of thousands of federal government workers have not received paychecks. Small businesses and home buyers haven't been able to get federal loans. Taxpayers have faced the possibility of delayed tax refunds. National parks, federal courts and FBI investigations have taken a hit.
But when the Federal Aviation Administration temporarily halted flights into LaGuardia — one of the nation's biggest transportation hubs — because too many air-traffic controllers called in sick Friday, that created an immediate and concrete problem for a swath of Americans who felt distant from the shutdown's other consequences.
The flight delays were more frustrating because they were caused not by extreme weather — an act of God — but by a political feud. "People are angrier than normal because most of the flying public knows that it was something preventable," said Kate Hanni, founder of passenger rights group Flyersrights.com.
Air-traffic controllers are among the federal employees who haven't received paychecks since the shutdown began but are required to keep working anyway. "Many controllers have reached the breaking point of exhaustion, stress, and worry caused by this shutdown," the president of their union said in a statement.
The freeze of landings at LaGuardia ended after an hour and 22 minutes, but the disruption rippled through airports nationwide — and raised the specter of future disruptions.
Union leaders and top bosses of U.S. airlines had warned of the rising toll on the aviation system Thursday; JetBlue Airways Corp. Chief Executive Robin Hayes said the situation was reaching a "tipping point."
Hours after the LaGuardia incident, President Trump announced that he and congressional leaders had reached a deal to temporarily reopen the government.
Michael Steel, a former advisor to Republican House Speaker John A. Boehner, said the incident may have been the final factor that led Trump to agree to reopen the closed federal agencies.
"You have rising political pressure. You have the president's own [approval ratings] polls dropping. And as kind of an exclamation mark, the LaGuardia shutdown," Steel said.
Trump had insisted that any plan to reopen the government include funding for a wall along the U.S.-Mexico border. Friday's stopgap deal includes a three-week extension of government funding through Feb. 15 and an agreement to continue negotiations on border security. Federal workers will receive back pay for the time they were furloughed. The deal does not contain funding for a border wall.
"The LaGuardia stoppage was definitely the most visible impact [of the shutdown] that we've seen thus far, particularly for a president who's from Queens," Steel said, noting the airport's location in Trump's home borough.
The FAA said the effects on the aviation system Friday morning were moderate. Still, travelers felt them.
Steph Courtney, 26, was traveling to New York from Atlanta to visit friends, but her flight — scheduled to take off around 9:40 a.m. — was delayed repeatedly, she said.
It wasn't until around noon that Courtney's plane arrived at the gate and passengers began to board, she said.
Officials first attributed the delay to weather in New York, she said, but then an official announcement came that a shortage of air-traffic controllers was the cause.
About three hours after the stoppage at LaGuardia ended, the airport posted a tweet announcing that on average, arrivals were being delayed by an hour and a half, departures by 45 minutes and airborne flights by an hour.
Some people at LaGuardia had to turn to news reports to learn what was leading to delays.
Daniel Kelley said that as he sat in a plane on the airport's tarmac, his fellow travelers were trying to figure out why they were stuck. Their pilot attributed the problem to "a lot of ground traffic," he said in an email.
Nearby, he said, his seatmates began watching the news on their TVs and learned of the air-traffic controller shortage — and he saw a split in how they processed the situation. To his right, one row up, a man watching Fox News was convinced it was Democratic House Speaker Nancy Pelosi's doing, he recalled, while to his left, a man watching CNN was blaming Trump.
Kelley, the owner of a financial firm, was traveling from Tampa, Fla., with a layover at LaGuardia before continuing to Rochester, N.Y. He said the flight delay meant less time with his children.
"Snow shutting down an airport is out of everyone's control," Kelley, 41, said in an email. "Delays because our [government] is broken is very frustrating."
Neither the FAA nor the National Air Traffic Controllers Assn. union said Friday's delays were specifically due to the shutdown.
Air-traffic controllers are prohibited by law from participating in a coordinated strike or slowdown, but the Air Current, an online aviation publication, posted a story Friday saying that the increase in workers calling in sick may have been triggered by a federal memo circulated Thursday among air-traffic controllers. The memo appears to clear the way for workers to call in sick without losing sick days they had accumulated during the regular course of their work, the story said.
The FAA said Friday in an emailed statement that it "mitigated the impact by augmenting staffing, rerouting traffic, and increasing spacing between aircraft as needed. The results have been minimal impacts to efficiency while maintaining consistent levels of safety in the national airspace system."
The crimp in air-traffic control operations Friday morning was caused by absences of workers at a regional facility: Washington Center in Leesburg, Va., which oversees mostly high-altitude flight routes in the central region of the East Coast.
The FAA frequently uses a variety of air-traffic delay programs to keep the system functioning as efficiently as possible. They are mostly put in place to handle weather issues that reduce the number of planes that can land at an airport, but controller staffing can also trigger such delays.
Although there was little evidence so far of safety risks, airline CEOs and labor leaders warned this week of an uptick in worrisome signs as workers including air-traffic controllers and airport security screeners faced a second pay period without getting a paycheck.
Additionally, Southwest Airlines Co. said it lost out on as much as $15 million in sales this month because of the shutdown, and Chief Executive Gary Kelly called the closing "maddening." Delta Air Lines Inc. said last week that the political standoff was costing it about $25 million a month.
Times staff writers Melissa Gomez and Jim Puzzanghera contributed to this report. Bloomberg was used in compiling this report.
---
Sign up for the California Politics newsletter to get exclusive analysis from our reporters.
You may occasionally receive promotional content from the Los Angeles Times.