Office tenants keep growing in Los Angeles despite fears of economic slowdown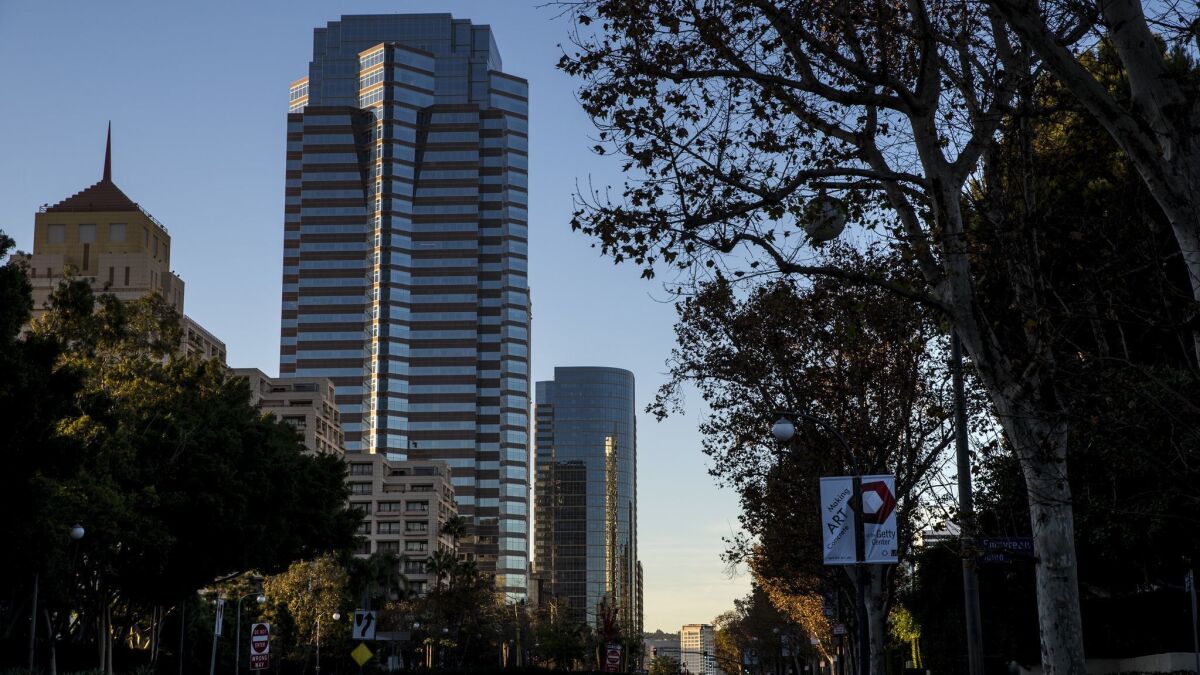 Office leasing in Los Angeles County stayed strong in the fourth quarter of 2018 and is expected to perform well in the months ahead despite concerns that the market may soften because of a possible economic slowdown.
Signing some of the biggest leases were expanding entertainment companies such as Netflix and Amazon Studios, but other kinds of businesses are also growing and absorbing new or vacant office space.
"L.A.'s very diverse tenant base buffers us against any potential softening in the market even amid all the talk of a potential downturn," said Petra Durnin, a director of research and analysis at real estate brokerage CBRE.
About half of the space that was newly leased in the county last year was on the Westside and Hollywood, the region's dominant office markets, Durnin said, led by technology firms, media companies and makers of entertainment.
Among the most successful neighborhoods for office landlords recently is Century City, where landlords last quarter asked for $5.22 per square foot per month, an increase of 70 cents from the market peak of a decade ago.
"Century City used to be a sterile office environment," Durnin said. "Now it's a vibrant community" with new housing and upgraded shopping and dining at Westfield Century City.
The contrast in activity at Playa Vista near Marina del Rey is starker just in the last five years, she said, with vacancy falling from 40% to 19%, with most of the remaining available space actually leased but not yet occupied. Rents in that time rose from $3.36 to $5.54 a square foot.
Most other markets improved for landlords with the exception of the South Bay, where occupancy dipped as some large office tenants including aerospace firms vacated space.
Overall office vacancy in Los Angeles County was 14.1%, up a bit from 13.9% a year ago because of new construction but down a tenth of a point from the third quarter. Average asking rents were $3.63 a square foot, compared with $3.67 a year earlier and $3.71 in the third quarter.
"Overall, L.A. is in good shape," Durnin said. "Even as people start talking about the end of the cycle, activity is not slowing down."
Twitter: @rogervincent
---
Sign up for the California Politics newsletter to get exclusive analysis from our reporters.
You may occasionally receive promotional content from the Los Angeles Times.