Justice Department investigates scope maker Olympus over superbug outbreaks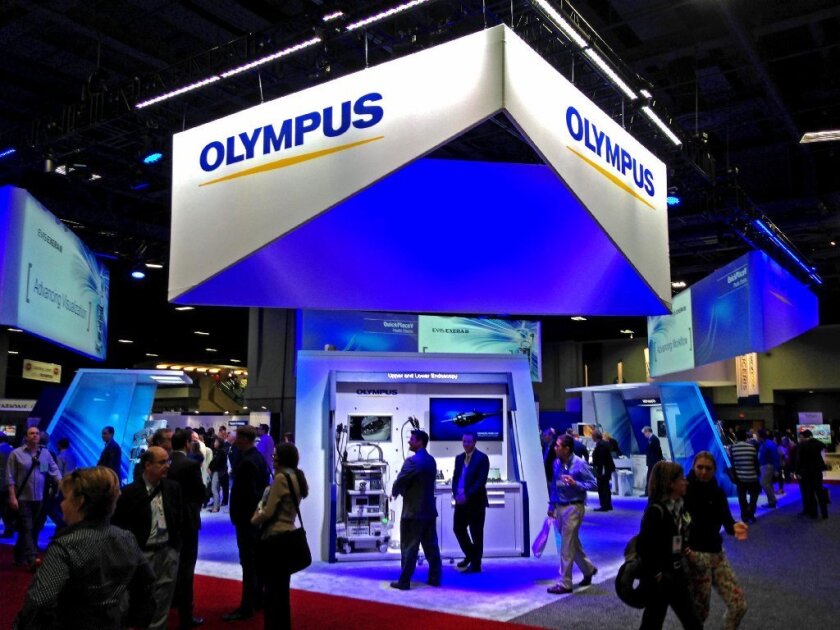 The Justice Department is investigating embattled scope maker Olympus Corp. and its role in recent superbug outbreaks at UCLA and other U.S. hospitals.
The Japanese company said it received a subpoena in March from federal investigators that "seeks information relating to duodenoscopes that Olympus manufactures and sells."
The company disclosed the inquiry in a financial filing this month.
Federal prosecutors also are seeking information about Olympus from hospitals that used its scopes and experienced deadly outbreaks of antibiotic-resistant bacteria in patients.
Rando Wick, an attorney representing Virginia Mason Medical Center in Seattle, said the hospital received a federal subpoena about a month ago seeking information and communications related to Olympus and its duodenoscopes dating back several years.
He said Jacob Elberg, chief of the healthcare and government fraud unit at the U.S. attorney's office in Newark, N.J., is spearheading the case.
Wick said the hospital is gathering materials the government requested, and he expects other hospitals are doing the same.
Virginia Mason said it had meticulously followed Olympus' instructions for cleaning the scopes, but it still had a superbug outbreak that infected 39 patients from 2012 to 2014.
Prosecutors "are clearly focused on a full investigation of Olympus," Wick said. "They are asking for a lot of information."
A spokesman for the U.S. attorney's office declined to comment on the investigation. An Olympus spokesman said the company can't comment on the investigation at this time.
The Justice Department investigation into Olympus adds to other inquiries from federal lawmakers and a growing number of lawsuits filed by infected patients and their families accusing the company of negligence and fraud.
Critics say Olympus was aware of design flaws in its duodenoscope that allow deadly bacteria to become trapped at the tip of the device.
Those germs are difficult to remove even when following the manufacturer's cleaning instructions and can be spread to new patients.
Olympus learned of this problem in Europe and sent a safety alert to customers there in January 2013.
But the company didn't issue a similar warning in the U.S. until Feb. 19 — the day after The Times reported that 179 UCLA patients may have been exposed to the deadly CRE bug from Olympus scopes.
The company's response to these problems and what steps it took to protect patients are expected to draw intense scrutiny, experts say.
Rep. Ted Lieu (D-Los Angeles) said he welcomes the Justice Department's involvement and said it further underscores the need for congressional hearings "to find out who knew what when."
"Olympus clearly realized there were cleaning problems with their scope years before, and that is why they changed the cleaning protocol in Europe," Lieu said.
In March, Olympus issued revised cleaning instructions for U.S. customers and recently began shipping small brushes to hospitals to help them clear out hard-to-reach debris.
But Lieu said those measures don't go far enough and patients remain at risk of getting infected from contaminated devices.
"My view is that we sent human beings to the moon 45 years ago," he said. "We can certainly invent a device that can be cleaned properly."
Federal health officials have said Olympus scopes were used in six of nine reported outbreaks at U.S. hospitals. Two other firms, Pentax Medical and Fujifilm, also make duodenoscopes.
Andrew Gilman, a spokesman for Pentax, said the company won't confirm or deny "the existence of governmental inquiries."
Olympus is the dominant maker of specialty endoscopes in the U.S., controlling an estimated 85% of the market.
In the UCLA outbreak, eight patients were infected, including three who died. In March, Cedars-Sinai Medical Center reported that four patients were sickened and 67 others may have been exposed to tainted Olympus scopes.
The Food and Drug Administration convened an advisory panel of medical experts this month to examine these infection risks. All three scope manufacturers declined to participate in the two-day hearing.
The FDA panel agreed that duodenoscopes as designed are unsafe, but it said patients should continue to have access to these devices because they are used in a potentially life-saving procedure with no better alternative.
The duodenoscopes are used to perform a procedure called endoscopic retrograde cholangiopancreatography, or ERCP, in which doctors thread the thin device down the patient's throat to examine and treat conditions including cancer, gallstones and other issues in the digestive system. Nearly 700,000 ERCP procedures are performed annually.
Before this latest subpoena, Olympus was already facing a separate Justice Department investigation into its marketing to doctors and other customers.
The company has said previously that investigators were looking at its U.S. sales activities from 2006 to 2011. It is not clear what products may be involved.
Olympus announced this month that it has set aside about $450 million for an expected settlement of that matter.
chad.terhune@latimes.com
Twitter: @chadterhune
melody.petersen@latimes.com
Twitter: @melodypetersen
---
Your guide to our new economic reality.
Get our free business newsletter for insights and tips for getting by.
You may occasionally receive promotional content from the Los Angeles Times.