800-GET-THIN probe intensifies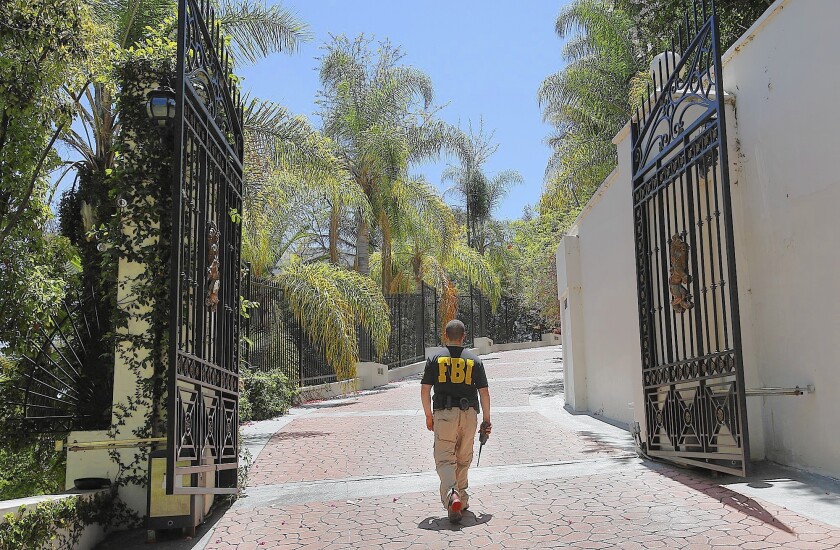 Federal agents served multiple search warrants Wednesday in an investigation of a weight-loss surgery business tied to the now-defunct 1-800-GET-THIN marketing campaign throughout Southern California.
FBI agents raided the Beverly Hills offices of Michael and Julian Omidi, who are alleged in court documents to be the owners of the weight-loss surgery business, said one person who was not authorized to discuss the matter.
The action was the most visible sign yet that the investigation into the Omidis' operation, already in its second year, remains active.
Separately, federal agents arrested the Omidis' mother, Cindy Omidi, on an indictment accusing her of violating the Bank Secrecy Act by structuring financial transactions to avoid government scrutiny.
Dozens of FBI agents rushed into Cindy Omidi's Hollywood Hills estate and spent several hours on the sprawling property, said neighbors who asked not to be identified.
"They went storming up the driveway. They had guns and gear and FBI raid jackets and cars parked up and down the street," one neighbor said.
Thom Mrozek, a spokesman for the U.S. attorney's office in Los Angeles, said: "Federal search warrants are being executed. The warrants are under seal, therefore I cannot comment on them."
Mrozek said no other arrests had been made.
John Hueston, an attorney for Michael and Julian Omidi, did not respond to a request for comment. Cindy Omidi's attorney, Maureen Jaroscak, also did not respond to a request for comment.
For several years, 1-800-GET-THIN billboards blanketed Southland freeways, and a jingle, featuring the catch phrase "Let your new life begin, call 1-800-GET-THIN," was heard regularly on the airwaves.
The ad campaign promoted Lap-Band weight-loss surgeries, which were performed at clinics throughout Southern California.
According to a later deposition of Dr. Ihman Shamaan, who performed Lap-Band surgeries at the clinics, Julian Omidi had claimed in 2010 that the facilities associated with the ad campaign — once listed at 13 on the company's website — were bringing in $21 million a month.
Five patients died following their surgeries at Southern California clinics affiliated with 1-800-GET-THIN from 2009 to 2011, according to lawsuits, autopsy reports and other public records.
Lawsuits alleged that the Lap-Band clinics were owned by the Omidi brothers, whose fast-lane lifestyles were chronicled on the E! Entertainment reality show "Dr. 90210" in 2004 and 2005. Both men have repeatedly declined interview requests from The Times.
The advertisements came down in 2012 after the Food and Drug Administration warned that the ads were misleading because they failed to include adequate warnings about the risks of the surgery.
In a 2012 court filing, an FDA criminal agent said multiple federal law enforcement agencies were investigating the Omidis for "potential violations of federal law, including conspiracy, healthcare fraud, wire fraud, mail fraud, tax violations, identity theft [and] money laundering."
At the time, Hueston said he was confident that no charges would be filed against the Omidi brothers.
The Omidis, both of whom hold medical degrees, have disciplinary records with the Medical Board of California.
Julian's license to practice was revoked because he failed to disclose to the Medical Board that he had attended UC Irvine, which expelled him after his arrest in a campus burglary.
Michael was placed on probation by the board from 2008 to 2011 in settling a case in which he was accused of performing surgeries at an unaccredited facility.
A federal grand jury indicted Cindy Omidi in October 2013 on financial-structuring charges, but she was not arrested on that indictment until Wednesday.
The indictment alleges that she purchased money orders more than two dozen times in 2008 and 2009 for $2,900 — just below a $3,000 threshold that would have required her to disclose the transactions to the government.
It is a violation of federal law to structure financial transactions to avoid reporting requirements.
There was no reference in the indictment to 1-800-GET-THIN or the weight-loss surgery business.
---
Your guide to our clean energy future
Get our Boiling Point newsletter for the latest on the power sector, water wars and more — and what they mean for California.
You may occasionally receive promotional content from the Los Angeles Times.