Onboard Wi-Fi speeds could soar if airlines make the investment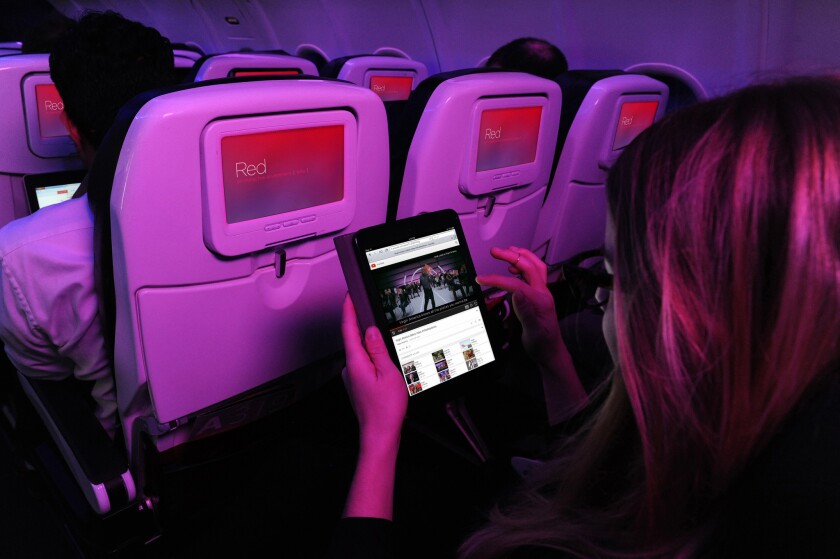 On most commercial airlines, onboard Wi-Fi is only fast enough to check your email or update your Facebook status. Try to stream a movie and you may find your laptop buffering from Burbank to Phoenix.
But that may be changing soon, as onboard connectivity companies increasingly shift away from slower ground-based Internet systems to satellite-based systems that could increase speeds more than 2,000%.
The industry leader, Chicago-based Gogo, provides in-flight Wi-Fi for more than 70% of the nation's airlines, encompassing about 2,400 planes. But most of the planes served by Gogo rely on ground-based cell towers that offer speeds of about 3 megabits per second.
At that speed, a 4-gigabyte movie could take three hours to download. And if everybody on the plane tries to download at the same time, Internet speeds could slow to a crawl.
Next year, Gogo plans to launch a satellite-based Wi-Fi system that can offer speeds of up to 70 megabits per second. Seven airlines have already committed to testing the system on a trial basis or installing it on their entire fleet, Gogo spokesman Steve Nolan said. "The speeds are going to improve greatly," he said.
The other advantage to satellite-based Wi-Fi is that it works on international flights and over a body of water.
Gogo is not the only Wi-Fi provider that promises to turbocharge the service.
Los Angeles-based Global Eagle Entertainment, which provides Wi-Fi services to Southwest Airlines, among other carriers, announced recently that it had reached an agreement with Boeing Co. to install its satellite-based Wi-Fi system in the factory on new 737 planes, among the world's most popular commercial aircraft.
Lake Forest-based Panasonic Avionics, which provides satellite-based Wi-Fi technology on 800 planes worldwide, plans to unveil an advanced aircraft antenna next month. Working with specially designed high-throughput satellites, Panasonic systems says it can offer Wi-Fi speeds as high as 200 megabits per second.
Global Eagle also plans to soon unveil a new antenna and high-throughput satellites.
One of the biggest hurdles to increasing onboard Internet speeds is that airlines that want to switch to satellite-based Wi-Fi must take planes out of service to install the new equipment. Don't expect the nation's commercial fleet to make the switch quickly.
"We will continue to look to see what makes sense," American Airlines spokesman Casey Norton said about switching American away from its air-to-ground service from Gogo.
And it is not clear if the faster Wi-Fi speeds will mean higher Wi-Fi fees.
"We haven't talked about how we are going to price it," Gogo's Nolan said.
To read more about travel, tourism and the airline industry, follow me on Twitter at @hugomartin.
---
Your guide to our clean energy future
Get our Boiling Point newsletter for the latest on the power sector, water wars and more — and what they mean for California.
You may occasionally receive promotional content from the Los Angeles Times.