OneWest Bank shut out nonwhite borrowers while owned by Steve Mnuchin-led group, advocates say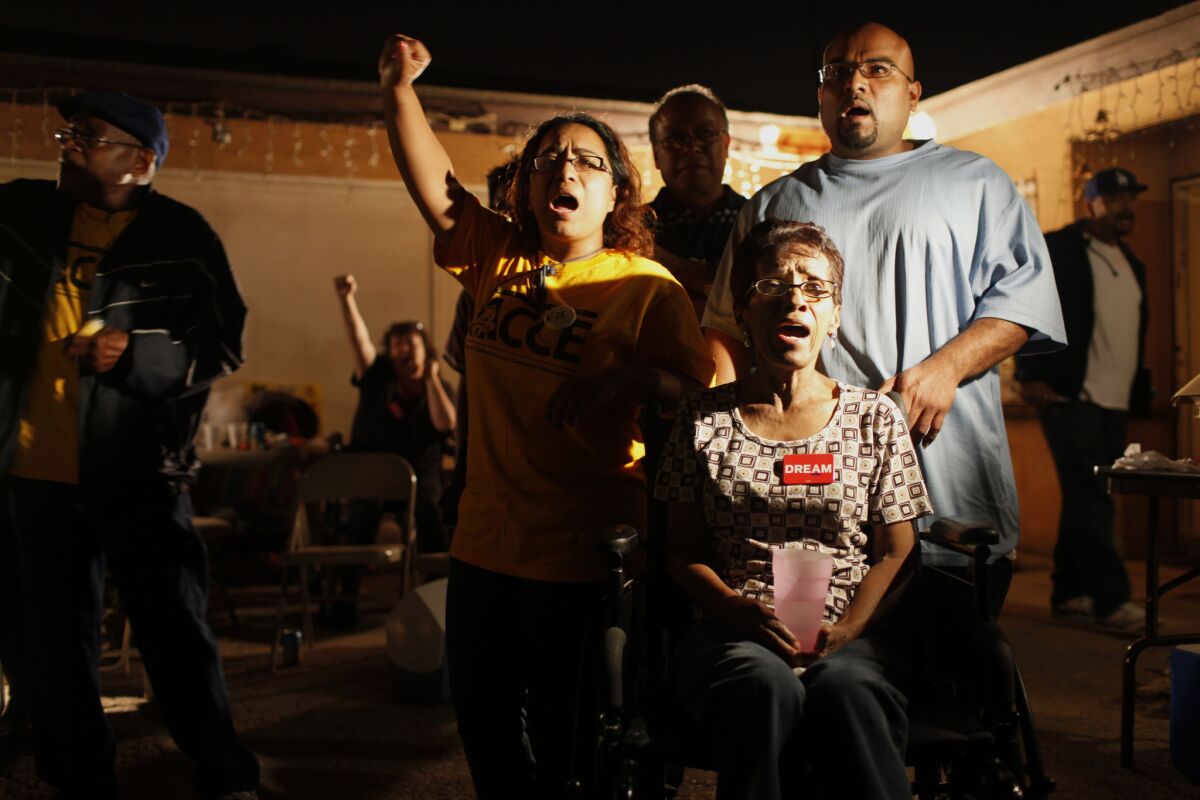 Two California advocacy groups have asked federal housing regulators to investigate Pasadena's OneWest Bank over allegations that it discriminated against or failed to serve minority communities.
The allegations lodged with the U.S. Department of Housing and Urban Development build on a multitude of earlier complaints against the bank. They come as former OneWest Chairman Steve Mnuchin is rumored to be a leading candidate for the post of U.S. Treasury secretary under President-elect Donald Trump. Mnuchin remains a board member of CIT Group, a New York financial services company that acquired OneWest last year.
The California Reinvestment Coalition, one of the groups that filed the complaint with HUD, had raised similar issues with bank regulators over the past two years while CIT was working to acquire OneWest — and as recently as this spring, when regulators reviewed and later approved the bank's plans to serve minority and low-income communities.
"We have urged the bank to make changes to better serve communities, and they would not. We called on banking regulators to hold the bank accountable, and they did not," said Kevin Stein, the coalition's deputy director. "We considered next steps, and this is where we are."
Mnuchin and a CIT spokesman did not respond to requests for comment.
In their complaint, the coalition and Fair Housing Advocates of Northern California allege that OneWest has made few loans to nonwhite borrowers, operates a small number of branches in minority neighborhoods and has neglected foreclosed properties in those neighborhoods.
In some cases, the groups say, the practices go back to at least 2011, when OneWest was owned by an investment group led by Mnuchin, and have continued following the bank's acquisition last year by CIT.
The complaint cites the group's analysis of mortgage lending data submitted to federal regulators, which they said shows that 22.4% of all mortgage loans in Southern California went to Latino borrowers last year, while only about 8.4% of OneWest's mortgages went to Latinos.
The complaint says the bank is similarly below average in providing mortgages to African American and Asian American borrowers, and well above average in providing loans to white borrowers.
The groups claim the figures are evidence that the bank has violated federal fair-lending law by "failing to effectively market, offer and originate mortgage loans and other loan products in communities of color."
Similarly, the groups say a review of OneWest's branch network shows the bank has a below-average rate of branch locations in minority communities. Across Southern California, 6.6% of all bank branches are in Asian American communities, compared with 1.4% of OneWest's branches.
The groups also allege that properties repossessed by OneWest in white neighborhoods are well kept, while ones in minority neighborhoods are often in a state of disrepair.
That claim is based on inspections of OneWest-owned foreclosures in the San Francisco Bay Area. Fair Housing Advocates of Northern California said it hired an investigator to judge the condition of the properties.
In white neighborhoods, properties "were generally well maintained and well marketed with manicured lawns, securely locked doors and windows, and attractive, professional, 'for sale' signs posted out front," according to documents submitted along with the groups' complaint to HUD.
In minority communities, properties were "more likely to have trash strewn about the premises, overgrown grass, shrubbery, and weeds, and boarded or broken doors and windows."
The review looked at only 16 properties, and only three in majority-white neighborhoods. Caroline Peattie, executive director of the fair housing group, acknowledged that's a small sample, but she said she believes there's enough evidence to warrant an investigation by HUD, which has the resources for a more thorough inquiry.
HUD spokesman Brian Sullivan said the agency reviews complaints to determine whether they warrant further investigation, but there is no timeline for making that determination.
Stein and Peattie expect that if HUD looks into their claims, any investigation would likely start or stretch into Trump's term as president. Despite Trump's pledges to loosen bank regulations and his relationship with Mnuchin, the groups say they expect the agency to investigate.
"We want HUD to investigate, as is their obligation. We expect they will accept the claim, investigate and make findings consistent with what we're alleging. Ultimately, we hope the bank is held accountable," said Stein, who added "it shouldn't matter" who won last week's election.
CIT and OneWest are already being investigated by HUD's Office of Inspector General. The office last year served subpoenas demanding information about the bank's servicing of reverse mortgages. CIT disclosed the investigation in a regulatory filing last year.
Regulators, too, have taken issue with some of OneWest's practices, though not related to potential discrimination.
In 2011, the Office of Thrift Supervision hit the bank with a regulatory order saying it had failed to follow various procedures when foreclosing on homeowners.
CIT and OneWest are also no strangers to scrutiny from advocacy groups, and from the California Reinvestment Coalition in particular.
The San Francisco nonprofit fought a pitched battle against CIT's $3.4-billion acquisition of OneWest, pleading with regulators to reject the deal on the grounds that a combination of the two banks would not benefit low-income or minority communities.
The coalition claimed that the bulk of OneWest's estimated 35,000 foreclosures took place in minority communities and that the bank was notoriously difficult when dealing with homeowners and housing counselors.
The group also argued that regulators should not sign off on a merger of two noted institutions that experienced troubles during the financial crisis.
CIT, a commercial lender known for working with small and midsized businesses, received $2.3 billion in federal bailout funds. It later went bankrupt and did not have to repay the bailout funds when it emerged from Chaper 11 protection.
OneWest was established in 2009 after Mnuchin and other wealthy investors — including Michael Dell and a hedge fund run by prominent Democratic donor and Clinton supporter George Soros — took over Pasadena mortgage lender IndyMac, which failed in 2008 after many of its less-than-prime mortgage loans soured amid the housing bust.
Mnuchin and his group turned the savings and loan into a more traditional commercial bank with the help of a widely criticized deal under which the Federal Deposit Insurance Corp. agreed to cover much of the bank's losses on bad loans.
Follow me: @jrkoren
ALSO
Banc of California to review alleged ties to fraudster after investor's demand
With bans of alt-right users, Twitter tests the limits of free speech