Twitter just went on an alt-right banning spree. Why now?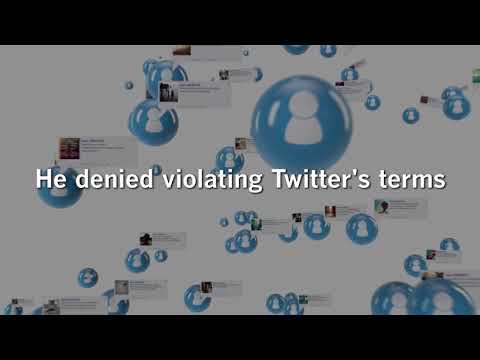 In the aftermath of a presidential campaign that has given license for hate groups and white nationalists to tout their ideas, Twitter is having second thoughts
Twitter Inc. launched 10 years ago innocently enough with co-founder Jack Dorsey tweeting about having lunch and grabbing tea after yoga.
Back then, there was no certainty the micro-blogging platform he designed would become anything more than an outlet for sharing daily minutiae. But with its core principle that little was too trivial, or too outrageous, to tweet, Twitter grew over the years into a vibrant and at times abrasive hub for news, ideas and opinions — a town square for the digital age.
Now, in the aftermath of a bitterly divisive presidential campaign that has given license for hate groups and white nationalists to tout their ideas more openly, Twitter appears to be having second thoughts.
Long criticized for allowing bullies, terrorists and bigots to run rampant to the detriment of its own bottom line, Twitter made a surprising move Tuesday by banning a slew of accounts belonging to white nationalists and leaders of the alt-right movement — which holds that traditional conservatives don't sufficiently protect the interests of white people.
The San Francisco company declined to comment or identify which accounts were banned, but sent The Times a statement reiterating its policies restricting hateful conduct that targets people "on the basis of race, ethnicity, national origin, sexual orientation, gender, gender identity, religious affiliation, age, disability, or disease."
Among recently banned Twitter users are Richard Spencer, head of the alt-right think tank National Policy Institute, and other alt-right leaders, including Paul Town, Pax Dickinson, Ricky Vaughn and John Rivers, according to news reports.
A source familiar with the situation who declined to be named commenting on a private matter shared with The Times several of the offending tweets, among the least vulgar of which read: "You are a genocidal, sub-human." It continued: "and feminism is cancer, you diseased whore."
Social media apps have become a free-speech battleground over the last five years with the companies behind them struggling to figure out how to rein in the very thing that makes them so appealing — the ability to speak freely, and in some cases anonymously, to anyone who also has an account, including celebrities, world leaders and complete strangers.
The anything-goes approach can benefit the firms. Moderating content takes time and money and is seen as a potential risk to user growth. By largely staying out of the fray, companies also minimize the risk of wading into legal battles over libel or defamation.
But with a massive backlash over harassment they are starting to walk this back. Policies continue to evolve as critics assail rules as stringent or too soft. Mothers decry takedowns of their breast-feeding photos under anti-nudity policies. And U.S. officials complain not enough is being done to rid social media of terrorists, who others might describe as religious activists.
What's clear is the apps are powerful and that they retain significant policing control. With nearly 1.8 billion users on Facebook and more than 300 million each on Twitter and Snapchat, the services give anyone the chance to instantly spread a message to millions of people without the need for special equipment or relationships.
To keep their platforms havens for discussions, the companies maintain broad discretion to kill users' accounts whenever they choose. For example, Twitter's contract with users give it the right to "suspend or terminate" an account "at any time for any or no reason."
In an interview with The Times on Wednesday, Spencer denied he violated Twitter's user agreement and called his ban a crackdown on free speech.
"It's been a five-year run for me on Twitter," Spencer said. "It's over. It was the main way I spoke out. They need to issue some kind of apology and make it clear they are not going to crack down on viewpoints. Are they going to now ban Donald Trump's account?"
Spencer said he did not engage in harassment, which he conceded alt-right commentator Milo Yiannopoulous was guilty of when he was banned from Twitter in July for sending a string of tweets attacking "Saturday Night Live" actress Leslie Jones. As a result, Spencer believes his 1st Amendment rights — which ensure freedom of speech, religion, press, assembly and petition — are being violated by Twitter.
The 1st Amendment prevents the government from enacting laws that violate free speech. It does not apply to companies — even ones like Twitter that have come to serve as virtual town halls where anything seems to go. Many an employee has been fired for sending an offensive tweet.
"They don't have any obligation to have anyone use their technology they don't want," said Heidi Beirich, head of the Southern Poverty Law Center's Intelligence Project. "We honor the 1st Amendment as an idea. Only the government is allowed to restrict free speech."
Beirich's group reported the account of Spencer and others for promoting white nationalist ideas and using Twitter to organize events for "hate groups," according to Keegan Hankes, managing data intelligence analyst at the center.
Hankes pointed to Twitter posts like Spencer's from the day of this year's Super Bowl: "The criminally insane Africans from my geographic region shall defeat those from your metropolitan area!"
Free speech advocates said it was wrong for white nationalists to argue their rights had been violated. They say their discriminatory words work to chill the rights of others.
"If your speech is so hostile or threatening or distressing to me that I go silent, then my freedom of expression has been impinged upon," said Susan Benesch, adjunct associate professor at American University and director of the Dangerous Speech Project. "Even in the U.S., where we have the most speech protective law, some acts of speech are illegal. Nobody has suggested that to fulfill freedom of expression every act of speech has to be allowed. It doesn't mean you can post absolutely anything. Everyone is figuring out how to draw the lines."
Times staff writer Jaweed Kaleem contributed to this article.
Follow me @dhpierson and @peard33 on Twitter
ALSO
Shareholders vote today on Tesla's plan to buy SolarCity
OneWest Bank shut out nonwhite borrowers, advocates say
Will the Trump presidency mean the end of FDA drug regulation?