Banks lead stocks lower; the dollar hits a 13-year high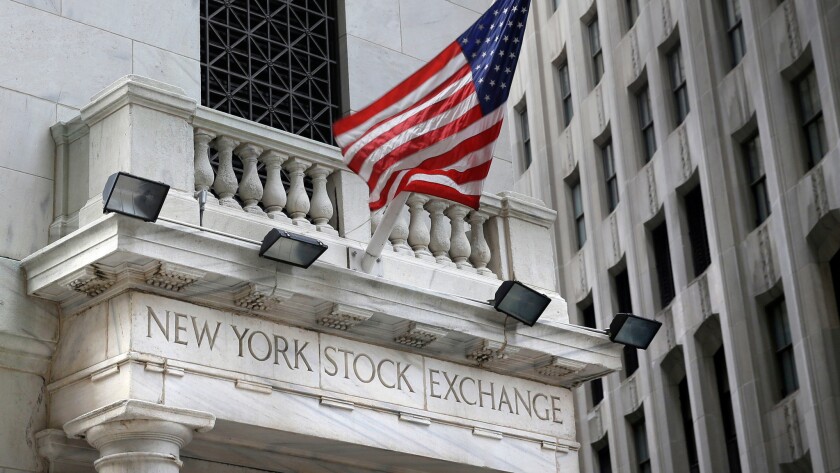 U.S. stocks finished barely lower Wednesday as banks returned some of the huge gains they've made since the presidential election last week, but technology and consumer stocks climbed. The dollar continued to appreciate against other currencies and reached its highest mark in 13 years.
Banks took the biggest losses as a seven-day rally in that sector petered out. Industrial companies, also big gainers since the election, traded lower as well. The price of oil gave back some of its enormous gain from Tuesday. Graphics processor maker Nvidia and household names such as Apple and Microsoft led technology companies higher. Rising stocks outnumbered decliners.
The dollar has been very strong in recent years, just not this strong, and it's been pretty stable compared with other currencies. But in the wake of the election, investors think the U.S. economy might grow a bit faster and inflation might pick up.
"What's pushed the dollar higher here in the short term is with the [Donald] Trump win, particularly combined with [Republicans] holding on to the Senate," said Scott Wren, a senior global equity strategist at the Wells Fargo Investment Institute. Still, Wren doesn't think the dollar will rise much further.
The Dow Jones industrial average slid 54.92 points, or 0.3%, to 18,868.14. The Standard & Poor's 500 index fell 3.45 points, or 0.2%, to 2,176.94. The Nasdaq composite rose 18.96 points, or 0.4%, to 5,294.58.
After a long losing streak before the election, the Dow had risen for seven days in a row through Tuesday and set several all-time highs. The S&P 500 and Nasdaq have also made large gains and are near the records they set this fall.
JPMorgan Chase led banks lower as it slid 2.5% to $77.40, and Morgan Stanley fell 2% to $39.19. Banks are coming off their best single week since the financial crisis as investors hope for higher interest rates and more profits from lending, as well as cutbacks in regulations that could boost bank profits.
The ICE U.S. Dollar Index, which measures the dollar against six other currencies, rose to its highest level since April 2003. The dollar is rising in part because investors think the Federal Reserve will raise interest rates at a faster pace in response to inflation stemming from the increased spending that President-elect Trump has proposed.
A stronger dollar hurts U.S. companies that do a lot of business overseas because it makes their products more expensive there, and it affects their earnings when the money is translated from other currencies back into U.S. dollars. However, it makes imported goods cheaper for consumers in the U.S.
The dollar slipped 109.15 Japanese yen from Tuesday's 109.32 yen. The euro slid to $1.0681 from $1.0718.
Technology companies moved upward as they continued a rally that started Tuesday. Nvidia jumped 6.3% to $91.63 after it announced a collaboration with Microsoft. Apple rose 2.7% to $110.04. Autodesk rose 3.2% to $77.57.
Tech stocks had weakened since the election. Trump's policies might affect their sales in China and other key markets, and a big surge this summer had brought some technology stocks to all-time highs.
Target raised its profit forecast and sales projections for the third quarter with the holiday season approaching. That came as the retailer gave a strong third-quarter report, as it put more emphasis on low prices after it stumbled in the second quarter. The stock climbed 6.4% to $76.03.
TJX, the parent of TJ Maxx and Marshalls, reported a bigger profit and better sales than investors expected, and its stock rose 3.9% to $76.39. That helped lead consumer stocks higher.
Home improvement retailer Lowe's fell 2.9% to $67.02 after it said traffic in stores was low during the third quarter and reported a smaller third-quarter profit because of several big charges.
Oil prices slipped. Benchmark U.S. crude fell 24 cents to $45.57 a barrel in New York. Brent crude, which is used to price international oils, fell 32 cents to $46.63 a barrel in London. The price of U.S. crude oil soared Tuesday as investors hoped the oil-producing OPEC countries will agree to a production cut that would boost prices.
Energy companies fell. They had rallied Tuesday along with the price of crude oil.
Bond prices rose. The yield on the 10-year Treasury note slipped to 2.21% from 2.22%. Bond yields, which are used to set interest rates on many kinds of loans including mortgages, have risen to their highest levels since the beginning of the year as investors expect inflation to rise. Bond investors hate inflation because it erodes the value of the fixed interest payments that bonds pay.
Wholesale gasoline fell 2 cents to $1.32 a gallon. Heating oil fell 1 cent to $1.44 a gallon. Natural gas rose 6 cents, or 2%, to $2.76 per 1,000 cubic feet.
Gold slipped 60 cents to $1,223.90 an ounce. Silver fell 12 cents to $16.93 an ounce. Copper fell 4 cents to $2.47 a pound.
Germany's DAX lost 0.7% and France's CAC 40 was off 0.8%. Britain's FTSE 100 fell 0.6%. Asian markets finished mostly higher. Japan's Nikkei jumped 1.1% and the Kospi in South Korea gained 0.6%. Hong Kong's Hang Seng index fell 0.2%.
ALSO
Facebook bans fake news from its ad network — but not its News Feed
Pomona hospital employees say patients are at risk of superbug infections
Estee Lauder eyes younger customers with $1.45-billion purchase of Too Faced
---
UPDATES:
2:50 p.m.: This article was updated with the close of markets and with analyst comments.
10:50 a.m.: This article was updated with more recent market information, as well as context and analysis.
9:10 a.m.: This article was updated with more recent market information.
This article was originally published at 6:55 a.m.
---
Must-read stories from the L.A. Times
Get the day's top news with our Today's Headlines newsletter, sent every weekday morning.
You may occasionally receive promotional content from the Los Angeles Times.