Lowe's closing Orchard Supply Hardware chain it acquired out of bankruptcy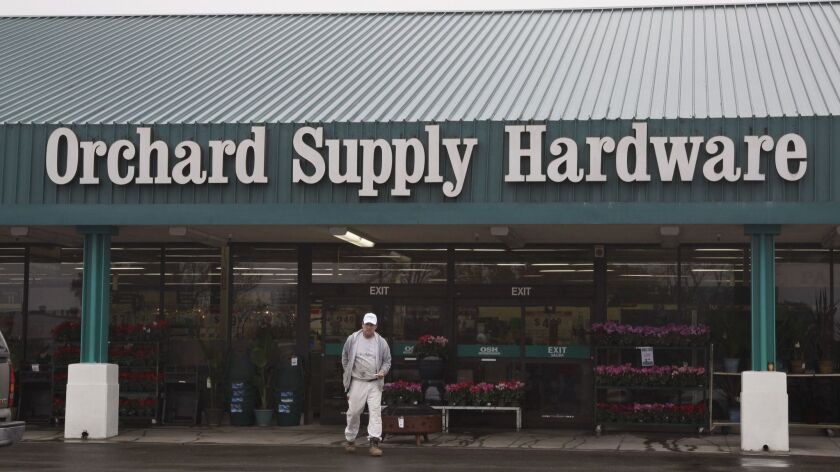 All Orchard Supply Hardware stores in California and elsewhere will close by February, the company's parent — home-improvement retail giant Lowe's — announced Wednesday.
The chain, also known as OSH, has 99 locations in California, Oregon and Florida, as well as distribution centers, all of which will close. The move comes five years after Lowe's bought most OSH stores out of bankruptcy following an ill-fated spinoff from the chain's former owner, Sears Holdings Corp.
It also comes amid big changes at Lowe's that may have sparked a rethinking of OSH's place within the larger firm. Lowe's named Marvin R. Ellison, the former top executive at J.C. Penney, as its president and chief executive effective last month.
Ellison told investors in a conference call Wednesday that OSH, which operates stores much smaller than Lowe's locations, was not running well. Even if it were performing better, he said OSH could never become a big part of the company's overall business.
"It became clear to me we wanted to be focused on our core retail business," Ellison said. He added that even if Orchard were a much larger business, it would "have very small benefit to the shareholders."
OSH last year posted sales of $600 million — less than 1% of Lowe's overall sales of $68.6 billion, executives said.
OSH, founded in San Jose in 1931, started out as a co-op supplying fruit growers in the days when what's now Silicon Valley was filled with orchards. It grew into a more general hardware store, one that in recent years catered to homeowners and do-it-yourselfers, setting it apart from contractor-focused big-box retailers Lowe's and Home Depot.
OSH stores are smaller — about one-third the size of a typical Lowe's — and known for hands-on customer service.
Sears acquired the chain in 1996 when the Chicago retail giant was looking to expand its share of the home-improvement market. In 2012, it spun off OSH as a separate business, but the newly independent company declared bankruptcy less than two years later, crushed by hundreds of millions of dollars of debt it was saddled with as part of the spin-off.
Lowe's bought 72 OSH stores out of bankruptcy. The company's CEO at the time said the deal was an opportunity to quickly expand operations in California, where executives believed Lowe's needed more locations, and would give the company "the opportunity to participate more fully in California's economic recovery."
Lowe's had continued to grow the OSH chain until recently, opening a new location in East Hollywood within the last year and opening its first locations in Florida just two years ago.
Ellison on Wednesday said there "were some strategic decisions made that, if they had to be done over, would be done differently."
Big-box retailers dominate the hardware and home-improvement market. Lowe's, Home Depot and Midwestern chain Menard's together control more than 80% of the market, according to research firm Ibisworld.
Still, it appears there's demand for small, neighborhood hardware stores. Ace Hardware Corp., a co-op that sells goods to independently owned Ace-branded stores, reported sales of $5.1 billion last year, up about 5% over the previous year. Sales have continued to grow in this year's first half, up another 5% compared with the same period last year.
Ellison said Lowe's will provide job placement services for OSH employees and that those workers will have priority when applying for positions at Lowe's. He noted that 86% of OSH locations are within 10 miles of a Lowe's.
Shares of Lowe's were up 7.64% in midday trading to $107.21.
Follow me: @jrkoren
---
UPDATES:
12:30 p.m.: This article was updated with industry analysis.
9:30 a.m.: This article was updated with more background on Orchard Supply Hardware.
This article was published at 8:25 a.m.
---
Must-read stories from the L.A. Times
Get the day's top news with our Today's Headlines newsletter, sent every weekday morning.
You may occasionally receive promotional content from the Los Angeles Times.