Gov. Jerry Brown signs bills reforming PACE energy-efficiency loan program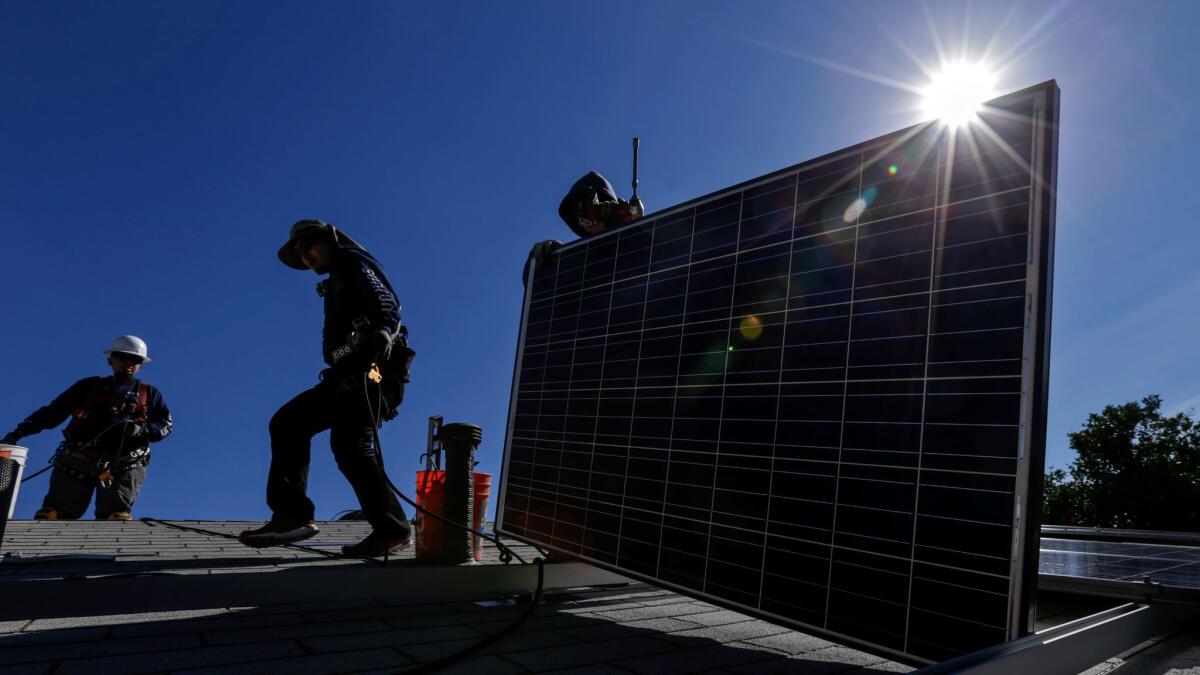 Gov. Jerry Brown signed two bills Wednesday that boost consumer protections for borrowers taking out PACE loans, a type of financing that funds energy-efficient home improvements.
The bills enshrine a number of reforms into law, including a first-time requirement that a borrower's income be factored into underwriting. The legislation also bars kickbacks and establishes a minimum training requirement for contractors, who typically act as salespeople.
PACE lenders have come under increased scrutiny recently. Consumer advocates say too many borrowers are taking out unaffordable loans for solar panels and other projects after contractors misrepresent how the financing works.
The implications of that are serious because if a PACE loan goes unpaid a borrower can be foreclosed upon — though the major lenders say they haven't done so.
The bills received support from the industry.
"The provisions in this new law are important to ensure consumers are not being taken advantage of," said Assemblyman Matt Dababneh (D-Woodland Hills), who wrote AB 1284, which includes the income and training requirements.
Consumer groups say that bill contains too many loopholes. But Dababneh counters that those concerns will be addressed by the Department of Business Oversight, which the bill establishes as a regulator for PACE lenders.
The other bill, SB 242, was written by Sen. Nancy Skinner (D-Berkeley). It bars lenders from paying kickbacks to contractors and requires PACE providers talk with homeowners before they take out the loan to ensure they understand the terms. That's something not all of the major companies did at first, but they say they do now.
First started in 2008, PACE, or Property Assessed Clean Energy, programs are typically established by local governments, which tie the privately financed loans to a home and allow them to be repaid as line items on property tax bills. Beyond energy efficiency, the loans can be used for other items that serve a public good, such as low-flow toilets that save water.
"Consumers, local governments and PACE providers can feel much more confidence about the program doing what its intended purpose was" — to promote energy efficiency, Skinner said.
The major PACE lenders — Renovate America, Ygrene Energy Fund and Renew Financial — say most of their borrowers come away happy after their home improvement work is completed.
On Tuesday, Renovate America — the largest PACE lender — named a new chief executive. It also said it retained a law firm and consultant to "conduct and make public a third-party review of practices and procedures, taking stock of where the company can improve on where it's been and where it's going, as it transitions to the new, regulated marketplace for PACE."
Follow me @khouriandrew on Twitter