After booming for years, a controversial home improvement loan is on the decline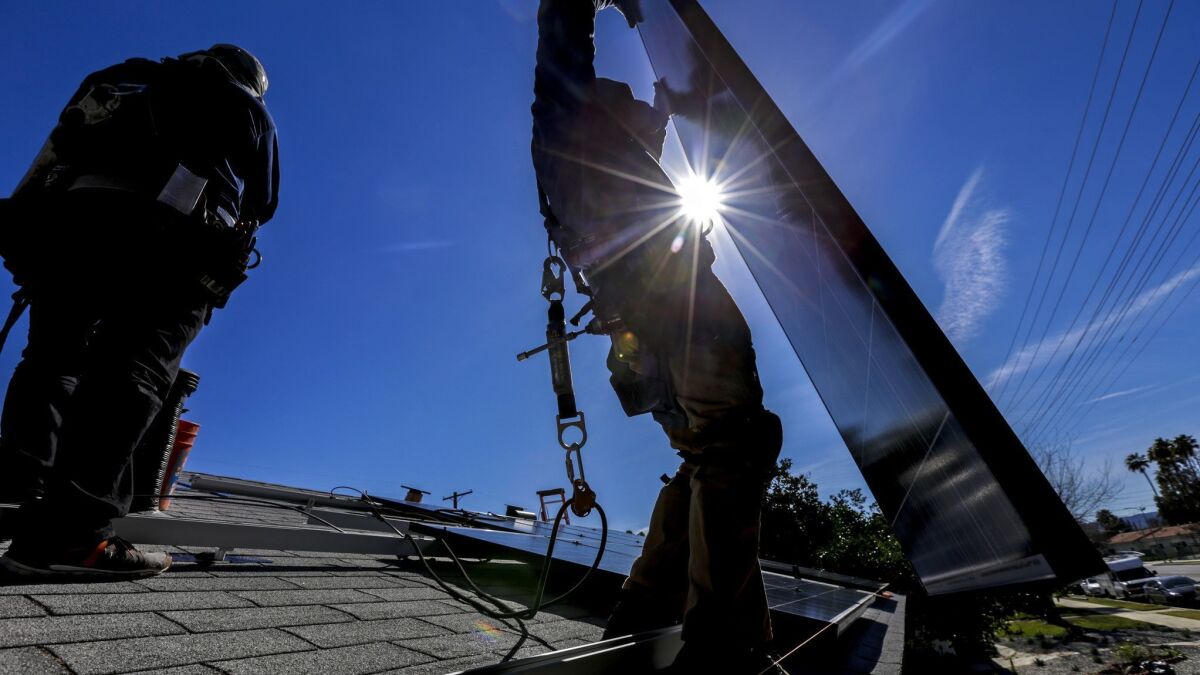 A controversial form of financing for environmentally friendly home improvements in California has plunged after reform legislation kicked in.
So-called PACE loans grew in recent years as a way to pay for solar panels and energy-efficient air conditioners. Homeowners in the state took out more than $1 billion worth of them in 2017. However, critics say unscrupulous contractors frequently signed up borrowers with loans they neither understood nor could afford. That helped lead to state legislation that sharply tightened underwriting standards.
In the first half of 2018 — the latest data available — PACE lending plunged by 32% from a year earlier, according to the state treasurer's office, which tracks the vast majority of the loans.
Lenders blame much of the recent drop-off on a new underwriting law they say blocks too many qualified applicants. Consumer groups say it's too early to know the exact effect. But they don't deny regulation is having an effect. It was, they note, designed to have one.
"It's a positive development that people don't get trapped in financing that they can't afford," said Nicholas Levenhagen, an attorney with pro-bono law firm Bet Tzedek.
"To the extent there has been a reduction following recent legislation," he said in a later email, "it is telling that this has occurred following the implementation of basic consumer protections."
Property Assessed Clean Energy programs, first started in 2008, are typically established by local governments to reduce greenhouse gases. Loans are financed through private lenders such as Renovate America, Renew Financial and Ygrene that use contractors to market their products and sign up consumers. Local governments, which collect fees for their services, then secure the loans to the home through a lien, allowing them to be repaid as line items on property tax bills.
If the loans go unpaid, a homeowner can be foreclosed upon.
The unique product got off to a slow start. But by 2015, the market was exploding. In the second half of 2014, lenders issued $148.7 million worth of new loans in California, according to state data; during the same period a year later, volume jumped nearly fourfold, to $553.9 million, as more counties added the program. A year later, loan volume rose nearly 50%.
Helping drive growth was an approval process built for speed. Approval was largely based on home equity — with income not a factor. Contractors could get people approved on the spot by handing over a tablet computer and asking for signatures. Lenders sent the financing contracts to borrowers via email, making it possible for borrowers to sign up within hours and in some cases after they spoke only with the contractor.
Some lenders even used online systems that enabled contractors to type in an address and know the maximum a homeowner could be eligible for, allowing them to target those with lots of equity and upsell until a homeowner had signed up for the maximum possible borrowing.
As PACE grew, consumer groups said, homeowners who couldn't afford payments inundated them with phone calls. Many of them were seniors who found the online approval process confusing. A common complaint was that contractors misrepresented how the loans worked.
"I was out-talked and sweet-talked," said Lawrence Linthicum, a 90-year-old Inglewood resident who said it wasn't until after he took out two PACE loans that he discovered the cost: nearly $8,300 annually.
PACE companies say the vast majority of their customers come away happy and foreclosures on homes with PACE are extremely rare. But as stories of distressed borrowers increased, companies took steps to add more protections, including calling all homeowners to confirm loan terms — something not all did at first.
The state Legislature also passed a series of reforms. The most significant came in October 2017 when Gov. Jerry Brown signed into law a requirement that lenders check income and other debt obligations to ensure people could repay their loans. Another law barred kickbacks to contractors and prohibited lenders from telling contractors the amount of financing homeowners were eligible for.
Lenders were also now required, by law, to call homeowners to confirm terms, and the state Department of Business Oversight was given authority to regulate the industry.
The lending decline started before the laws kicked in. In the first half of 2017, loan volume fell 17% from a year earlier. In the second half, it dropped 18%. Part of that could just be that the market grew saturated, with fewer consumers left to sign up. PACE executives blamed a variety of other factors that turned off consumers and contractors, including media coverage of elderly homeowners stuck in unaffordable loans.
There was more competition, as lenders outside the PACE program offered low teaser rates to win back business. That included unsecured loans, which typically have higher interest rates but don't put a borrower's home at risk if they go unpaid.
John Rao, an attorney with the National Consumer Law Center, theorized that homeowners moved toward non-PACE, unsecured products after reading up and deciding they didn't want the lien on their home. "There has been more exposure to what PACE loans are," he said. This year, the decline accelerated.
Mike Lemyre, senior vice president with Ygrene, said the new ability-to-repay rule increased approval time from hours to days or even weeks, pushing people toward quicker options such as unsecured personal loans. In many cases, Lemyre said, contractors ditched PACE before the income rules kicked in on April 1, anticipating it would take longer to close a deal. "They have their sales cycles," he said. "They just looked at PACE as extremely difficult."
For Renew Financial, other parts of the 2017 law have created more daunting challenges, said Colin Bishopp, a vice president at the company. (Bishopp has since left Renew Financial.) For example, lenders, with certain exemptions, must deny people who had bankruptcies within seven years. Individuals also can't have more than one late mortgage payment in the last year. (Come January, those cutoff dates will change to four years for bankruptcies and six months for missed mortgage payments.)
Such checks existed to some extent before, but not all programs set the bar so high. Before the 2017 law kicked in, Bishopp said, 30% of Renew Financial's clientele had a bankruptcy and late mortgage payment that would disqualify them today. Those homeowners tended to have lower delinquencies than all PACE borrowers, according to Bishopp.
"We are talking about people who need this tool and policymakers picked an arbitrary line," Bishopp said.
With fewer loans, Renovate America, Ygrene and Renew Financial have moved to lay off more than 200 employees among them this year.
Lenders met this month with California Energy Commission staff and two commissioners to discuss their concerns, according to a commission spokeswoman. They've warned that proposed rules from the Department of Business Oversight would further choke off access.
In a letter to the regulator, Renovate America said it was "fully aware" industries often respond to proposed rules with "claims of overreach." But it said its business was different, noting PACE is a new type of financing created with government help that requires the "balancing of private interests and the public trust."
In defense of their product, PACE companies point to data that show most borrowers aren't experiencing problems. In 2017, the tax delinquency rate for California homeowners with Renovate America and Renew Financial PACE loans was 1.9%, slightly lower than that of all single-family homes in major PACE markets, according to a report from credit rating agency DBRS.
Consumer groups contend it's too soon to know whether low delinquency rates will hold. And they worry that in citing the funding decline, PACE companies will force a knee-jerk reaction to roll back regulations that critics think may need to be tighter.
"It's a laudable goal," Rao, of the national consumer group, said of lending that helps reduce greenhouse gases. "It just has to be done in a responsible way."
Among those worried they'll lose their homes is Linthicum, the elderly Inglewood resident. In 2017, he took out two loans from Renew Financial to pay for an air conditioner, attic insulation, new windows, duct replacement and exterior coating. He said he doesn't recall the contractors telling him how much he would need to pay, only that he would do so through his property taxes.
Referring to himself as a "kid in a candy store," Linthicum said that the pitch for home improvements sounded good and that he didn't question it. "I never had nothing and I wanted to better myself," he said.
His reverse mortgage company recently sent him a letter that says money set aside to pay his property taxes is now exhausted and he must make all future payments. Just his PACE portion of the property taxes is the equivalent of $689 a month, more than he consistently has available after other expenses.
Renew Financial declined to answer specific questions regarding Linthicum's situation but said it was "committed to moving towards a satisfactory resolution."
A county PACE reserve fund may help him cover payments for a time. But on a recent afternoon, sitting in his wheelchair, Linthicum said he doesn't know what to do and hopes he won't have to move to a senior home.
"I don't think I was treated fairly," he said, referring to the contractors who signed him up for the loans. "I am not as sharp as I used to be.… They know this and they take advantage."
Follow me @khouriandrew on Twitter
---
Sign up for the California Politics newsletter to get exclusive analysis from our reporters.
You may occasionally receive promotional content from the Los Angeles Times.